The organization participates in a variety of events in UNICC host countries
UNICC is building a dynamic pipeline for its talented workforce, with commitments to gender parity, diversity and inclusiveness. UNICC also supports the UN's Youth 2030, an ambitious system-wide strategy to guide the United Nations and its partners to work meaningfully with and for young people around the world. With these goals in mind, the organization regularly attends career fairs in countries where it has offices (Italy, Spain, Switzerland and the United States) to share its organizational profile and job and internship opportunities with potential candidates.
UNICC offers internship opportunities for college students in a variety of fields, from all areas of digital business and technology, to enhance their educational experience with professional training and exposure to the organization's work.
Presentation to the institute of telecommunications and multimedia applications
On 4 November 2021, UNICC colleagues visited the Institute of Telecommunications and Multimedia Applications (iTEAM), a research centre integrated in the Polytechnic City of Innovation at the Valencia Polytechnic University (UPV), in Spain. The UPV is currently made up of around 28,000 students, 2,500 teaching staff and researchers, and comprises 13 university centres.
Matilde Gil, Network Infrastructure Architect at UNICC, delivered a presentation together with Ana Ferrandiz, Head of Infrastructure Support Unit at UNICC. The team's goal was to introduce UNICC and its mission, vision, services and solutions to iTEAM and UPV members.
The iTEAM, who are most specialized in multimedia applications, signal processing, antennas and wireless communication, were very interested to know more about UNICC, and they were happy to share some interesting initiatives that would strengthen common objectives starting with the event Quédate TELECO.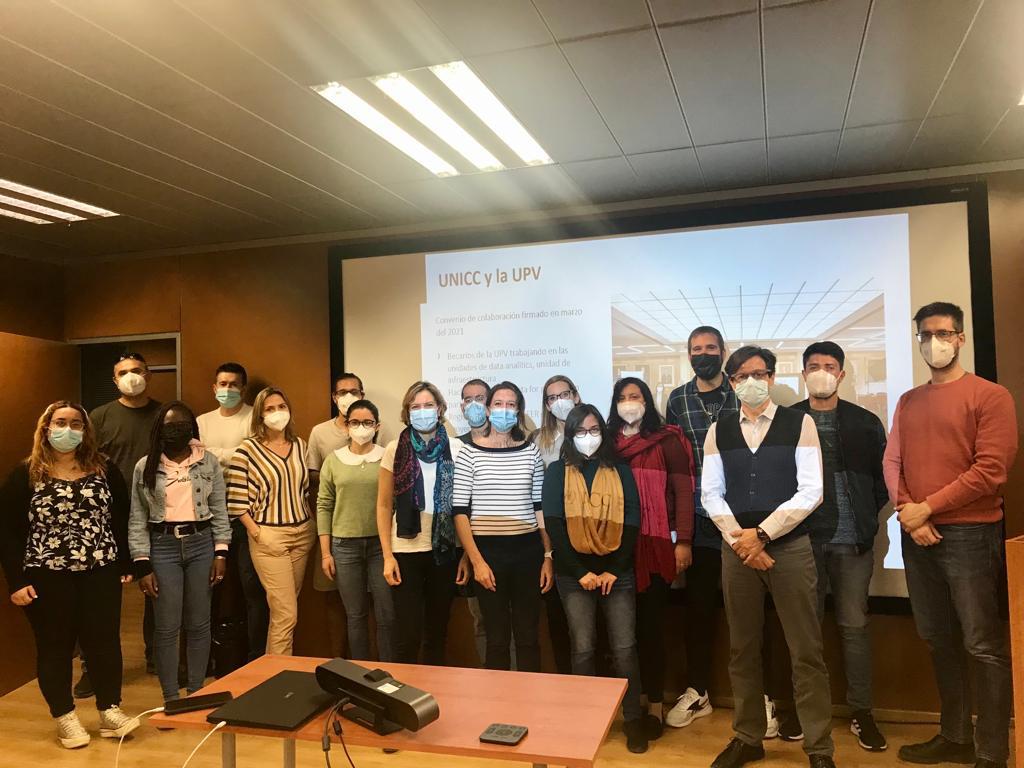 Quédate TELECO
On 17 February 2022, UNICC attended the Quédate TELECO, an initiative organized by the UPV to retain talented students in Spain. The event offered students a platform to meet with representatives of international companies and organizations with offices based in Spain and find out about jobs and career opportunities in the multilateral environment. 100 telecommunications students demonstrated their talent in front of 13 companies and organizations including HP, NTT Data, Ford, Huawei, Power Electronics and UNICC. Matilde Gil, Network Infrastructure Architect, UNICC; Elena Tejadillos, IT Officer – Data Science, UNICC and Celia Gómez, Head of Data Protection and Privacy, UNICC; were there to present UNICC and share more about what it looks like to work at UNICC's largest office and the organization's Digital and Cybersecurity Centres of Excellence. The colleagues had a wonderful time with UPV's employment representatives and professors and met many students and graduates interested in learning more about joining the UNICC family.
Aula De Empresa ETSIT
On 7 April 2022, UNICC participated in Aula de Empresa, an event which is intended to bring the business reality and its needs to Escuela Técnica Superior de Ingenieros de Telecomunicación (ETSIT) students through the various programs and activities. Victor Benet Anchel, Senior Project Administrator, UNICC; Alexandra Marinoiu, HR Officer, UNICC; Carlos Garcia, Practice Officer – Dynamics, UNICC; Matilde Gil, Network Infrastructure Architect, UNICC and Diego Arista Vinaixa, HR Consultant, UNICC; introduced UNICC and shared what it looks like to work at the leading provider of digital business solutions within the United Nations system with one real case of a project with the United Nations Relief and Works Agency for Palestine Refugees in the Near East (UNRWA).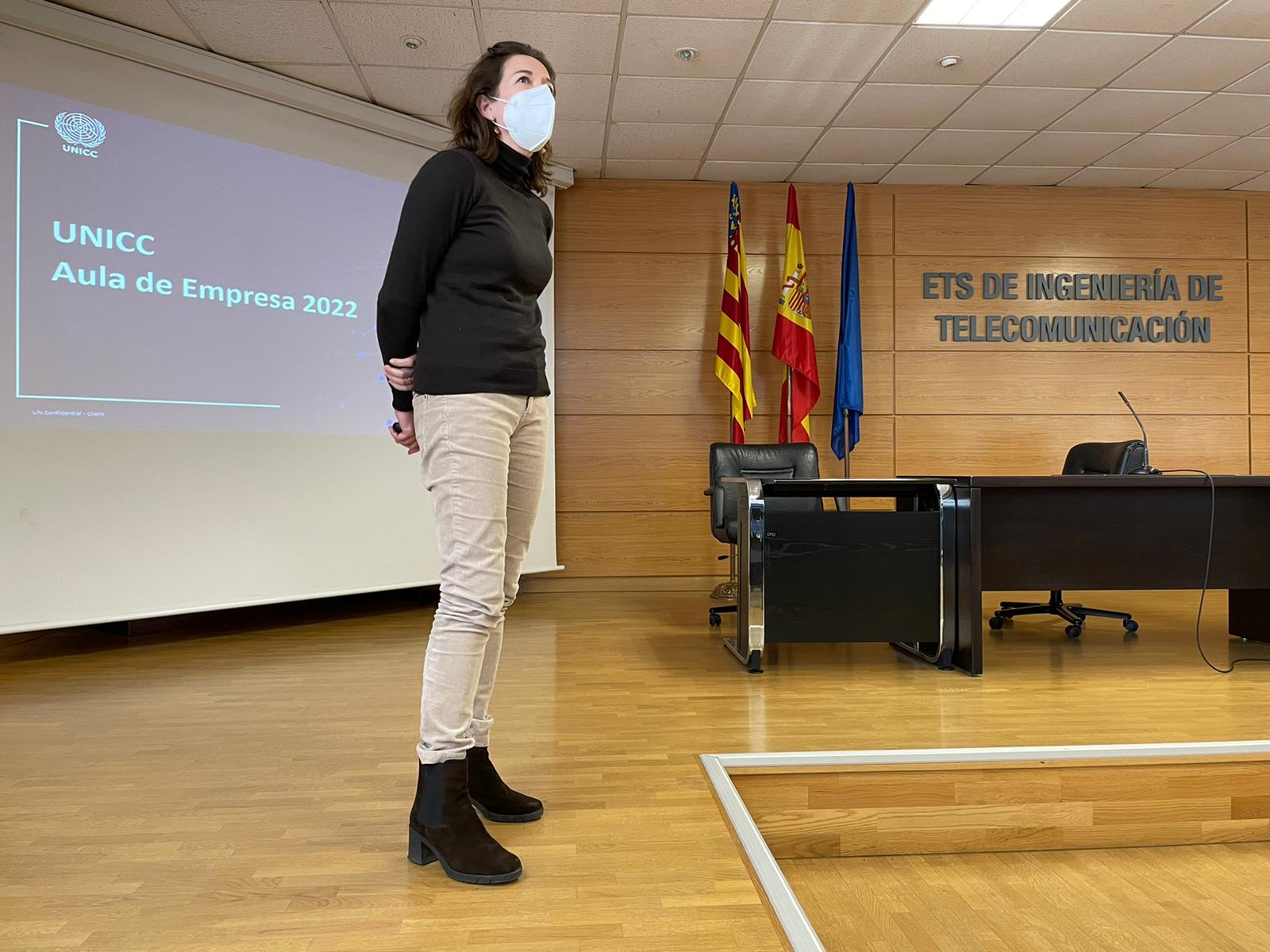 Swiss International Career Day 2022
On 8 April 2022, UNICC attended for the sixth time the 18th International Career Day (ICD) at the Granges-Paccot in Fribourg, Switzerland, an event organized by the Swiss Federal Department of Foreign Affairs (FDFA). More than 50 multilateral organizations – many of them UNICC Clients and Partner Organizations – provided information for undergraduates and graduates who are interested in a career in the multilateral field about their working conditions and career opportunities. Dimitra Ralli, Head, Service Management Group, UNICC; Frederic Laval, Chief, Human Resources Section, UNICC and Amalia Stein, HR Assistant, UNICC; represented UNICC at the conference. UNICC colleagues did some outreach and advocacy to potential candidates for employment. It is indeed a critical endeavour to ensure that UNICC recruits the best of the young and the innovative to deliver its mandate. It was also an opportunity to reach out to women candidates and promote UNICC's gender parity strategy. The event was a great opportunity for UNICC to make its work visible and attract new talents.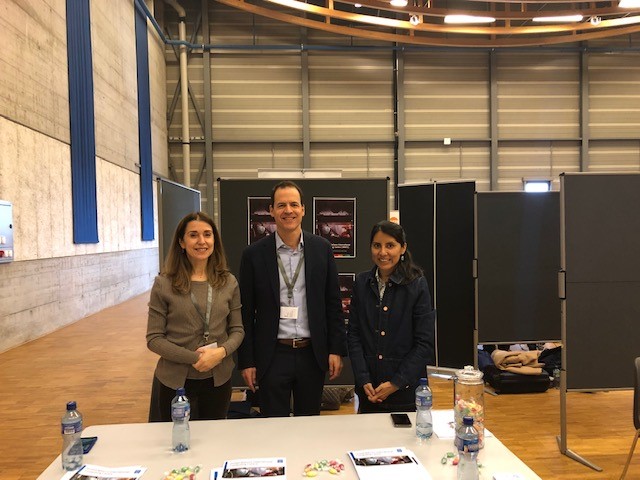 Forum e 2022
On 11 and 12 May 2022, UNICC took part in the 20th edition of the UPV Forum e job fair (FOROE22) with 90 activities related to employment, entrepreneurship and internationalization. On the first day, UNICC colleagues were on hand for students and candidates visiting the stand and interested in joining the UN family. As part of the activities scheduled for the second day, the team had the opportunity to attend a roundtable regarding employability and present to the audience the different jobs that UNICC offers and the professional careers that can be developed by working within the UN system.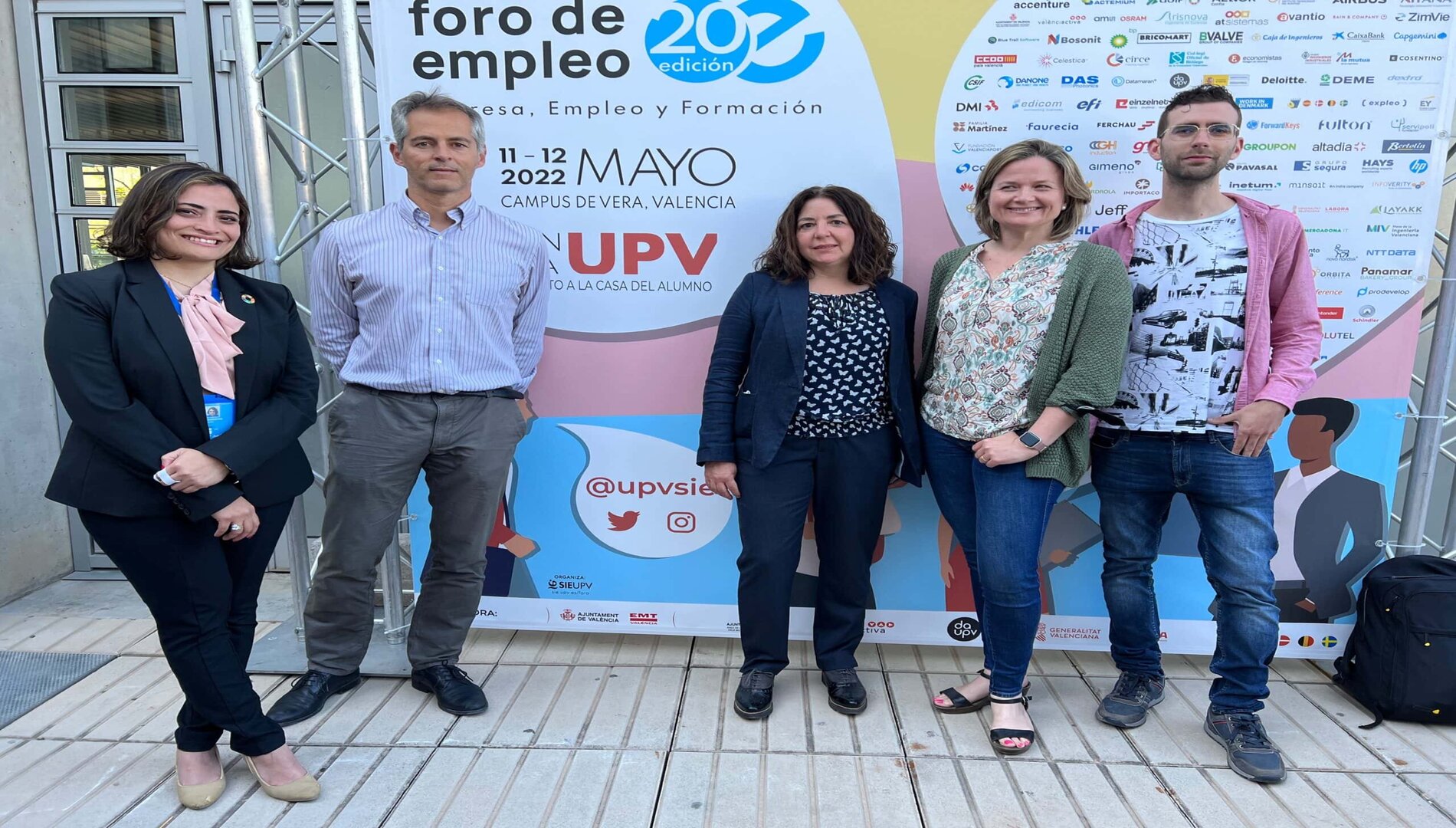 UNICC's participation in these events speaks to its commitment to SDG 4 Quality Education, SDG 9 Industry, Innovation and Infrastructure and SDG 17 Partnerships for the Goals.
UNIC​C is an equal opportunity employer​ and encourages a​p​​​​plications from all qualified individuals, regardless of race, gender, nationality, age and sexual orientation. When you join UNICC as an intern, a consultant or a staff member, you will experience a truly international and multi-cultural environment. Interested in joining us? Visit the Working with Us page.