​In the late 1960s, UN organizations started relying increasingly on costly Electronic Data Processing (EDP) equipment. Instead of purchasing their own equipment and anticipating major economies of scale, the three founders of ICC, namely the United Nations (UN), th​e United Nations Development Programme (UNDP) and the World Health Organization (WHO), joined forces to put in place a shared Electronic Data Processing (EDP) facility. Pursuant to General Assembly Resolution 2741 (XXV) of 17 December 1970, ICC was created as an inter-organization facility to provide a common EDP.
ICC has established a hosting agreement with the World Health Organization. As Host Organization, WHO provides administrative services concerning personnel, legal, financial and other matters, to ICC. ICC thus operates in accordance with WHO Financial and Staff Regulations and Rules, albeit some of these have been adapted, in agreement with the Host Orga​​nization, to take into account the special needs of ICC.
Owing to the sensitivity of the information they dealt with, the three founders opted for the creation of a shared facility within the UN family rather than rely on a private EDP se​rvice. Although they decided to share equipment, the founding Organizations requested ICC to ensure that each of them would only be given access to its own data.
​The initial agreement between the three founding Organizations explicitly encouraged other Agencies​​​ of the UN System of Organizations to join the newly born inter-Age​ncy set-up. Today ICC provides services to more than 35 UN Organizations.
ICC thus focuses on the provision of shared Information Technology and Telecommunication (ICT) services on a cost-recovery basis. The Centre derives its income exclusively from billing the services it provides.
In that regard, ICC functions like a private company in constant search for competitive advantage and operational excellence. ICC is required to deliver quality services at competitive costs and to complete its projects on time and on budget. ICC also needs to meet fast-changing customer requirements and to keep pace with relevant new technologies.
At the same time, as an entity of the UN System, ICC is best placed to understand the requirements and specificity of its UN system Clients.
The extraterritoriality of ICC as a UN entity ensures that the information that is hosted by ICC is not subject to national jurisdictions.
​From MAINFRAME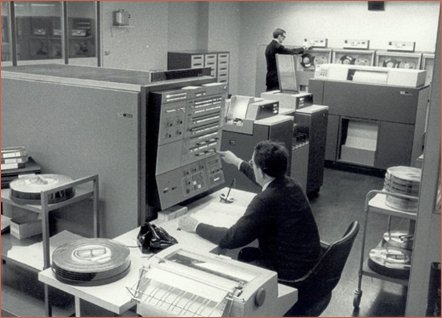 ICC Geneva data centre 1971: IBM Mainframe System/360 model 65. Photo: ICC
to
BIG DATA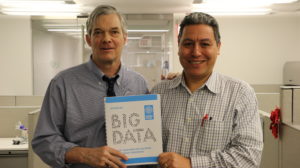 ICC consulting services include information security, enterprise architecture, business mapping, ICT strategy, cloud computing, BIG DATA and more. Photo: ICC