AOSIS countries virtual meetings to prepare for Climate Change Conference COP26
Small islands and low-lying territories are vulnerable to a host of climate change effects, including sea-level rise and extreme weather events that devastate communities every year and put these countries at risk of annihilation.
The Alliance of Small Island States (AOSIS), a group that represents the interests of 39 small island and coastal developing states in international negotiations and processes, met last summer in a series of sessions to coordinate and prepare their participation in the November Climate Change Conference COP26. The meetings were held virtually with the support of UNICC's conference management services team.
Antigua and Barbuda, current chair of AOSIS, reached out to UNICC after being part of a successful delivery of a virtual meeting solution for thousands of participants at UN Climate Change Subsidiary Bodies meetings. AOSIS required virtual conferencing services to support the AOSIS Regional Coordination Meetings of the Caribbean, Pacific and African, Indian Ocean and South China Sea. A total of 48 hours of virtual meetings took place between July and August and included hundreds of participants.
UNICC delivered a comprehensive solution of integrated platforms, from a Social27 registration mechanism and virtual venue homepage, to Microsoft Teams meeting rooms with live chat for participants. UNICC's digital conference management solutions, a new service offering, was customized to suit AOSIS' requirements.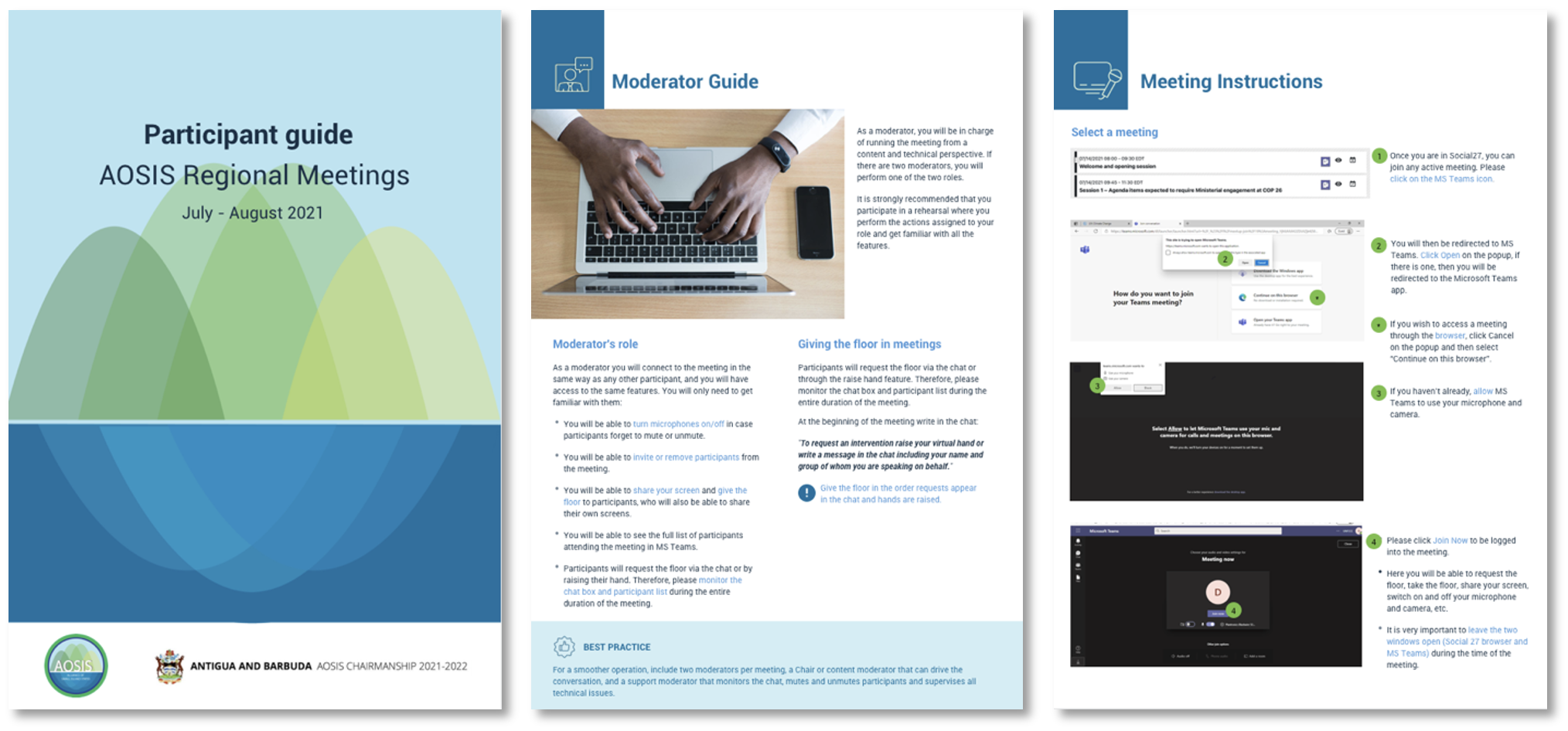 Additionally, UNICC teams offered project management and quality assurance services, support management with LiveChat, as well as training, including training material, dry-run sessions for chairs and delegates, with coverage in different time zones.
Virtual conference management from UNICC suits current digital diplomacy and multilateralism needs. The impact of the global pandemic coupled with superior virtual tools and support means digital dialogues can take place remotely or in hybrid environments as well as physically in discrete locations.
The AOSIS alliance consolidates the voices of Small Island Developing States (SIDS) to address international climate change and sustainable development. These island countries are particularly vulnerable to climate change and its related effects on the ocean, including sea level rise, coastal erosion and saltwater intrusion.
The members are among the nations least responsible for climate change, having contributed less than one percent to the world's greenhouse gas emissions. These states advocate for international policy and mechanisms for addressing the inequity of climate impacts.
UNICC's virtual conference management solutions help AOSIS in meeting its Agenda 2030 goals around climate change.