Thousands of participants worldwide join virtual Subsidiary Bodies sessions in preparation for COP26
Following a year of limited meetings in 2020 due to COVID-19, the UN Climate Change Subsidiary Bodies met formally again in June 2021 through a high-quality virtual meeting solution supported by UNICC. From 31 May to 17 June, participants from around the world and across time zones engaged in hundreds of meetings to address the issues under negotiation.
The Subsidiary Body for Scientific and Technological Advice (SBSTA) and the Subsidiary Body for Implementation (SBI) sessions were the first UN Climate Change meetings to take place in a virtual format, after the United Nations Framework Convention on Climate Change (UNFCCC) and UNICC partnered earlier in March 2021 to develop and deliver a state-of-the-art digital platform for climate change events, now that the pandemic is posing constraints on large-scale physical conferences and there is a need to reduce emissions.
When the global pandemic put a halt to our usual way of working – face-to-face, in conferences of up to 30,000 participants – we tried several platforms to keep our climate change process on track. It wasn't until we partnered with UNICC that we were able to come up with a comprehensive solution that addresses every aspect of the user experience. Their vision and consistent, robust support gives us confidence that we can meet future needs in a virtual or hybrid world.

Laura Lopez, Director, Conference Affairs, UNFCCC
UNICC supported the delivery of a seamless conference management solution with single sign on for the different platforms. From guest registration to document management, the solution allowed organizers and participants to carry out the same activities as in a physical conference, and more.
A virtual venue homepage welcomed registered guests and offered an overview of the event, with a schedule where each participant could see the meetings open to them with detailed information. The lobby was also the gateway to a networking lounge, individual and group chats, poster sessions and live support.
The virtual venue consisted of one plenary hall with broadcast capabilities, as well as meeting rooms. All rooms had a floor management system that allowed for different speakers to contribute based on registration information, as well as video and microphone control, screenshare capabilities and a chat for participant.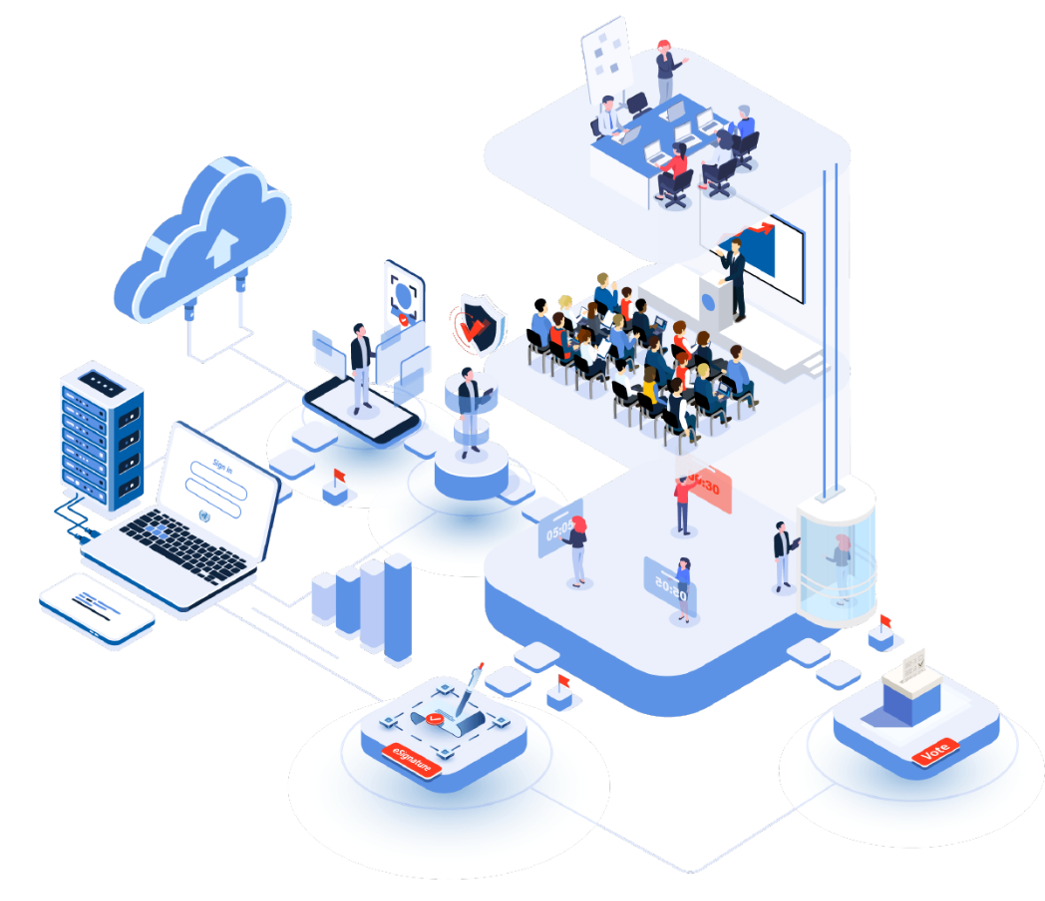 UNICC services included not only supporting the technical implementation but also providing security governance, data protection and risk assessment services, ensuring full security and trust. UNICC was also part of a 24/7 service desk and a live chat available at all times during meetings, a feature highly appreciated by participants.
The 2021 SBSTA and SBI sessions were aimed at making progress on several outstanding issues key to achieving success at the Climate Change Conference (COP26) held in November in Glasgow, Scotland, UK. UNICC was also the trusted partner for this conference, supporting UNFCCC's mandate to step up the world's response to climate change and become a leader in Digital Climate Diplomacy.