Seven UNICC teams including virtual meeting provisioning, cyber security, digital ID and data analytics support the 2021 UN climate change conference
As the climate emergency continues unabated, the need to facilitate global participation and engagement in the multilateral process on climate change remains as vital and urgent as ever. The United Framework Convention on Climate Change (UNFCCC) partnered with UNICC last year to optimise climate change events with digital business solutions.
When the global pandemic put a halt to our usual way of working – face-to-face, in conferences of up to 30,000 participants – we tried several platforms to keep our climate change process on track. It wasn't until we partnered with UNICC that we were able to come up with a comprehensive solution that addresses every aspect of the user experience. Their vision and consistent, robust support gives us confidence that we can meet future needs in a virtual or hybrid world.

Laura Lopez, Director, Conference Affairs, UNFCCC
UNICC is honored to have served as a UNFCCC partner in delivering to pre-COP26 events, including the Subsidiary Body meetings in May – June 2021 as well as regional partner meetings such as those held by Association of Small Island States (AOSIS) and Least Developed Countries (LDC). In this capacity, UNICC brought forward a breadth of capabilities across Digital Business Advisory, Data and Analytics, Cyber Security, Event Management, Training, Governance and Technology Implementation to facilitate end-to-end platform identification and execution for over 1500 participants in virtual global negotiations.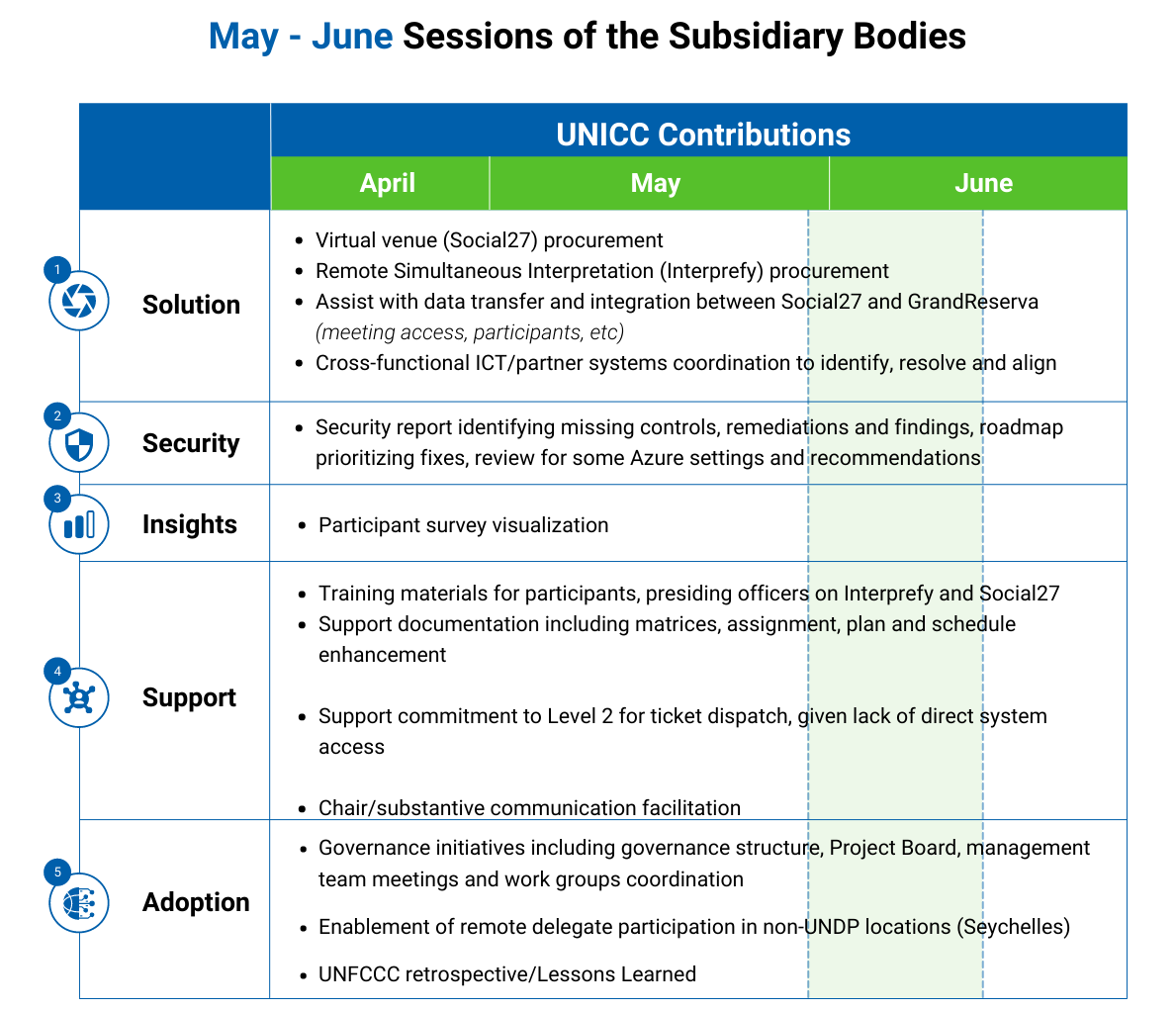 For Conference of Parties (COP26) in Glasgow in November 2021, UNICC once again performed as a cross-functional team to deliver innovative solutions across 8 key workstreams. These workstreams executed in less than 3 months toward commitments and in partnership with UNFCCC, the UK host country and multiple platform and professional service providers culminated in an historic COP26 in Glasgow, Scotland, UK.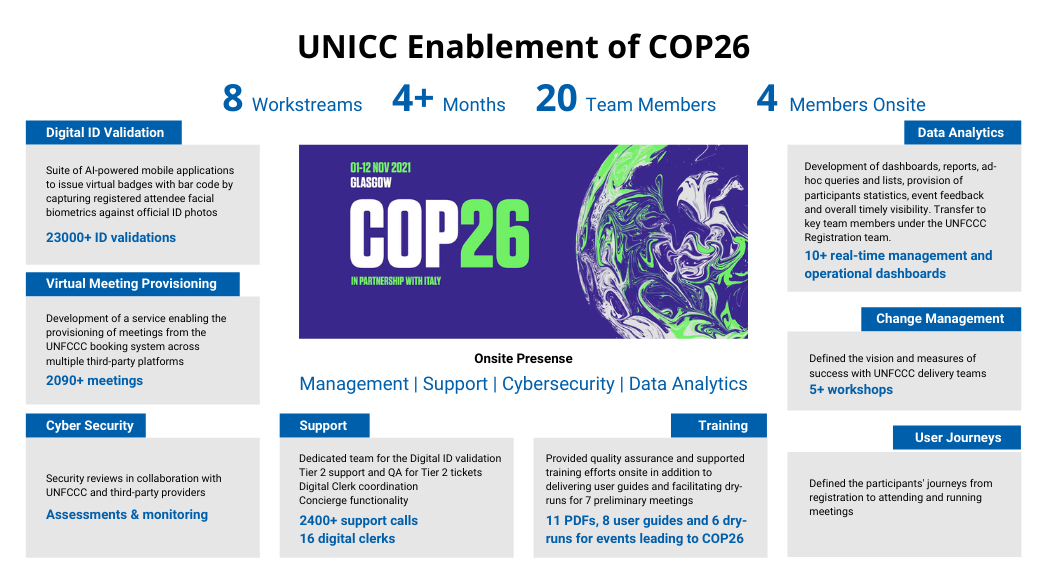 COP26 brought together global leaders and over 40,000 participants between 31 October and 12 November to maintain momentum on prior climate change agreements and further commitments for those most impacted.
Climate action is necessary and UNICC's partnership with UNFCCC to provide direct support leading to the Glasgow Climate Pact at COP26 is exactly the union of purposeful work and digital solutions that will drive change in our world today. The ability to enable climate action by bringing together a "one UNICC" team showcasing our breadth of capabilities is a testament to the extraordinary talent and commitment within UNICC.

Ninna Roco, Chief, Business Digital Solutions Officer, UNICC
UNICC provided cross-functional support through eight workstreams that worked in close collaboration with UNFCCC, both remotely and on site, before, during and after the conference.
COP26 ID check app – providing secure verification to 30,000 participants
The COP26 ID Check app, used to manage registration for the conference, leverages a suite of AI-powered mobile applications to issue virtual badges with bar code by capturing registered attendee facial biometrics against official ID photos. This technology developed by UNICC allowed a secure and efficient verification of thousands of COP26 participants, including representatives of the Parties to the Convention and Observer States, members of the media and representatives of observer organisations such as NGOs and IGOs. The business value from a pre-approved Digital ID verification was reduced registration and badge pick-up wait times by 50% for participants on site in Glasgow.
Virtual meeting provisioning – enabling participation and negotiations at the core of the conference
COP26 is the first Climate Change conference necessitating virtual access to meetings and negotiations happening on site in Glasgow. UNICC's Virtual Meeting Provisioning team provided integration across different systems involved in the hybrid events. The integration enabled the provisioning of meetings (creating and deploying different meetings including side events) critical to aligning COP26 participants on the issues. Through these integrations across the videoconferencing service (Webex/ Webex Legislate), role-based access and room reservation software (UNFCCC Grand Reserva) and meeting broadcasting technology, UNICC enabled participation in over 2000 additional meetings.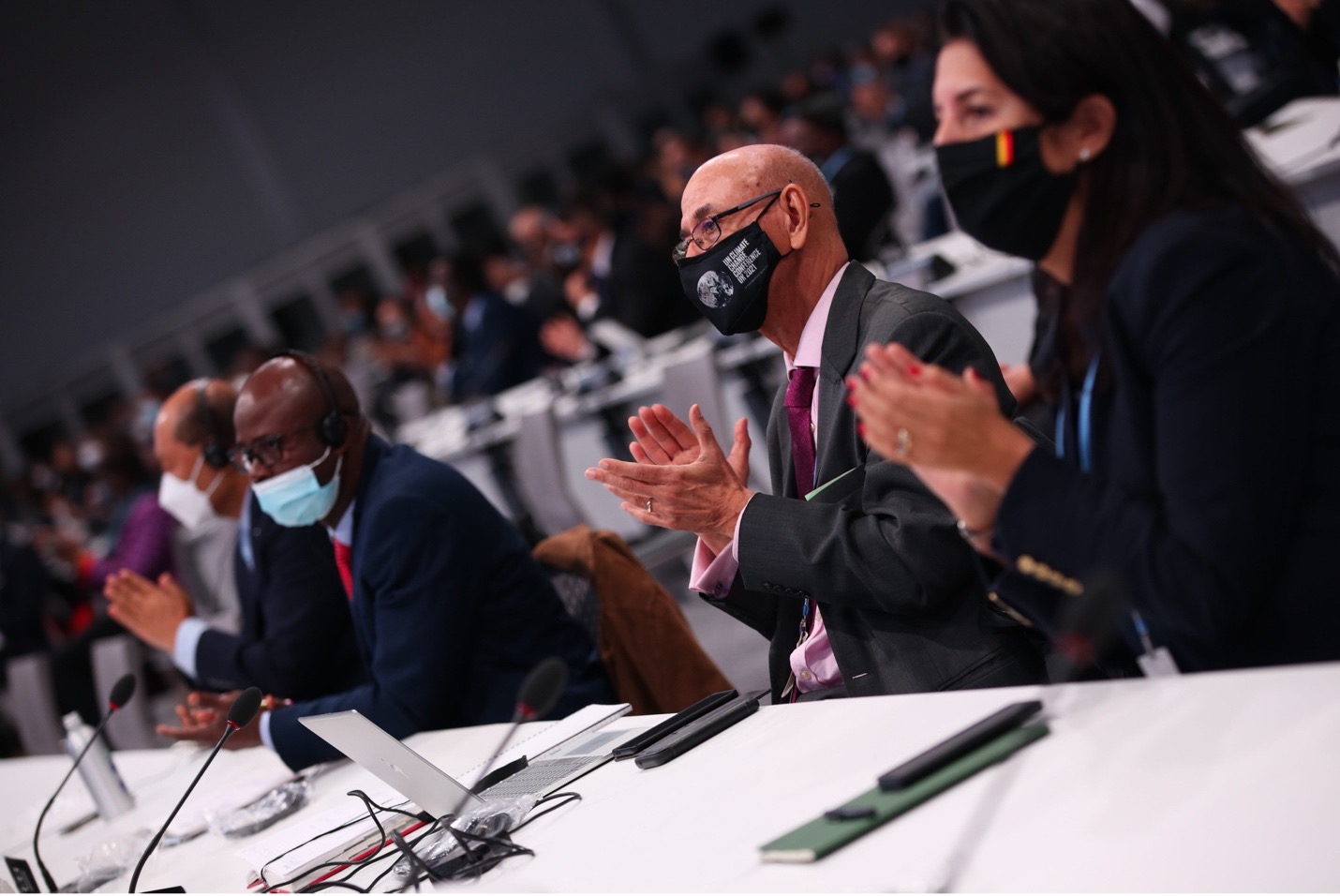 Data and analytics – conference meeting management monitoring and reporting 
UNICC's Data and Analytics team was also engaged, to monitor and control all aspects of the meeting management, while satisfying host country requests. UNICC data extraction, cleansing and visualization skills resulted in the development of COP26 dashboards, reporting and survey providing participant statistics, event feedback and overall improved real-time visibility. The value recognized was immediate and the end users quickly expanded beyond UNFCCC Senior Management to also include UN Security teams for venue population management, UK host country organizers and UK health officials for health and safety monitoring.
User support – helping participants navigate the technology
A dedicated support team with deep knowledge of the conference technology tools including the COP26 Platform and COP26 ID Check App was established to collaborate with the technical team during testing phases, as well as to help participants with ID validation and other questions throughout the conference. Support was available 24/7, starting ten days before the conference and throughout the whole event.
Cyber security – running a secure conference
UNICC worked hand in hand with UNFCCC's ICT and Cyber Security teams to provide cyber security services for COP26, collecting security issues and risks, reviewing existing outsourced contracts and providing cyber security consultancy services.
Before the conference, this workstream performed a security audit of the Microsoft Azure tenant hosting the COP26 platform, where all events took place. During the conference, the team also supported UNFCCC's Security Operations Centre with a physical presence in Glasgow.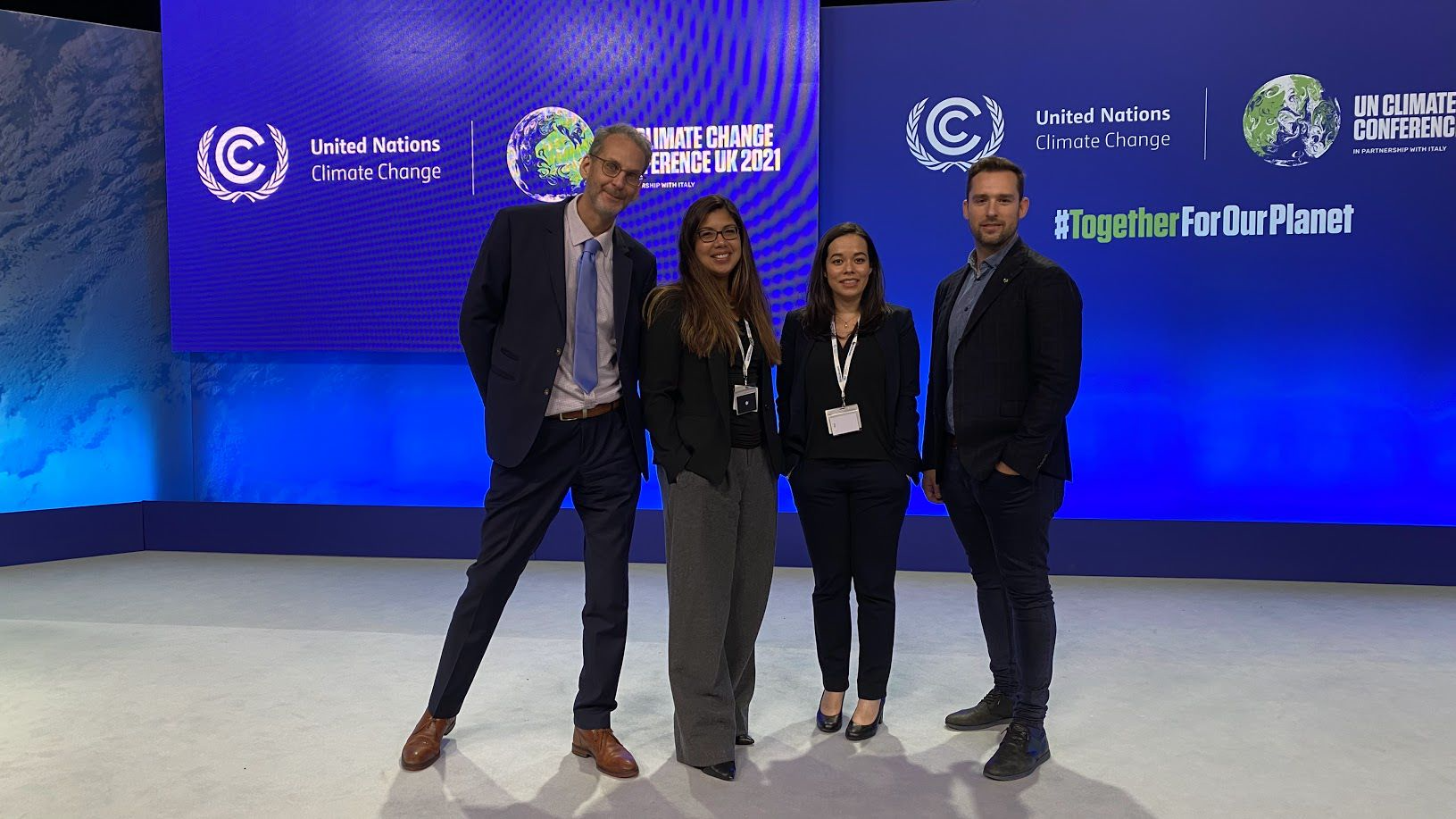 Change management and participant journey mapping – a customer centric approach for a positive user experience
The Change Management workstream was a crucial component for the overall success of the conference, providing inputs to all other UNICC and non-UNICC workstreams, especially to the Training and Support teams.
UNICC's Change Management team was in charge of articulating the COP26 vision, accelerate change acceptance and adoption of new hybrid conference approach.
This workstream also delivered conference personas depicted into active participant journey maps to support clarity of overall requirements and scope.
Training – supporting participants' use of new tools
The training team collaborated with UNFCCC, the host country government and other stakeholders involved in COP26 to ensure participants easily learned how to use the new technologies involved in Climate Change Conferences. In particular, UNICC's contribution included quality assurance of training materials such as user instructions to access the COP26 platform.
In addition to the workstreams above, UNICC was invited by UNFCCC to provide on site physical presence across Digital Business Solutions, Cyber Security, Data and Analytics and Governance from 23 October through 15 November. In Glasgow, UNICC was able to provide management support and visibility in preparation for press conferences, issue remediation, COVID19 exception handling, training of UNFCCC substantive bodies, as well as strengthen and foster relationships. The onsite participation deepened UNICC knowledge of hybrid events furthering our overall experiences in Digital Diplomacy.
So many teams came together to understand what our business and ICT partners needed for successful meetings and negotiations. It is through this ability to be customer-centric and bring forth the deep knowledge and expertise of our teams and partners that most excites me about UNICC's future.

Ninna Roco, Chief, Business Digital Solutions Officer, UNICC