Partners approve new Cybersecurity Resilience Maturity Assessment service
UNICC's Management Committee (MC), the organization's governance body comprised of representatives from 41 Partner Organizations, met fully virtually 13 and 14 October for the 108th MC meeting, the second of 2021. Fabrice Boudou, new MC Chair and Director of IT Solutions Division at WTO, chaired the meeting together with Vice Chair Anthony O'Mullane, Director, Operations Support Division, Office of Information and Communications Technology, United Nations.
On the first day, the sessions covered statutory business. UNICC Director Sameer Chauhan presented the Director's Update with news on UNICC's ongoing digital transformation as well as updates on a range of areas, including operations, network and cybersecurity, business, finance and more.
Three new Clients were presented: the International, Impartial and Independent Mechanism (IIIM), UNDP India and UNDP Nigeria; as well as two new user organizations: the Commonwealth Secretariat and ID2020.
Statutory business covered updates on audits and compliance. Since the 107th MC meeting, UNICC has received the ISO/IEC 22301:2019 certification for Security and Resilience – Business Continuity Management Systems – Requirements.
UNICC's Director informed attendees about the progress on the following professional services areas:
Digital solutions such as Remote Simultaneous Interpretation (RSI) services for hybrid and virtual conferences
Data and Analytics with a focus on Data Hub as a Service and Data Governance Framework efforts
UNICC adopting Agile methodologies for project and programme management
Shared digital solutions including the UN Digital ID, the Joint Sanctions Screening Solution, the UN Partner Portal, etc.
The RSI team is doing a great job! We are using their services regularly and are very happy with the professional support.

Christopher O'Connor, Chief, Information Management and Technology, OHCHR
The Management Committee received an update on how the organization is dealing with the consequences of the COVID-19 pandemic, including working from home regulations and office staff thresholds, the continued use of the UNICC Crisis Communications App to manage staff location and the resources made available to the organization's workforce to improve their wellbeing.
Sameer Chauhan followed with updates on the topics of greening UNICC, where indicators are being identified; gender balance efforts with the implementation of a Gender Parity Strategy to reach gender balance by the end of 2028; outreach opportunities including the visit of the Secretary-General to Valencia in July and the publication of the 2020 Director's Report.
UNICC is launching its collaboration with UN Environment Programme's Greening the Blue. We make a commitment to measure and improve our carbon footprint. We expect to be carbon neutral as of 2020 and will continue our aim to becoming greener. Green IT does not have to be an oxymoron.

Sameer Chauhan, Director, UNICC
After the Director's Update, UNICC's Head of Business Control Unit Yannis Arfaras shared updates on the financial state of the organization. His presentation was followed by the first report of the UNICC MC Audit Sub-Group represented by three Partner Organization representatives.
Chief of Cybersecurity Section Tima Soni concluded the first day by presenting a new service: Cybersecurity Resilience Maturity Assessment, which was well received and which rate was approved by MC representatives. Partners noted that this new service will enable the development of a UN-only benchmark for Cybersecurity Resilience Maturity, especially valuable to smaller Clients and Partner Organizations.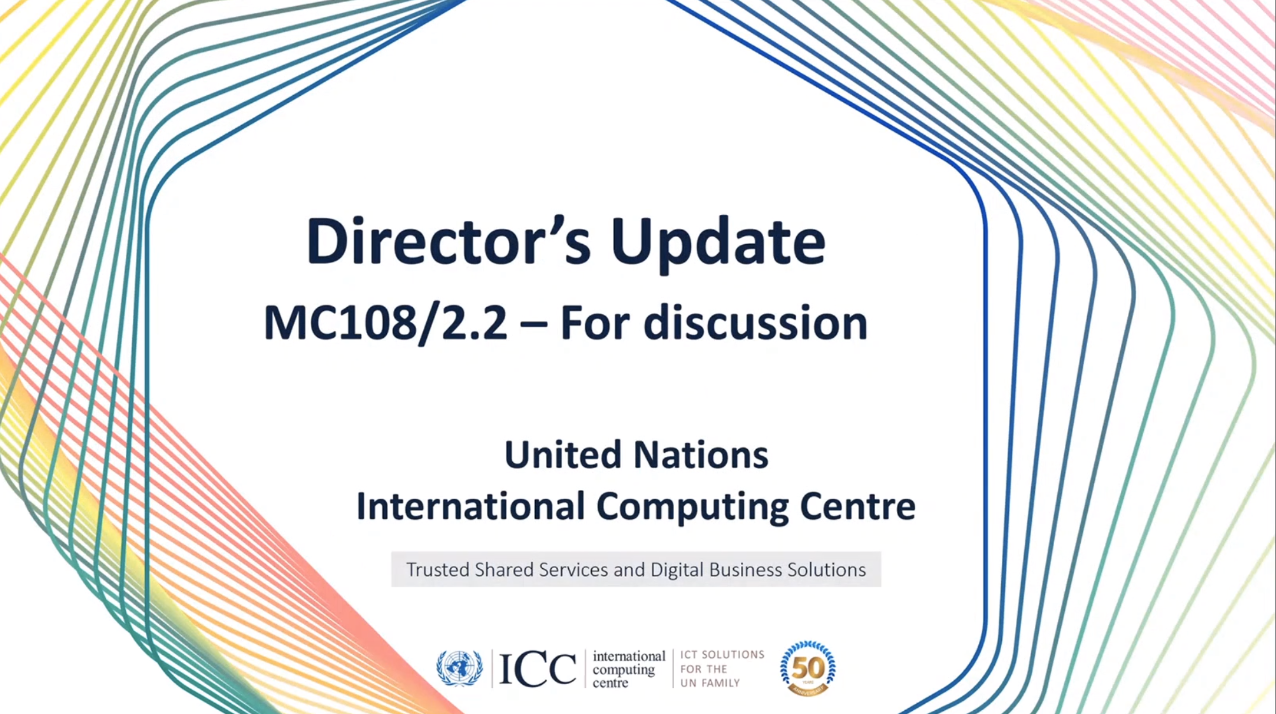 Photos: UNICC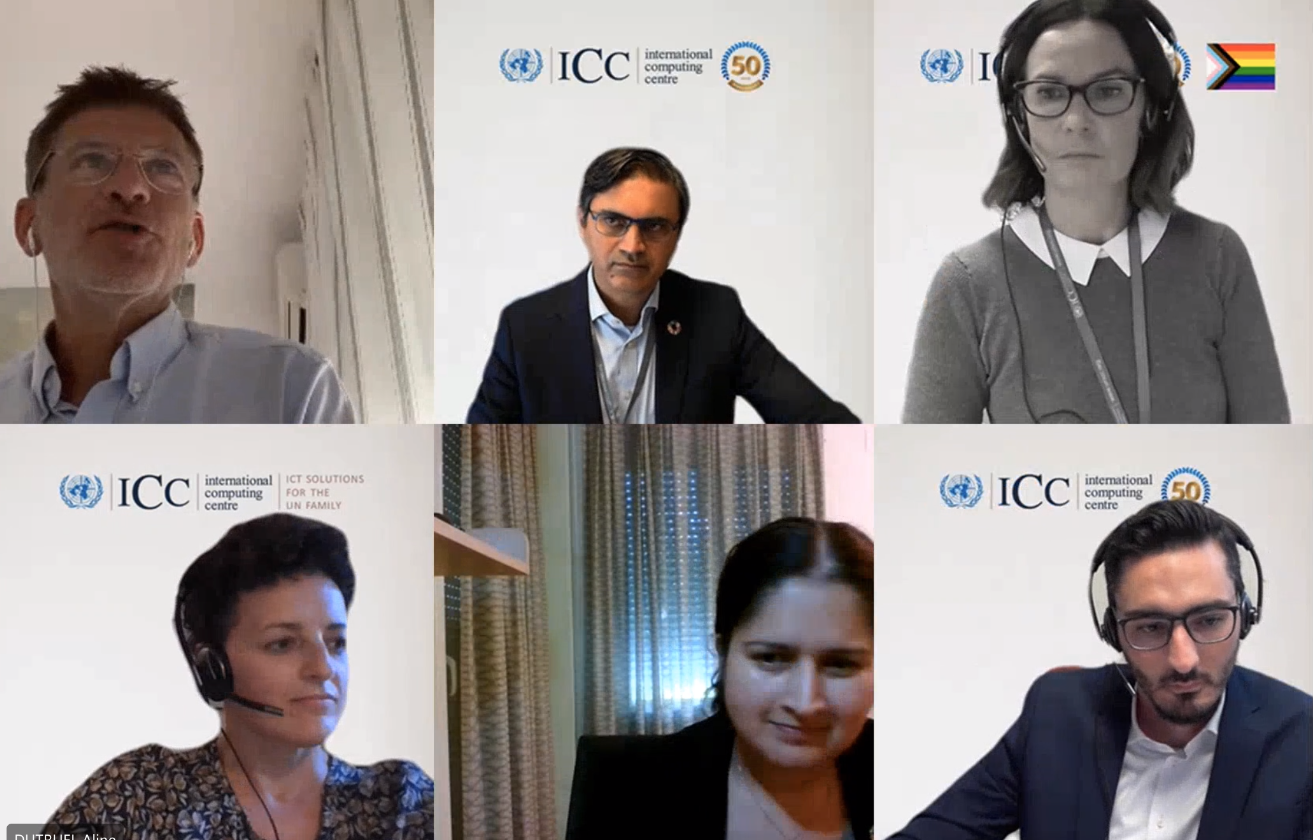 On the second day, MC representatives participated in a discussion around three topics. First, a 'mezzanine view' from the UNICC Director: a review of current technology trends, shared concerns and collective digital business opportunities for the UN system with his engagement with UNICC's 70+ Clients and Partner Organizations.
Secondly, Chauhan presented the prospective 'UN Community Cloud,' a container-based cloud solution that will run UNICC's flagship products. The UN Community Cloud is a logical and natural progression of the current hosting services offered by UNICC. It will offer a mission-critical, sensitive and scalable solution that may benefit the entire UN system in their scale-up and efforts to go digital securely and effectively.
The meeting ended with a discussion on how there is now clear guidance available from the UN Secretariat that ­UNICC is a full partner and not a vendor. These details were much appreciated by other Partner Organizations, who had explicitly asked for this to be discussed.
The Agenda had included a presentation by Chief of Data and Analytics Anusha Dandapani and a follow-up discussion on data and analytics. Due to lack of time, this item was tabled to be addressed either at an ad-hoc Management Committee meeting or at the 109th MC in Spring 2022.
I want to thank all UNICC Partner representatives who participated in our 108th Management Committee & collaborated to make our discussions substantive for a better UN, especially Chair @FabriceBoudou & Vice Chair Anthony O'Mullane @UN_OICT_OSD for steering the MC. #UNICCMC https://t.co/ab7ufXHyuz

— Sameer Chauhan (@uniccdirector) October 14, 2021