Design thinking activities inspire girls, young women and women thought leaders
International Girls in ICT Day supports the creation of a global setting for empowering and encouraging girls to consider careers in STEM. After two years of constraints to physical meetings due to the Covid-19 pandemic, UNICC, on 27 April 2022, was able to celebrate this international day again with an in-person event that brought together over 70 girls and women at the NYU Tandon School of Engineering, in Brooklyn, New York, USA.
UNICC, together with the International Telecommunications Union (ITU), the United Nations Office of the Secretary-General's Envoy on Youth, NYU Tandon School of Engineering and the NYC Mayor's Office for International Affairs organized an afternoon of group activities and discussion to provide middle school girls and young women from New York with an opportunity to meet women technologists and thought leaders for inspiration and empowerment.
The event gathered 20 middle school girls aged 12 to 14 from the Bronx, Brooklyn and Queens, 13 NYU students majoring in STEM fields like Computer Science, Mechanical Engineering, Chemical and Biomolecular Engineering, Business Technology Management and Integrated Design and Media, as well as 20 women thought leaders from the public and private sector, including Pfizer, Microsoft, Meta, Verizon, Ernst & Young and UN organizations including UNICEF, UN Women, ITU and UNICC.
This event was like a bridge that connected girls with women technologists: girls learned about professional experiences and were inspired by the comprehensive tech thinking of the older women, while the women in tech were amazed by the creative young generation and their courage to stand up and present their ideas in public!

Denian Ouyang, Junior Communications Officer, UNICC
After opening remarks and an ice-breaking activity, the attendees participated in two design thinking exercises led by Leejung Kim, Director of Global Commercial Operations at Pfizer. In the first activity, participants tried to answer the question 'What can we do to improve gender parity in technology industries?' Using a variety of craft materials, girls and women collaborated to create models and find solutions to the question.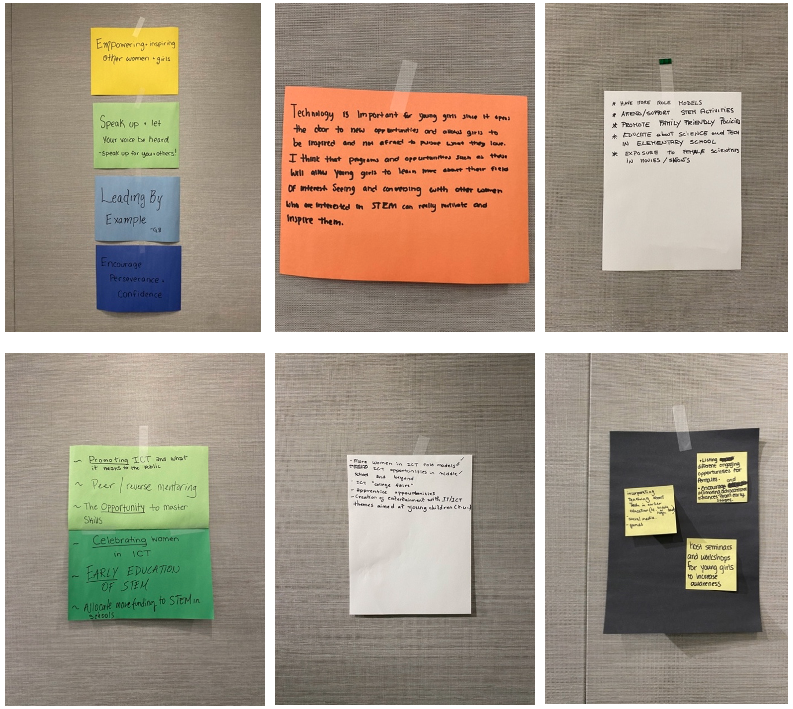 The second theme was 'Access and Safety,' for which Leejung Kim introduced four women who live in NYC with safety issues. Participants focused on creating a solution to improve safe public spaces for girls and women, and came up with ideas that ranged from a robotic guard dog, security cameras inside trains, to LED lights that alert authorities when something out of ordinary occurs.
Jeremiah Brent, an interior designer, said "when designing- whether it's a living room, event space or tablescape, I always want guests to feel as though they are part of the experience." That's what I felt participating in the ICT for Girls Day event. I felt that I was very much a part of the experience during those few hours of memorable shares for our purpose in life.

Myinzu Shwe, Project Manager, UNICC
International Girls in ICT Day was an opportunity to watch young girls in action and work with them to build STEM solutions to empower women. It was a forum that helped me see the younger generation's viewpoints, understand their perceived challenges and come to a shared understanding of why STEM is important for women and for the world.

Anu Senan, Business Relationship Manger, UNICC
I was blown away by the sheer level of motivation, ambition and intelligence demonstrated by these girls. It was both refreshing and inspiring to be surrounded by such brilliant young minds and I look forward to seeing some amazing technological innovations coming our way. The future is bright indeed!

Cynthia Shumba, Head, Service Desk Unit, UNICC
UNICC's Junior Communications Officer Denian Ouyang, Business Relationship Manager Anu Senan, Head of Service Desk Unit Cynthia Shumba and Project Manager Myinzu Shwe participated in the event as role models, sharing their own experiences at UNICC and in the ICT sector.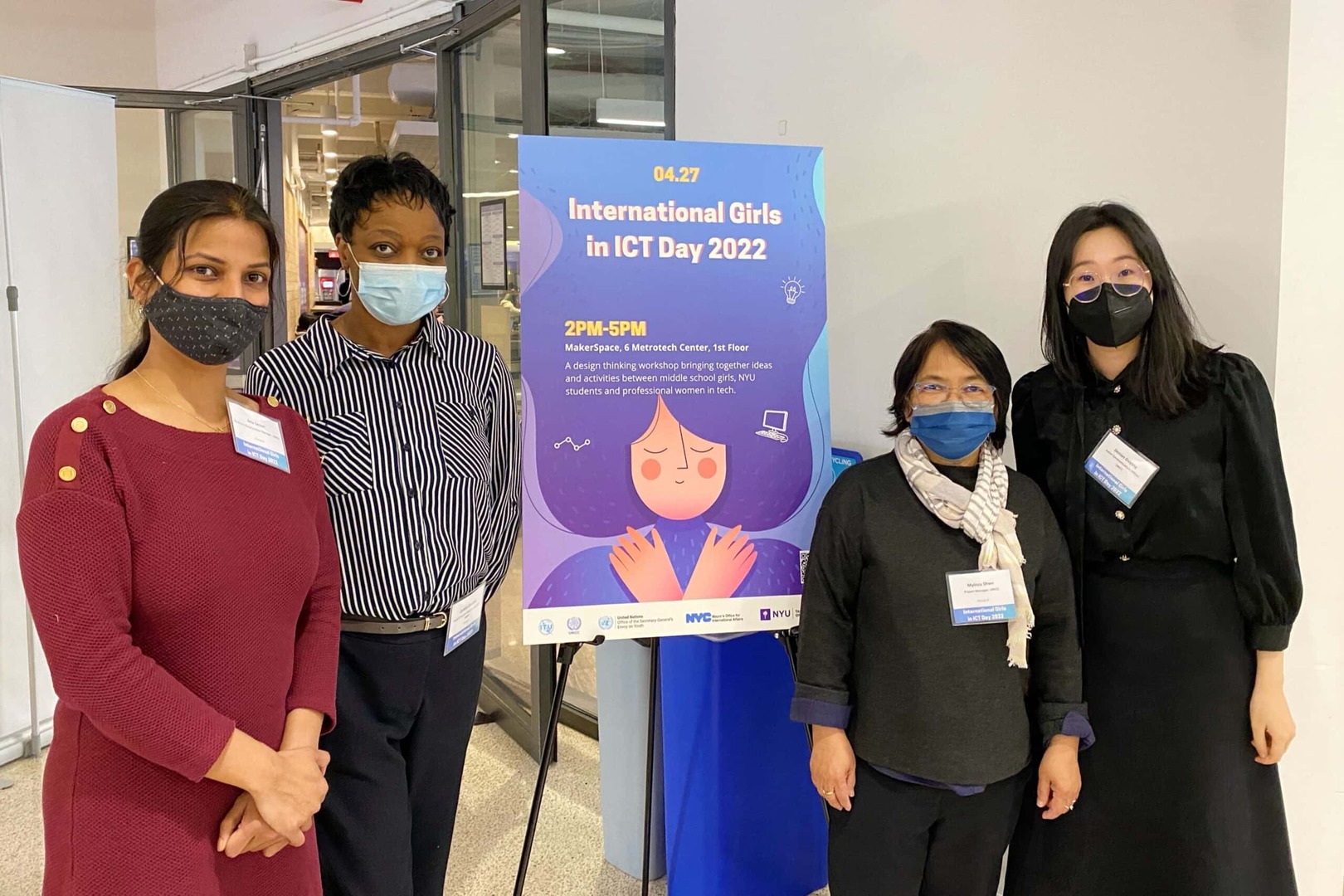 International girls in ICT day celebrations
International Girls in ICT Day is a day recognized around the world and held every fourth Thursday in April to support the creation of a global environment that empowers and encourages girls and young women to consider careers in the growing field of ICT.
In the past years, UNICC has teamed-up with various partners to celebrate this day. In 2018, ITU, UNICEF, WIPO, UN Women, Build 'n Blaze and the New York City Mayor's Office together with UNICC brought together 20 young women and men to the Microsoft Technology Centre in New York to meet 20 STEAM professionals. The following year the event took place at the SMART Campus of Cornell Tech with the sponsorship of ITU, Women in Technology and Enterpreneurship in New York (WiTNY), the NYC Mayor's Office and UNICEF.
For 2020 and 2021, when it wasn't possible to have physical meetings, ITU, the Office of the Secretary-General's Envoy on Youth, the EQUALS Global Partnership and UNICC launched a series of virtual dialogues to keep promoting ICT careers among girls and young women. The Girls and Women Talking Tech interviews have been a big success with 380+ participants to this day, and they continue to inspire young generations of women to pursue careers in STEM, enabling technology companies, academic institutions, economies and societies to benefit from greater female participation in a more inclusive ICT sector.