Girls (and a few boys) and young women meet Women Technologists and thought leaders for inspiration and empowerment with group activities and discussion on Women in ICT themes.
25 April 2019
2:00p.m. – 5:30 p.m.
Cornell Tech on Roosevelt Island
Tata Innovation Building Room 131
11 E Loop Rd, New York, NY 10044
UNICC, the International Telecommunication Union (ITU), and Women in Technology and Entrepreneurship in New York (WITNY) sponsored an International ICT4 Girls Day at the new SMART campus of Cornell Tech on Roosevelt Island, working together with the NYC Mayor's Office and UNICEF.
The goal was to provide middle school girls (and a few boys) and young women from the City University of New York with an opportunity to meet women technologists and thought leaders for inspiration and empowerment with group activities and discussion on Women in ICT themes.
The event featured introductions from the 20 Women in Tech, followed by a design-thinking workshop where 60 women, young women and middle school students worked in groups to prototype ideas on how to help a set of particular girls from developing nations to find access and progress towards meeting their personal and professional goals using technology.
Maria Ann Dikun, Assistant Director of Programs, Women in Technology and Entrepreneurship in New York (WITNY), opened the session on the beautiful new Cornell Tech campus with cherry trees in full bloom, the UN Secretariat on one side of Roosevelt Island and the Queensboro Bridge looming in the background on the other, a symbol of bridging the divides across gender and technology.
Winne Chang, Senior Designer, Office of Innovation at UNICEF served as moderator, with Lee Kim, Director, Global Commercial Operations at Pfizer, Inc., as Design Thinking Facilitator running with workshop. They stressed the value of suspending judgement, encouraging all (wild) ideas, listening to others and working as teams.
Professional women came from all walks of life across industries and organizations in New York and Washington, D.C.: full-stack developers, innovators, business analysts, operations managers, data scientists, cyber security experts, public policy directors, directors, founders, ICT associates, and technical solution specialists joined from Verizon Media, Facebook, Microsoft, UNICEF, UN Women, UNICC, ITU, Ferraro chocolates, Wikimedia's AFROCROWD, Telstra, ProMujer, GSMA, the United Nations Department for General Assembly and Conference Management, Brooklyn College City University of New York, Barclays, Black Girls Code, KPMG, Alpha'a and Morgan Stanley.
Maria Jose Ravalli, Head of Youth Engagement Division of Communication, UNICEF introduced the Women in Tech, who spoke about things they love about STEAM, data, math, art, creativity, tech and serving others. They also offered heart-wrenching stories about personal challenges and some words of advice to support and encourage more girls of all backgrounds to study ICT.
College students came from Baruch College, College of Staten Island, John Jay College of Criminal Justice, Brooklyn College, City College of New York, Baruch College, Borough of Manhattan Community College, Hunter College, City College of New York, La Guardia Community College, Queens College and City College. Students – many New York City Junior Ambassadors, came from the Icahn Charter School IV and Mott Hall Charter School in the Bronx as well as Brooklyn Science and Engineering Academy in Brooklyn.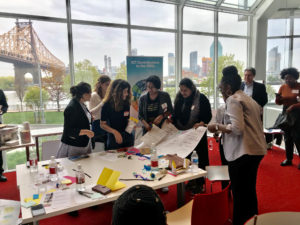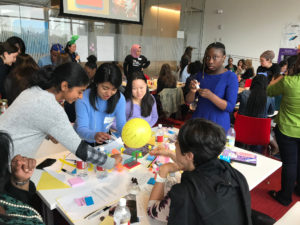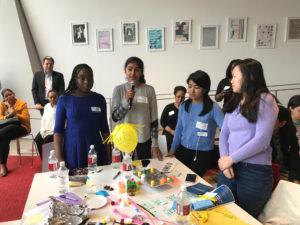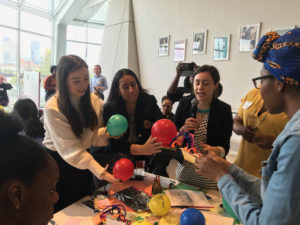 The excitement and passion in the room was palpable as peer groups discussed projects and got to know each other. They learned, through play, visualization and story-telling a little bit about agile development, design thinking and a human-centrist approach to design and delivery… as well as about each other.
Workshop results included solar-powered houses and iPads, a free mobile library app, a robot Siri, a solar-powered 3D printer, a matchmaker app for girls and inspiring role models, drones to deliver Wi-Fi hot-spots and a wonder map to help you find your way in life. Students at both levels had the opportunity to speak in public about their projects. But more than that it was an affirmative experience to champion opportunities for women to expand their horizons, build confidence and friendships and work on changing attitudes across the globe.
Ursula Wynhoven of ITU and Bill Allen at UNICC closed out the afternoon with a group photo and an ice cream social.
See the YouTube video.