Over the past several years, UNICC has seen a steady growth in internships – young professionals, recent graduates and even current university students passionate about the United Nations and UNICC's digital business solutions, contributing to meaningful projects by joining various teams.
Young people must have a say in the decisions that affect their future.

António Guterres, UN Secretary-General
These teams range across the organization, from Data and Analytics to Application Development, Operations, Finance and Procurement to Communications and Human Resources. Since the beginning of the internship programme around 2015, UNICC has been proud to host nearly 50 hardworking interns, many of whom have continued to pursue careers within the field of international humanitarian aid and technology. Some have even joined UNICC!
Internships have continued throughout the pandemic, even when most of the interns haven't been able to meet with their respective teams during their time at UNICC.
Thanks to all of our interns for their contribution and their efforts during this challenging period of uncertainty while they were able to perform their tasks and responsibilities with an excellent manner of professionalism.

Frederic Laval, Chief, Human Resources Officer, UNICC
UNICC's internship programme is mutually beneficial for interns and the organization, because it gives the opportunity for bright young minds to contribute to day-to-day functions, allowing UNICC to put into practice two of its core values: involvement and inclusiveness, while supporting youth to enter the aging UN system. The involvement of interns on UNICC teams creates open conversations where team members and interns can share information for more innovation in accomplishing daily tasks.
The involvement of interns displays the organization's priority to strengthen collaboration across generations and areas of work for the greater UN mandate. Most recently, five interns working out of UNICC's Valencia duty station, were invited to attend the Secretary-General's first visit to the UN Support Base in Valencia.

Today in Valencia, I met with young people and encouraged them to continue speaking out for their right to peace, justice and equality.

António Guterres, UN Secretary-General
The internship program also highlights UNICC's commitment to gender, diversity and inclusiveness in the tech sector. As shown below, of the 14 current interns in UNICC, nearly half identify as women, which according to BuiltIn is 12.6% above than the US national average of female representation in the tech industry.
Additionally, UNICC interns exhibit the international nature of the organization, where they work out of all five of the UNICC duty stations and together speak a total of over 15 different languages.

Benefits to UNICC
Identified areas of interest and growth to implement innovative services for UNICC Clients and Partner Organizations:
Add to the UNICC knowledge base
Benefit of high-level skills in specific areas
Improve the availability and quality of digital business services
Keep up with the latest technologies and their utilisation
Keep youth at the centre​ of the 2030 Agenda.
Meet the interns of UNICC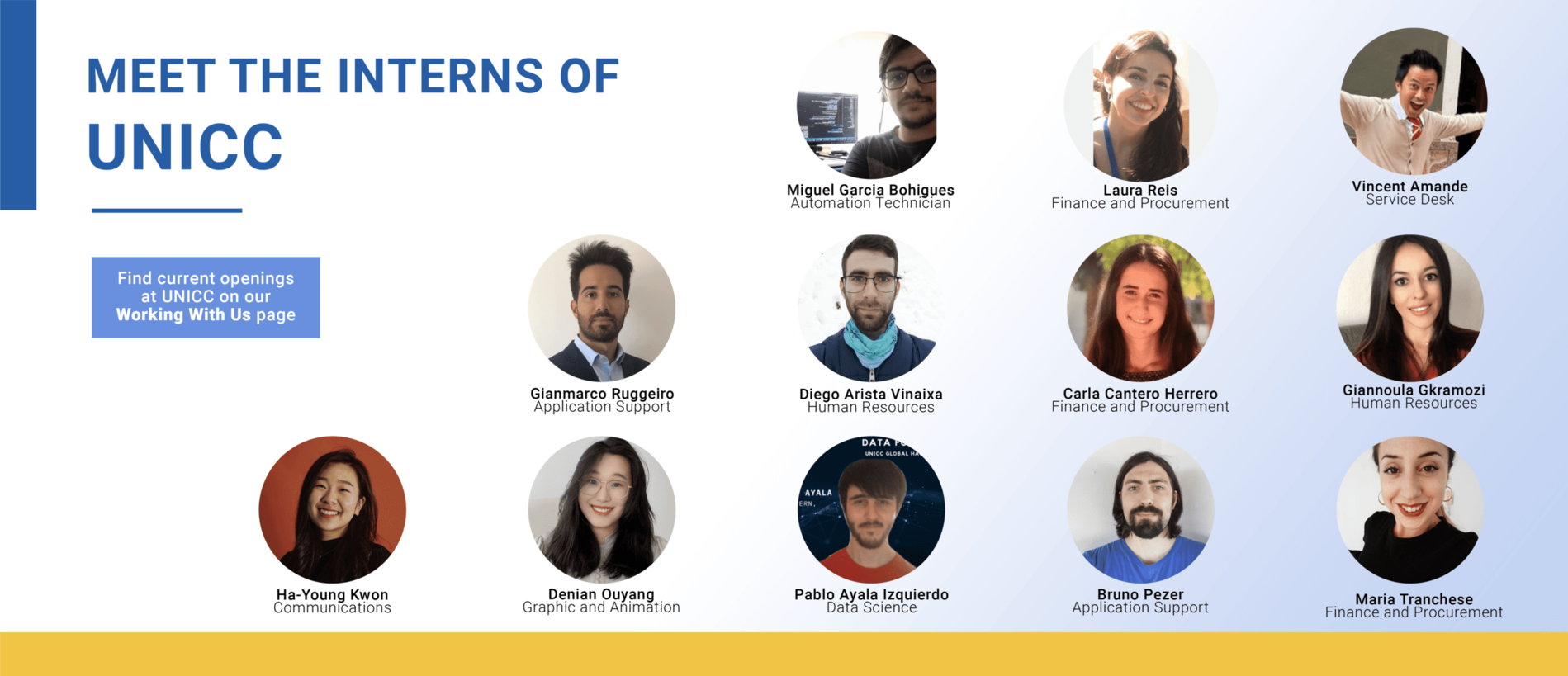 Given the nature of the COVID-19 pandemic and geographic borders, there have been limited chances for the interns to congregate outside of their teams and collectively reflect on their experiences at UNICC. To encourage these conversations, several interns set up a virtual call to connect for the first time to introduce themselves to one another and their specific responsibilities, share memorable experiences of UNICC and how working for the organization will shape their future trajectories.
Many UNICC interns applied during the final semester of their university studies with previous experience working for international NGOs and nonprofit organizations. Upon embarking on their internship journey with UNICC, they onboarded with their respective teams and are regarded not just as interns in the conventional sense but as true contributors to the projects and duties of their colleagues.
Laura Reis, Finance and Procurement Intern, shares that she is "glad for the chance to support a team of hard-working and highly-skilled professionals," reiterating the collaborative team ethic of UNICC for all staff.
Furthermore, interns within the same teams find value in interacting and sharing knowledge with one another on different UNICC standards and procedures to further professional development. For instance, Human Resources interns Giannoula Gkramozi and Diego Arista Vinaixa shared that they hold weekly meetings to catch up and work closely together on all sorts of different projects.
These collaborations between the interns, as Application Development Intern Bruno Pezer says, are especially meaningful during the pandemic. "Because the team is so integrated and my colleague, Gianmarco Ruggiero, fellow Application Development intern, is especially helpful, I have no trouble getting to know everybody, understanding the work environment and various tasks."

Additionally, several interns briefly shared their most memorable UNICC experiences and reflections. Ha-Young Kwon, Communications Aide Intern, states that her most memorable experience was hosting a conversation with upper-level women managers about how far they've progressed in their decades-long careers in IT services.
Denian Ouyang, Graphic Design Intern, shares that her favorite experience was working with staff across the organization to deliver the UNICC 50th Anniversary video. Vincent Amande, Service Desk intern, seized the opportunity to expand what he learned in the classroom on IT and Business Information Systems and apply his studies to the real world in a cross-cultural team: "It's a matter of working with harmony towards a common goal".
The UNICC experience
Although the interns are involved in different teams working on projects across the spectrum of the organization, many of their answers tied to one specific aspect of UNICC: the people. "The best aspect about working at UNICC," says Maria Tranchese, Finance and Procurement Intern, "is the working environment and the collaborative atmosphere. Every member of my team is always available if I need help – they are really interested in my growth and learning in the workplace." Carla Herrero Cantero, also an intern in Finance and Procurement, shares that the positive work environment she has in UNICC "marks you and makes you realize where and with whom you want to work in the future."
Reflecting upon their UNICC experiences, the interns spoke on the different lessons they will take away following the end of their contract. One lesson Pablo Izquierdo Ayala, Data Science Intern, brought into the conversation was related to his interactions with colleagues in UNRWA during the period of unrest in Palestine in the spring of 2021. He shared that "it was humbling in every sense" and encouraged him to adopt a broader, better informed and interpersonal perspective through working for such an international organization.
UNICC, a proponent of supporting educational and learning endeavors through strategic partners, academic institutions or otherwise, continues to encourage all those who are eligible and interested in applying to the Internship Programme to do so. Young professionals, recent graduates and current students will not only be regarded as valued team members but also find professional and personal growth in each opportunity they face during their experience at UNICC.
UNICC's commitment to the internship programme is indicative of the 2030 Agenda for Sustainable Development, notably in SDG 4: Quality Education, SDG 5: Gender Equality, SDG 8: Decent Work and Economic Growth and SDG 9: Industry, Innovation and Infrastructure.
Thank you interns! View current openings for Internships and other positions on the UNICC public web site Working With Us page.