On Wednesday, 9 June 2021, Manuel Nunes, Senior Business Analyst at UNICC, spoke about Robotic Process Automation (RPA) in a UN Innovation Network (UNIN) TechLearnTalks segment. Manuel described the functions and benefits of RPA, followed by Carla Ziade and Kamal Al-Khatib of the UN Economic and Social Commission for Western Asia (ESCWA) who presented a case study and demonstration of RPA in their daily operations as supported by UNICC's Robotic Process Automation (RPA+) Centre of Excellence.
TechLearnTalks is a series of UNIN webinars dedicated towards demystifying up-and-coming technologies "without the jargon"; this was accurately reflected in the audience when a pre-webinar Zoom poll revealed that only 25% of participants had prior knowledge about RPA. This was no barrier for Manuel, who gave a brief yet comprehensive presentation on the topic, describing RPA as a self-functioning set of rules much like a self-playing piano. He continued to set out the different types of RPA and each of their specific functions: attended, unattended and citizen development. To further clarify the difference the specific RPA types have in their processes, his presentation included a visual diagram of the extent to which human oversight is needed for attended and unattended RPA bots.
In addition, Manuel dove into the various benefits of RPA; for example, he explained that its developmental origins in the finance sector is the reason for its accuracy in compliance and audit regulations, not to mention the consistency of its precision. Other benefits were the sheer hours the organization can spare with RPA bots delivering otherwise reiterative and repetitive tasks, so employees are available to take on more meaningful duties.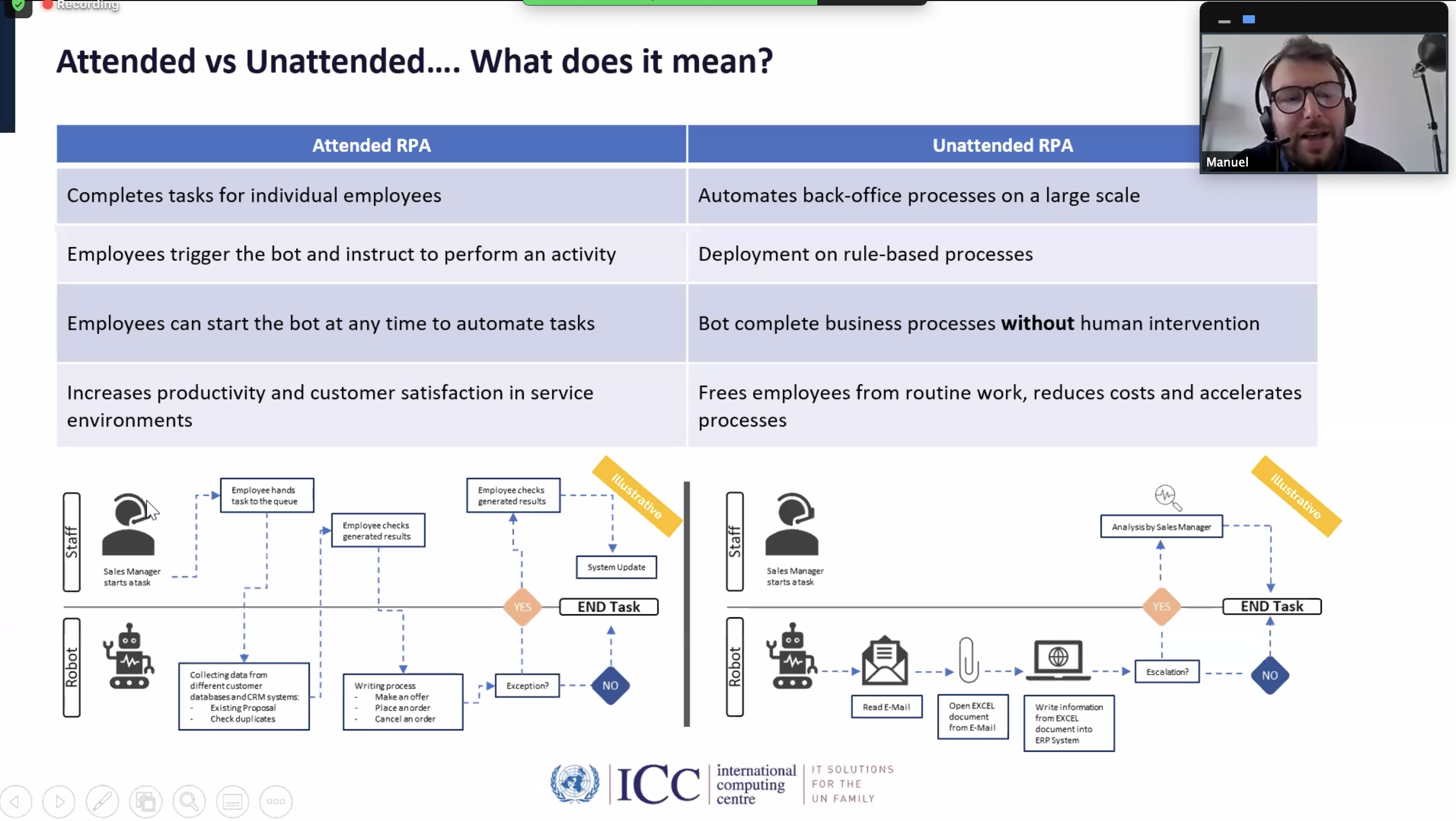 To conclude his presentation, Manuel touched upon the broad network of organizations for whom UNICC provides RPA services.
RPA is both cross-mandate and cross-function. Since the development of the service, UNICC has built more than 50 automations through RPA bots to over 15 organizations in the UN. This equates to thousands of hours of efficiencies – thousands of hours these organizations can re-allocate towards the greater UN mission.

Manuel Nunes, Senior Business Analyst, UNICC
Following Manuel's presentation, colleagues from ESCWA delivered a case study of RPA in action. Carla Ziade, Administrative Officer, explained that the RPA bot which UNICC had built primarily worked to automate the process of internal employees to submit travel requests within the Umoja system. She contextualised the benefits of RPA to ESCWA's operations, stating that it boosted efficiencies, reduced turnaround times, improved accuracy and was straightforward to launch and train users in.
The entire process of submitting a request from start to finish, when completed by a human, takes approximately 15 minutes; this process is annually completed an estimated 1200 times. Our calculations present that this RPA bot will save approximately 300 hours per year for the ESCWA.

Carla Ziade, Administrative Officer, ESCWA
Kamal Al-Khatib, Finance Innovation Group Project Coordinator, ESCWA, then delivered the technical explanation of the RPA bot, named "Adam," as well as the specific steps of the automation. To further establish the efficiency of the bot, Kamal prepared a visual live demo of Adam 1 (refer to 46:00 in the webinar recording).
---

Anecdotally, Kamal recalled the collaboration between ESCWA and UNICC to build the bot in 2019, which was during the period of social and political unrest in Beirut, Lebanon. Employees in the surrounding ESCWA offices struggled with business continuity due to factors such as lack of Internet, electricity, etc. Though the project experienced difficulties due to these external factors, Kamal stated that colleagues at UNICC, in the process of building, implementing and deploying the bot, went "above and beyond", successfully completing the assignment.
Overall, the webinar was well received by the audience, with nearly 30 questions and comments from members of international organizations such as UNICEF, ICAO, UNV and PAHO. Question topics varied from timelines of RPA implementation to the price of the automation service, to which ESCWA colleagues lauded UNICC for its degree of efficiency for its affordability.
Though the panelists and speakers were not able to address all inquiries, much of the Q&A session evolved around the potential issues that arise in the practical applications of RPA. To address this, Manuel and Carla first explained the greatest obstacle to implementing RPA was not the automation itself but the preparation to implementing the bot. Gaining accessibility to sites and applications, streamlining processes and identifying the boundaries of the administrative tasks that needed automation were all issues that needed to be aptly addressed before building the automation.
As the webinar came to a close and the speakers wrapped up their Q&A session, one participant, in response to the remaining questions on RPA and all of its capabilities, left a comment in the participant thread: "I think a good starting point is contacting UNICC."