Good data collection and analysis can help UN Agencies  make smart decisions and determine where to direct  their  resources.  Hackathons can solve  challenges  by bringing young talent together for thinking and designing solutions.
UNICC's first ever Global Hackathon has brought together over 140 students from around the world to explore issues around the Covid-19 pandemic, refugee crisis and the UN's accomplishments during its 75 years of history. Good data can  support  decision-making  for the UN's many goals for  people and the planet.  
The competition, organized by UNICC's growing Data and Analytics  programme, in alignment with the  UN Secretary General's Data Strategy, took place between Tuesday 16 February and Friday 19 February. The response was overwhelming, with teams from 54 universities in 13 countries registered.
Data to support the UN's decision-making 
On the first day of the competition, after UNICC's Director Sameer Chauhan welcomed the students, the three challenges were unveiled.
There is a huge potential of open-source data that is out there in the public domain and can be harnessed to make an impact. We need strong data scientists to work with it and to solve the complex problems the world is facing.

Sameer Chauhan, UNICC, Director
The first challenge focused on Covid-19 and asked the students to answer various research questions related to the patterns of the pandemic. In the second challenge, the students were asked to predict forced displacements. The third challenge consisted in celebrating the UN's 75th anniversary by visualizing some of the achievements of the organization.
The students were invited to interact with data experts from UNHCR, the Refugee Agency, the UN Development Programme (UNDP) as well as data scientists and engineers from Amazon Web Services (AWS), Microsoft, Google, Smarsh and other private sector companies. UNICC leadership and members of the Data and Analytics team were also present during the mentor sessions to offer guidance and advice to the students.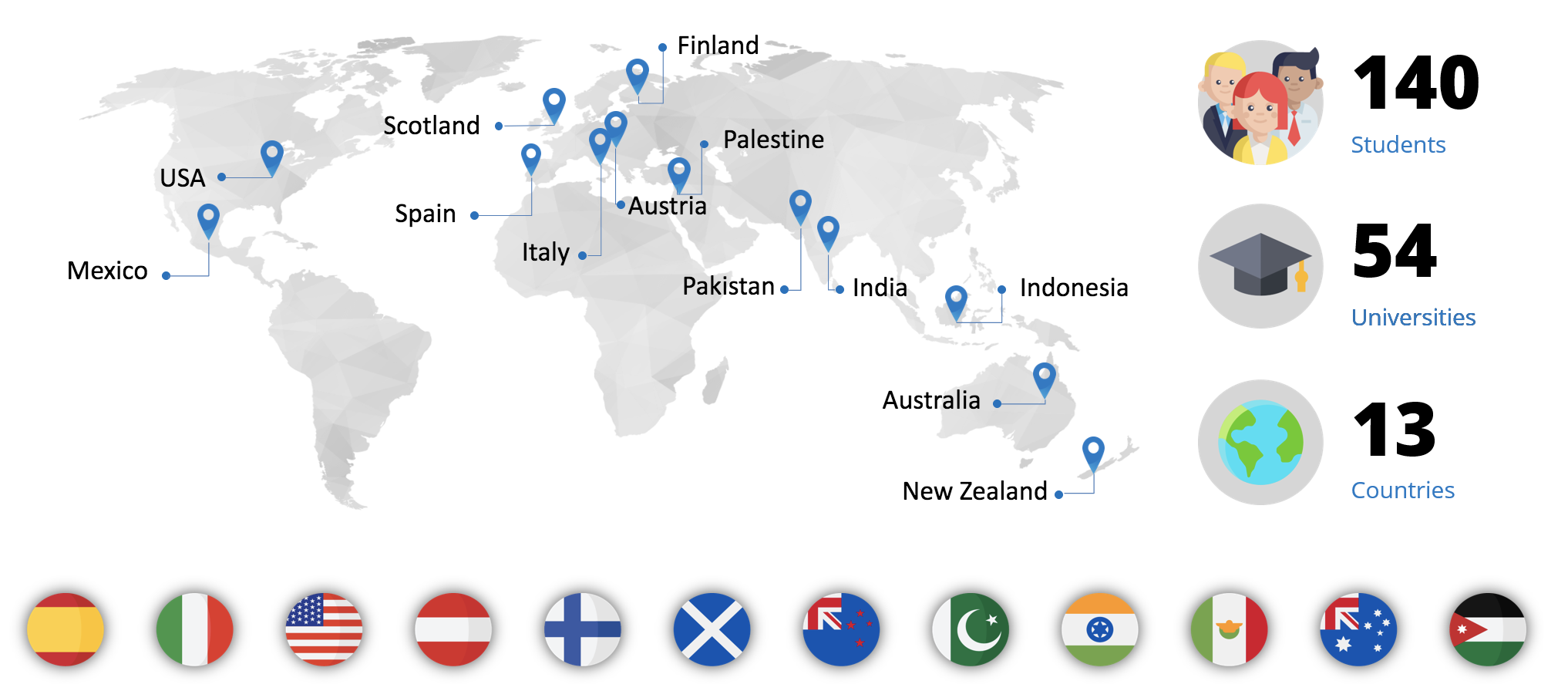 After two days of hard work, the teams submitted a video and their artifacts to be evaluated by UNICC's Data and Analytics team members.
Six finalists went on through to the final and presented their solutions in front of a global audience and a panel of preeminent UN judges. The finalist teams were:
Trojan Army team, from PSG College of Technology, Coimbatore (India)
Abraca-data team from  Birla Institute of Technology and Science, Pilani,  Institute of Engineering & Management,  Savitribai Phule Pune University,  Birla Institute of Technology, Mesra, Silicon Institute of Technology, Bhubaneswar (India)
bitsbitsbits<3 team from  Universitat Politècnica de Catalunya  (Spain)
Gear Shifters team from  Columbia University in the City of New York (USA)
H.T.B (Heel of the Boot) team from Università del Salento  (Italy)
QC Data Oriented from  The City University of New York  (USA).
The IUG Team, from the Islamic University of Gaza, Palestine, received a Special Mention. Although they weren't able to complete the challenge with model outputs, team's demonstration and the model factors they took into account were very relevant.
The judges panel included:
Nicole Henderson, Deputy Director, Business Relationship Management Service – Division of Information Systems and Telecommunications, UNHCR
Kelly Mannix, Chief of the Information Management Services Section, International Criminal Court
Dr Marguerite Nyhan, Associate Professor in Environmental Engineering & Future Sustainability, School of Engineering, University College Cork, Ireland; Formerly United Nations Global Pulse, Harvard University & MIT
Ursula Wynhoven, United Nations Representative, International Telecommunications Union
Milena Grecuccio, Chief of Staff and Chief of Corporate Services (OIC), UNICC
Marco Liuizzi, Chief of Operations, UNICC
Anish Sethi, Chief, Clients and Projects, UNICC.
The judges thoroughly enjoyed the presentations and were impressed and inspired by the work of all the finalists.
Wonderful and engaging presentation and insights from all the teams, very impressive with only 28 hours! Inspiring way to end the work week. Please keep working, the tough challenges we face and the future is in data to inform policy at local, national and international levels. Data science is the future!

Kelly Mannix, Chief of the Information Management Services Section, ICC-CPI
The winners were team Abraca-data for Challenge 1 – Covid-19 Open Challenge; team H.T.B (Heel of the Boot) for Challenge 2: Refugee Crisis: Predict Forced Displacement; and team QC Data Oriented won Challenge 3: UN75 Visualisation Challenge.
We at UNICC want to thank all participants; students, mentors and judges, for joining us and our vision to support the UN in reimagining international peace, humanitarian aid, development, security and human rights. We cannot express enough how meaningful this experience has been for us, we trust that it was also valuable to all participants.