Digital transformation has grown into the international spotlight in recent years, highlighted with the COVID-19 pandemic outbreak in 2020, translating to a push towards educating future generations about the importance and relevance of systems of data – an education to sharpen analytical skills and critically solve modern-day issues.
This holds true for Cayetana López, Chus Antoñanzas, Cristina Aguilera, Mireia Boneta and Raquel Lucena of Universitat Politècnica de Catalunya, all university students in their final year of Data Science studies.
Passionate about their studies and looking for a challenge, the students signed up as a team under the name 'Team bitsbitsbits<3' for UNICC's Global Hackathon: Data for Good.
UNICC's Global Hackathon: Data for Good launched on Tuesday, 16 February 2021 with an introduction from the organization's executive leadership to a global audience of UNICC and other UN organizations' staff members, university representatives and over 140 students. Following introductory remarks from UNICC's Director Sameer Chauhan and Chief of Digital Business Solutions Ninna Roco, Anusha Dandapani, Chief of Data Analytics, introduced the three challenges of the hackathon: COVID-19 Open Challenge, Refugee Crisis: Predict Forced Displacement, and the UN75 Visualisation Challenge.
Out of the three challenges, Team bitsbitsbits<3 chose to showcase their skill sets in data with Challenge 2: Refugee Crisis: Predict Forced Displacement.
In the beginning of the Hackathon, we didn't know what to expect. We suspected there was going to be a challenge about COVID-19, but we wanted to opt for a different challenge with a broader context. More importantly, we were excited to work with real numbers and to know that behind each statistic and data set, there were people's stories and lives.

Team bitsbitsbits<3
Though the students had not previously worked with data sets on the UN mission regarding forced displacement of people and refugees, they collaborated and received guidance from mentors to ultimately be chosen as a finalist team.
Titled "Prediction and Interpretation of Forced Displacements," Team bitsbitsbits<3 focused on addressing the issue of migration within an international context. In the introduction, the students explained their target variables: internally forcibly displaced people, refugees abroad and asylum requests for the year 2025 on a per-country basis. The team introduced their 'Time Series Forecast Model,' which included a layer of interpretability and then explained their input variables, which consisted of countries' rates of fatalities, numbers of forcibly displaced people, information on terrain, the Human Development Index and the overall population count.
The team first optimised data in the data pipeline with a pre-processing procedure before feeding it into a machine learning model of gradient boosted trees; the numbers were then interpreted to predict target variables. All data used in building the model and determining the variables originated from data sets provided by UNICC.
In the process of building the model, team members adhered to the advice of UNICC mentors during feedback sessions, building a simple yet comprehensive model, given the complexity of the data. In the end, the team's model presented a correlation most notably between a country's rate of fatalities and its number of forcibly displaced populations for both local and global interpretability.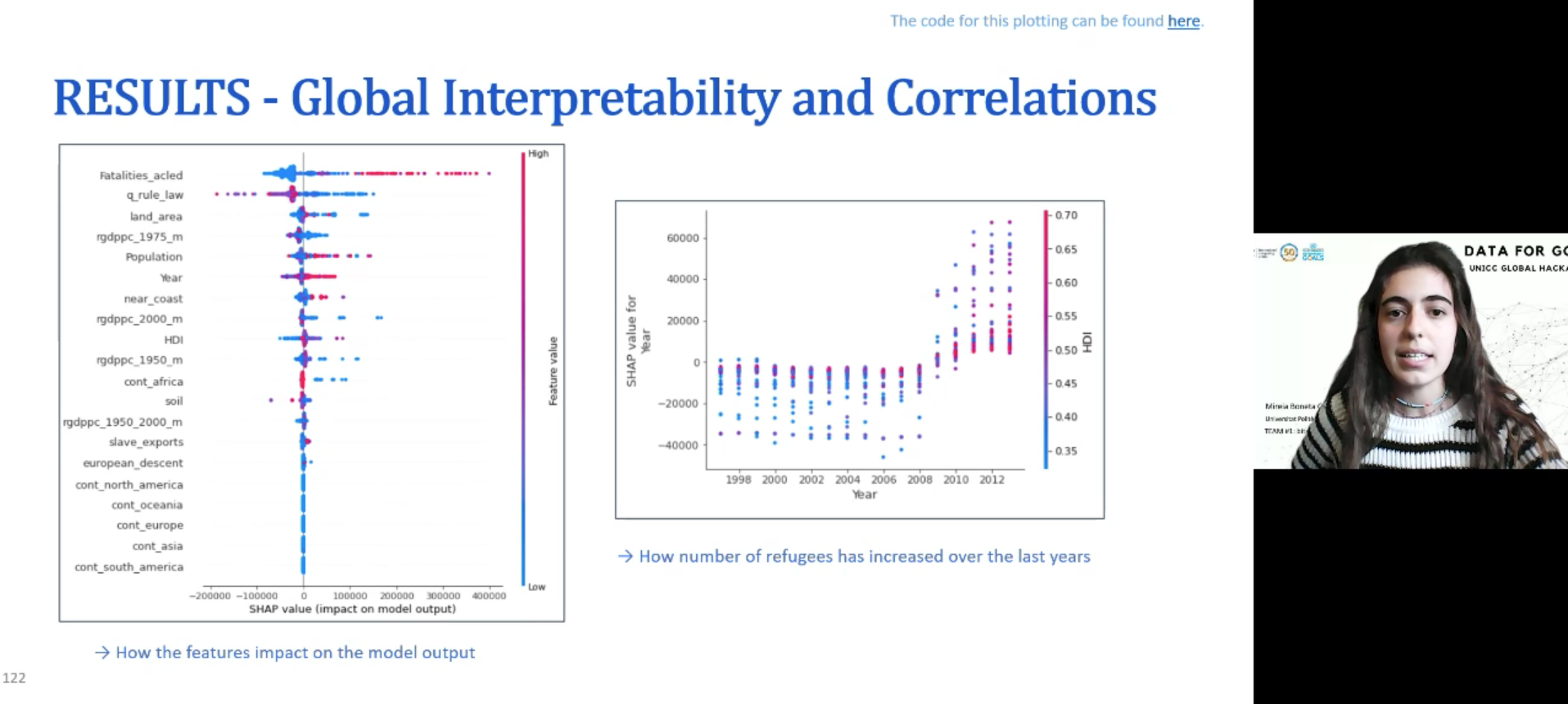 ---
The team's final result from their data pipeline and machine-learning model was the positive correlation between a country's rate of fatality over the time frame of six years and number of forcibly displaced populations. The participants concluded their presentation with a message that is it important to notice these trends in data and fight the unmitigated increase of forced mobility through means of policy, backed by data.
Following the Hackathon, the students reflected on their Data Hackathon experience and the value of an education in Data Science.
We are part of the first generation of students in Barcelona to be taught Data Science in a university setting; before, Data Science was just taught to new hires on the job. So, this finalist position in the Data Hackathon is not only an accomplishment of our team but also the Data Science curriculum and generation of students graduating to enter careers in the field.

Team bitsbitsbits<3
Motivated by the Hackathon experience, the participants were keen to learn more about not just data for social good but also professional opportunities that marry their passion of data science with the UN mandate.
Team bitsbitsbits<3's involvement in the UNICC Global Hackathon is indicative of the 2030 Agenda for Sustainable Development, particularly SDG #4: Quality Education, and SDG #9: Industry, Innovation and Infrastructure.
——————-
This article is part of a series of stories from the first UNICC Global Hackathon: Data for Good that took place in February 2021. The hackathon drew registrations from a total of 140 students from 54 universities located in 13 countries around the globe, all of whom came together to tackle three major UN related challenges: COVID-19 Open Challenge, Refugee Crisis: Predict Forced Displacement, and the UN75 Visualisation Challenge. To learn more about this successful event and its wonderful finalists, please refer to this article here.