Partner organizations approve four new UNICC services 
UNICC's Management Committee (MC), the organization's governance body, met fully virtually on Monday 19 and Wednesday 21 October 2020 for the second session of 2020.
The MC, comprised of representatives from forty Partner Organizations, shares responsibility with UNICC's Director for key decisions, providing guidance for the organization's strategic direction and approving the Centre's budget, financial reports and services rates.
On the first day, the sessions covered statutory business, presented new service offerings and shared recent audit certifications. UNICC's Director Sameer Chauhan followed with the Director's Update, highlighting some of the successes of the organization over the past six months and discussing some upcoming near-term initiatives.
An interactive discussion on technology trends and UN needs, including services and solutions like secure chat, multi-cloud connect and a UN private cloud, was the focus of the second day.
Participants also had the opportunity to hear from two new senior management staff. UNICC's Chief of Digital Solutions, Ninna Roco, who is also part of the UNICC Transformation Team shared the organization's digital business solutions offerings and how they are helping various partners in their digital transformation.
UNICC's Chief of Data and Analytics, Anusha Dandapani, presented the new Data and Analytics programme, with an emphasis on advanced analytics and machine learning, aligned to the Data Strategy of the Secretary General's Strategy for Action by Everyone, Everywhere.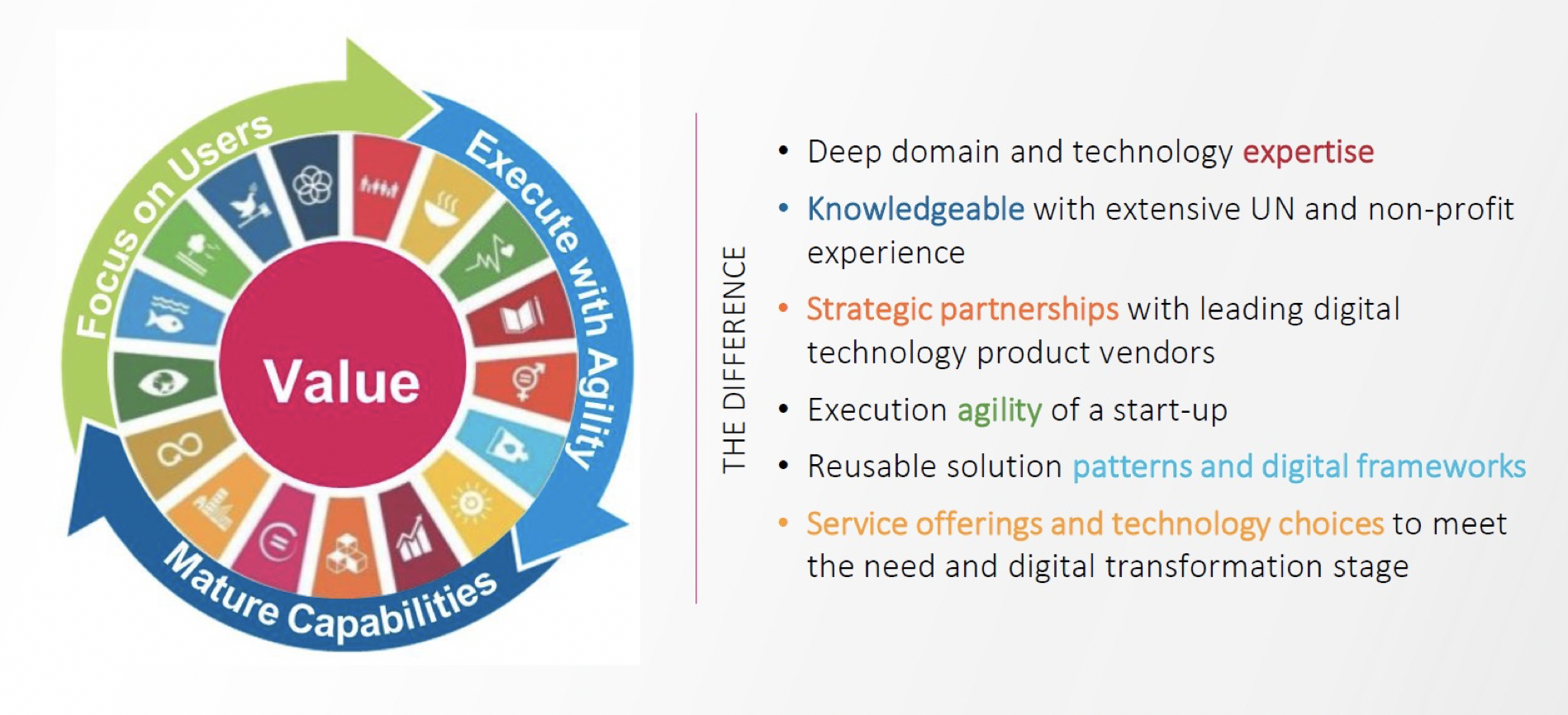 Four new services added to UNICC's service catalogue
On the first day of the meeting, the Management Committee also approved four new services that were added to UNICC's service catalogue of more than forty service areas, available to all Clients and Partners. The new services include:
ServiceNow Enterprise Service Management Shared Platform – Includes design, development, deployment and operations. Configured to best match business context for UNICC Clients, through a proven partnership with ServiceNow.
Amazon Web Services (AWS) Affiliates Enterprise Support Services – Allows Clients with either a direct agreement or through UNICC to receive AWS Enterprise Support in a shared model, splitting costs for the highest level of support at the lowest cost.
Secure AuthN Service – Supports inter-organizational authentication to applications and platforms. This service allows organizations to link their Active Directory to AuthN to then register as many apps as they wish to use for authentication, with no compromises on security.
Electronic Signature Services – integrates DocuSign electronic signature services into corporate processes to increase efficiency by automating signature workflows, eliminating errors and risk by integrating the service into systems of record.
Ad Hoc Session on Cyber Security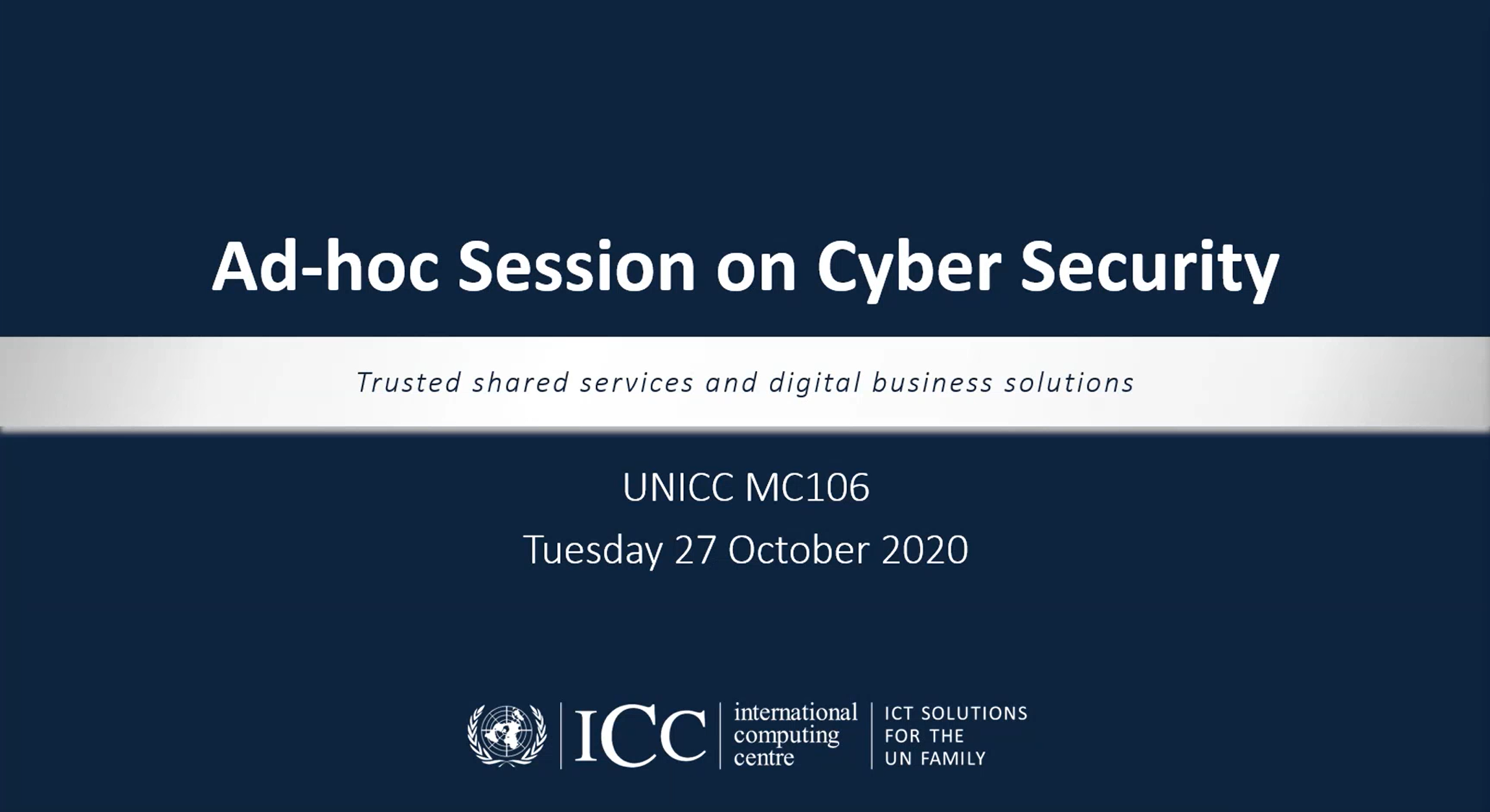 The Management Committee met again on Tuesday 27 October for a two-hour, ad-hoc session on Cyber Security, as requested by the Partners during April's 105th Management Committee. The session was widely attended by Chief Information Officers (CIOs) as well as invited Chief Information Security Officers (CISOs) of Partner Organizations.
UNICC presented two proposals, both of which were adopted by the Management Committee:
Partner Organizations agree to share all timely threat intelligence with UNICC. UNICC to leverage the Common Secure Threat Intel Network service to distribute this threat intelligence across the entire UN System.
Vulnerability Management timelines for security and application patching in a timely and standardized fashion.
The Management Committee meeting highlighted UNICC's role in the UN's accelerating digital adoption and its continued support for Clients and Partner Organizations during the new work paradigms of the COVID pandemic.
It featured updates from UNICC's Executive Committee and UNICC Transformation Team attesting to the state of good health and innovative plans for the future as UNICC celebrates its fiftieth birthday in January 2021.