UNICC electronic signature services
While digital transformations unfold around the United Nations at a record pace, why are so many signatories still out to capture signatures the analogue way? Whether by paper document or electronic PDF, signing the old-fashioned way consumes hundreds of hours of back and forth that a simple electronic signature solution can solve.
According to Records Nation, 45% of old-school, signed documents end up in the trash bin by day's end. The rest are filed away, and staff spend up to 40% of their day trying to find them again. So many trees, so much effort – all for the want of a signature. That's unsustainable.
COVID-19 also laid bare the impracticality of this process – organizations quickly discovered that few employees had business-grade printers and scanners at home. Even more troubling was a spike in online scams amidst the pandemic. Were those job applicants really who they said they were? Did that vendor really sign this agreement? The age-old process is vulnerable to error and to imposters.
How to deter this kind of fraud? "Organizations across the UN system began reaching out to UNICC for a solution," said Tom Buelens, Information Security Specialist based in New York City. "We offered them our Electronic Signature Services offering."
UNICC provides Electronic Signature Services to Food and Agriculture Organization, International Fund for Agricultural Development, OPEC Fund for International Development, UNESCO, World Food Programme and World Intellectual Property Organization today and is using it for its own internal workflows.
UNICC researched and secured an electronic signature solution where technology would guarantee that the validity of every signature is irrefutable, because it is backed up by a comprehensive audit trail.
UNICC considered several well-established vendors. Adobe, for example, is a pioneer in the technology, offering secure signature capabilities with its suite of products. HelloSign by Dropbox and Citrix's RightSignature also have enterprise solutions. But DocuSign, which Gartner Peer Insights ranked best in the category, was best placed to serve UNICC's needs – and the requirements of UNICC's Clients.
The electronic signature solution with DocuSign offers the following out-of-the-box benefits:
Increased efficiency by automating signature workflows
Customised and mobile experiences
Effortless compliance with industry and global regulations
Elimination of errors and risk by integrating the solution in a system of record.
Agencies subscribing to the service through UNICC benefit from the value UNICC has added to the DocuSign service. These include:
Hosting the UN data in European Union data centres
Immunities and Privileges clauses applicable to the UN included in the contract with DocuSign
UNICC's expertise in integrating with different applications
Economies of scale through special pricing that DocuSign has extended to UNICC and its Partner agencies
Unique cost recovery on a monthly basis that provide agencies the flexibility to pay as they go.
UNICC technical specialists work hand in hand with subscribing Agencies throughout the deployment journey and ensure that they get the necessary support in terms of training and education of technical users who will be working with end users during the implementation. Not only that, UNICC technical experts have developed a knowledge base on operating the service and extend the support to the agencies.
The service includes a dashboard for Clients to track the status of every document, including actions they themselves must take. Once everyone has signed, DocuSign creates a hash of the signed document. If anyone tries to tamper with it, the hash of it won't match the valid document, and that will raise a flag.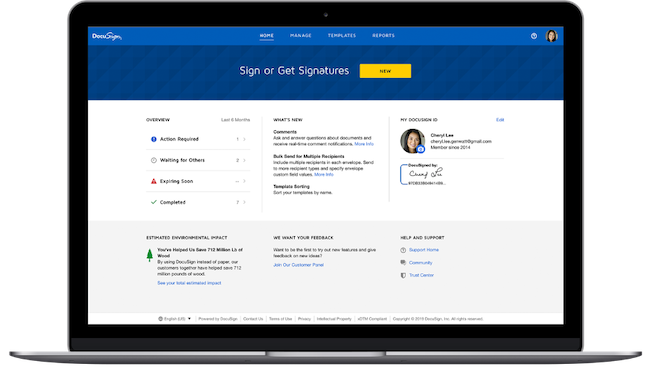 If users store all documents in the DocuSign platform, they then preserve each document's audit log, critical to traceability and compliance. Each electronic signature envelope has a history, where administrators can view transactions on the platform, verifying, for example, that the right person's email opened the document from a specific IP address, at a specific time.
One UNICC Client was up and running on the platform in only two hours. It has already integrated DocuSign with its other applications and is now quite fanatic about this UNICC solution. And the real power and business value come when organizations integrate DocuSign with other applications, such as ERPs or knowledge management systems.
On its website, DocuSign offers a nifty ROI calculator for estimating an enterprise's expected savings in time and cost by using electronic signature solution. On average, organizations save $36 per agreement and have an 80% faster document turnaround time. That's remarkable. With UNICC, cost savings are even greater because of its shared resources model (the more Clients join, the more savings there may be).
DocuSign estimates that, since 2003, its customers have saved 2.5 million trees. Does this service support the Sustainable Development Goals? Of course. First off are Sustainability Development Goal 12 (Responsible Consumption and Production) and SDG 15 (Sustaining Life on Land). As more Clients sign on to Digital Signature Services, SDG 17 (Partnerships for the Goals) comes into view. That's partnering that makes a difference, one signature at a time.