UNICC academic partnerships flourish around the globe
UNICC is proud to host for the fifth consecutive year its college interns through Break Through Tech, an organization that works on breaking down barriers so women and individuals from underrepresented communities can 'break through' in tech education and tech careers. This gender parity initiative included mentorship and learning about cybersecurity and data visualization.
Beginning in 2018, with the goal to support SDG 4 – Quality Education and SDG 5 – Gender Equality, UNICC has been partnering with Break Through Tech (formerly Women in Technology and Entrepreneurship in NY or WiTNY) on giving young women at the beginning of their careers the opportunity to experience a professional environment in the technology field (see 2022 and 2021 internship news).
We can't compete in the digital age if we leave half of the available talent pool sitting on the sidelines. It's that simple.

Judith Spitz, Founder and Executive Director of Break Through Tech, former CIO at Verizon
For the month of January 2023, UNICC welcomed City University of New York (CUNY) students Tahsin Hossein (Hunter College), Daralyn Plascencia (BMCC) and Shahi Shahnaj (City College), who worked both virtually and in-office with a variety of UNICC teams, from 4 to 20 January 2023, to learn about UNICC services and projects, the certain challenges teams face and overcome and the results of good teamwork.
Project on cybersecurity threat intelligence
With majors in computer science – bioinformatics, engineering and mathematics respectively, they all rose to the occasion of working with the Cybersecurity team to produce an annual report for the Common Secure Threat Intelligence Network service on the year's threats.
In addition, they worked with the Communications team to hone their data visualization and communications skills to deliver reports and information on cybersecurity as well as the SDGs.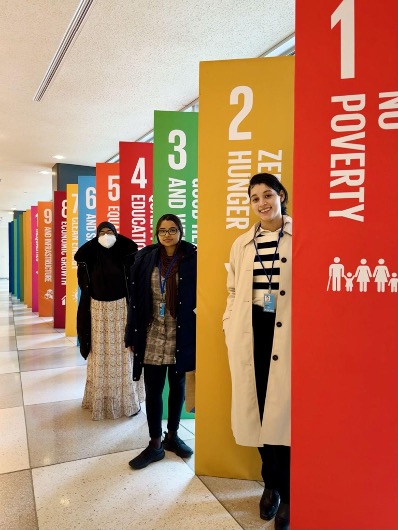 In the first days, UNICC provided a tour of the UN Secretariat and an introduction to the UN and UNICC. Then they set to work with the Cybersecurity team– in New York and remotely– to understand the cybersecurity landscape and the services UNICC provides to over 30 UN Agency partners, covering governance, architecture, UN Agency networking on cyber issues and threat intelligence, as well as organizational resilience and a spectrum of operational components.
The UNICC Threat Landscape Report they compiled provides an overview of UN cyber threats identified, contained and to which UNICC has responded.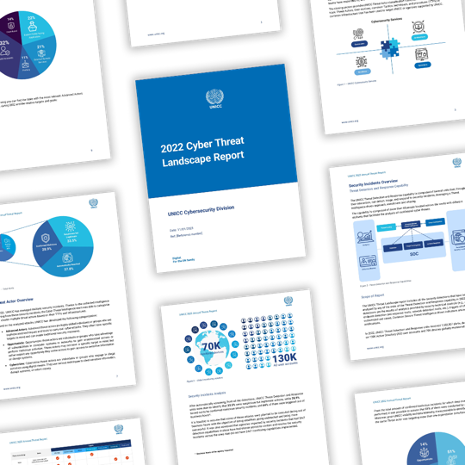 Mentorship and learning
Mentorship and learning about cybersecurity and data visualization was central to the project. In addition, Break Through Tech students learned about UN and UNICC organizational culture and honed their skills in digital literacy and data visualization for communicating UNICC projects.
Our three CUNY students were brilliant – super ready to impress and get the jobs done in record time! Even in this post-COVID time of working in a hybrid fashion, they rose to the occasion and contributed to a real cybersecurity threat analysis with good visual and communications skills to make the information dynamic to the UNICC community.

Denian Ouyang, Junior Communications Officer (and mentor to the interns), UNICC
Research on the Sustainable Development Goals (SDGs)
They were given additional tasks to analyze and report on UNICC's contributions to SDG 10: Reduced Inequalities Project as well as create some infographics and social media posts responding to the theme of 'STEM needs women.'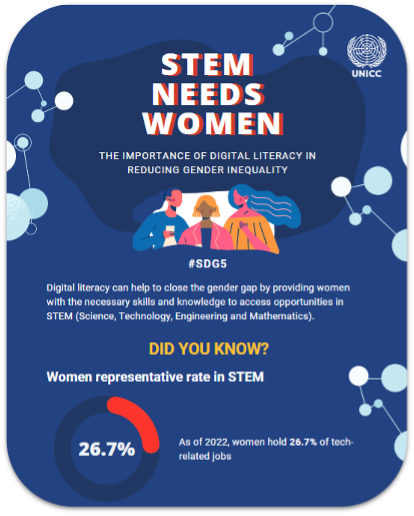 Please join UNICC in encouraging diversity and inclusiveness: young people, women and those from disadvantaged backgrounds to get engaged with the UN family!