Annual 'Sprinternships' support diversity and inclusiveness in technology
Since 2018, with the goal to support SDG 4: Quality Education and SDG 5: Gender Equality, UNICC has been partnering with Break Through Tech and the ITU Liaison Office to the United Nations in New York to expand representation and diversity across gender and racial backgrounds providing networking and internship opportunities. UNICC is also keen to address helping a younger generation grow through technology opportunities and learn about working as an international civil servant for the UN.
From 5 to 21 January 2022, UNICC hosted for the fourth consecutive year Break Through Tech 'Sprinterns' (cross-seasonal sprints' internships). City University of New York (CUNY) students Carla Sanchez (Hunter College), Natalia Cortezano (Lehman College), Talike Bennett (City College) and Yirong Wang (Hunter College) worked virtually with a variety of UNICC teams to learn about UNICC services and projects, including the challenges teams face and overcome as well as the results of good teamwork.
Cybersecurity, Project Management and Communications
During their three-week stay, Sprinterns worked on three group projects involving several teams at UNICC, including Cybersecurity and Project Management teams.
The first group project was to generate a Cybersecurity Annual Report, for which two Sprinterns had to interview several team leads and specialists in UNICC's Cybersecurity Division. The second group project involved the other two Sprinterns creating a comprehensive checklist for Business Relationship Managers to use during their pre-sales process, including considerations such as project approach, roles offered and project management effort estimation guidelines.
For a data visualization project, a joint task with the ITU Liaison Office, Sprinterns were given data about the more than 130 Girls and Women Talking Tech interviews already published, including participants' nationalities, thematic categories, organizations and expertise types. The challenge was to use the data to create infographics highlighting the achievements of this inter-generational interview series and shedding light on possible improvements for the future of the series.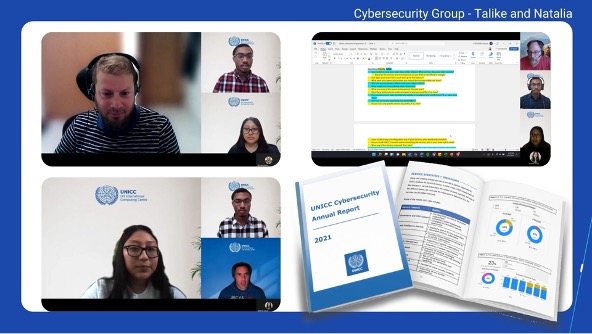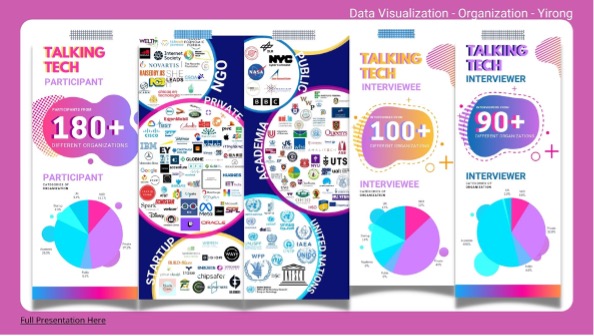 Interviewing technology thought leaders
Sprinterns were also offered the possibility to organize an interview with a thought leader they admire, to learn about their paths in technology, challenges and to gather advice.
We love collaborating with UNICC on the Winternship/Sprinternship programme! It is a wonderful way to work with talented students who bring their terrific skills and great ideas to our work as well as a lovely way to deepen work with our colleagues at UNICC. We were blown away by this year's group of Sprinterns.

Ursula Wynhoven, ITU Representative to the United Nations, New York​
Carla, Natalia and Yirong took part in the Girls and Women Talking Tech series and conversed with technologists at LGT Financial Services, IBM and UNICC.
Talike interviewed Venkat Venkateswaran, UNICC's Head of the Application Delivery Unit. During the conversation, Venkat shared his journey with UNICC and they discussed their views on the future of technology.
During their internship, Sprinterns also learned about the United Nations and the Sustainable Development Goals through a series of presentations they were asked to deliver to their peers.
Sprinterns showed outstanding leadership, time management, creativity and collaboration skills during the short period and their accomplishments were widely acclaimed.
UNICC at all levels has been supportive of this partnership with Break Through Tech and ITU and counts on this type of mentorship programme to assist students in preparing for the real world – and one day perhaps jobs at UNICC!