UN Secretariat business processes mapped and systematized through M365
The UN system is experiencing digital transformation at every level. It is benefiting from cloud-based technologies to streamline its business workflows and provide cost-efficiencies, smart solutions using new technologies, and ensuring a safe and secure environment for its enterprise applications, information and data.
Even before the challenges of COVID, the UN Secretary-General's Data Strategy for Action by Everyone, Everywhere offered a roadmap for digital transformation in every corner of every organization. This together with his Strategy on New Technologies sets out a new course to maximize efficiencies and effectiveness across the UN family. UNICC has been at the forefront of delivering innovation and economies of scale for multiple digital projects across the UN family, notably with Microsoft 365 tools and integrated workspaces.
In the course of their work for UN intergovernmental bodies, delegates need to understand the cost implications of draft resolutions, so relevant offices within the UN Secretariat collaborate to prepare oral statements of programme budget implications (PBIs). The PBI process is complex, requiring multiple stakeholders to add and review data, often across several entities within a tight time frame. Several levels of review may be needed prior to approval. Reporting must be precise and swiftly communicated.
Until recently, the common practice for each entity responsible for providing services in support of activities mandated by resolutions of intergovernmental bodies, has been to track relevant information separately in locally-stored files. This often resulted in cumbersome manual consolidation processes, and no single platform existed from which to view and extract information on previously approved mandates.
Following consultations, a multi-stakeholder 'Mandate Review and Management System team' was established, comprising of staff from the Office of the High Commissioner for Human Rights (OHCHR), the Department of General Assembly and Conference Management (DGACM)-Geneva, the United Nations Office at Geneva (UNOG), and the Department for Management Strategy, Policy and Compliance (DMSPC)-Programme Planning and Budget Division (PPBD) in New York. The team reached out to UNICC requiring the creation of a digital solution that would unify and systematize the intricate PBI business process workflows, augmenting collaboration in real time using the UN's M365 technology toolkit.
With its deep experience and expertise with M365 cloud technologies, UNICC leveraged the M365 licenses already in place across the UN system. UNICC's Application Delivery, Cloud Services and Data and Analytics teams went to work building a M365-based solution in order to provide this optimized system.
Due to the large volume of PBIs emanating from the UN Human Rights Council (HRC) each year and the visibility of its work, supporting the internal business processes of the Secretariat emanating from mandates of this intergovernmental body was identified as the initial use case of the planned system.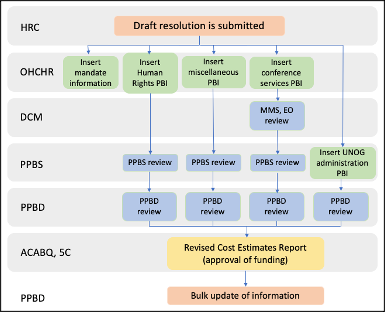 Credit: MRMS Team
Towards a Mandate Review and Management System
The functionalities built by UNICC now allow multiple UN Secretariat offices to cooperate in the cost review, approval and tracking of mandates for services related to conferences, travel, operational support, and legal services as well as human resources and Human Rights-related field missions support.
The MRMS is a fully-integrated system for the execution of internal Secretariat business processes related to PBIs. Microsoft SharePoint Online provides resolution dashboards (an overview of records created), data entry, data storage and a user interface. Microsoft Teams provides a user collaboration tool, while Microsoft Outlook manages email notifications.
Microsoft Word was used for oral statement documents and Microsoft Excel provides bulk reference data import and export, as well as maintenance of reference data such as DSA rates, travel rates, and standard cost estimates. Microsoft PowerBI provides the standard reporting.
The system's functionalities include:
Workflows and processes with automated notifications to handle multiple entities interacting in a collaborative way
User-friendly forms for data input with automated calculations
Automated consolidation of data
Live workflow process tracking
Central storage and retrieval of mandate information
Tracking and reporting capabilities through Microsoft PowerBI.
Realized business benefits include:
Elimination of voluminous email exchanges
Enhanced efficiency and removal of manual costing file management process
Improved, online collaboration
Workflows and processes clarified
Current and historical data securely accessible by all stakeholders, anytime, anywhere
Ability to scale-up as required
Leverages the current investment in the Microsoft 365 platform.
The MRMS is a testament to clear business benefits resulting from an effective collaboration of several entities in a forward-thinking process improvement exercise.
The extensive expertise and technical insights provided by UNICC staff were instrumental in translating the requirements brought by the MRMS project team stakeholders into user-friendly digital solutions.

Mandate Review and Management System Team
The first version of the MRMS was released in February 2022 ahead of the 49th session of the HRC. Constructive feedback from users was received and incorporated into the MRMS ahead of the HRC's 50th session, and further improvements are already being deployed ahead of the HRC's 51st session.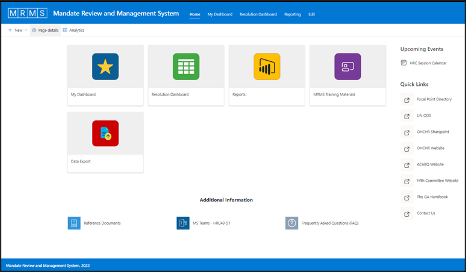 Credit: MRMS Team
[The Mandate Review and Management System] is a wonderful example of teamwork and collaboration.

Johannes Huisman, Director of the Programme Planning and Budget Division, OPPFB, DMSPC
The MRMS has been praised by senior management and by active system users as a significant new tool. Critically, the MRMS is built with scalability in mind so that, if required, it can be expanded beyond HRC use, with the potential to include other human rights bodies and mechanisms, including Committees of the General Assembly.
See also the original article by the MRMS Team in UN Today.