UNICC builds bot to automate support for a better partnership experience
The UN Partner Portal is a centralized online platform that streamlines partnership opportunity selection between UN Agencies (UN Secretariat, UNFPA, UNICEF, UNHCR and WFP) and Civil Society Organisations (CSOs). The portal is managed by UNICC, including ongoing hosting, appdev and communications services.
The portal's Helpdesk, called Zendesk, has a new helper named Rafiki, which means 'friend' in Swahili. It was developed by UNICC's Application Delivery team to help users of the platform find answers to their most common questions.
The UN Partner Portal is used by UN Agencies and CSO partners to view, apply to and share partnership opportunities. Rafiki is an answer bot that's able to resolve questions and help solve issues related to onboarding, viewing and selecting partnership opportunities, such as how to register or how to apply for opportunities in the portal.
The Zendesk support was previously handled by a human support team. With Rafiki, the goal is to improve the user experience for UN Partner Portal members by automating as much of the support process as possible, providing answers in real time.
Improving the user experience and responsiveness is the number one factor for a successful platform. Rafiki is our number one.

Vinicius de Souza Antero, Full Stack Developer, UNICC
To access the bot, users can click on the 'Ask Rafiki' button that is displayed in the portal after logging in. Rafiki is available throughout the portal to help users at every stage.
Rafiki the answer bot indexes articles available in the UN Partner Portal Resource library and is able to understand human questions (for example "How can I register?") and find articles containing answers (for example "Registration in UN Partner Portal"). Rafiki offers an option to get in touch with the human support team in case users can't find the answers they are looking for in the automated replies.
Always ready to help as a friend, Rafiki is a one-stop solution.

Pallavi Kolluri, UN Partner Portal Project Delivery Coordinator, UNICC
Rafiki went live in January of 2022, after the team piloted the technology for two months – to understand how well the bot could interact with the UN Partner Portal resource library. Now, the goal of the team is to keep improving current articles with further details and to add new content to the library, so Rafiki can be leveraged to its maximum potential.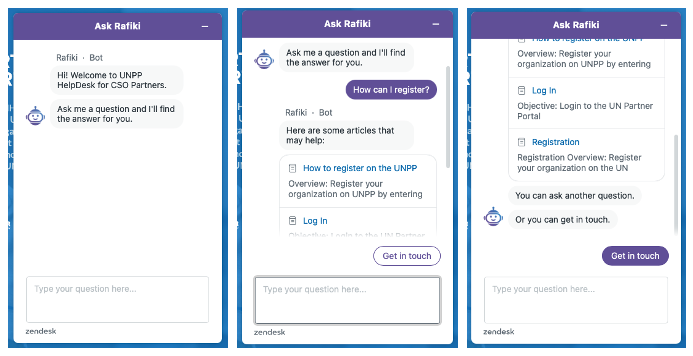 About the UN partner portal
The UN Partner Portal is a centralized online platform that streamlines the partnership selection process between UN Agencies and CSOs, sharing organizational and project information and matching expertise with open opportunities.
The development of the UN Partner Portal draws on decades of successful partnerships between the UN and civil society, consultations with networks of NGOs, as well as best practices in partnership management, to support the harmonization and simplification of business processes.
Five UN Agencies are currently part of the UN Partner Portal: UNFPA, UNICEF, UNHCR, WFP and the UN Secretariat, including some of its offices and departments like DESA, OCHA, OHCHR, UN Habitat, UNEP and UNODC.
---