Sameer Chauhan and Prado Nieto share how UNICC's work is critical in supporting the UN
UNICC's Director Sameer Chauhan and Chief of Business Relationship Management Prado Nieto were invited to speak at the second edition of the Spanish economic forum 'Wake Up, Spain!' to share the value of UNICC in supporting the UN family with technology and digital business solutions: to leave no one behind.
'Wake Up, Spain!' is a symposium organized by El Español, Invertia and D+I (Disruptores e Innovadores) with participation of members of the Spanish government, social agents, regional presidents, global business referents and international leaders who discuss topics around learning, growth and sustainability in a Europe of solidarity.
In a conversation guided by Vice Director of D+I (Disruptores e Innovadores) Alberto Iglesias Fraga, Sameer Chauhan and Prado Nieto explained the role of UNICC within the UN and how technology contributes to UN organizations' humanitarian work.
UNICC is a UN shared services technology hub for over 80 Clients and Partner Organizations, building strategic partnerships to offer the best digital business solutions available in the market to support each organization in achieving its mission, whether it is closing the gender gap, supporting efforts related to climate change or providing food and shelter to refugees.
UNICC supports it Partner Agencies that are on the frontlines in the field during a humanitarian crisis like the war in Ukraine. Technology allows these organizations to be efficient and scale their operations very rapidly, making a real impact.

Sameer Chauhan, Director, UNICC
Chauhan and Nieto shared with the audience concrete examples of projects where UNICC and its Partner Organizations have worked side by side to use technologies for the greater good, from investigating crimes against humanity with machine learning tools to determining if an electoral processes has been transparent and fair using social media data and automating manual tasks to improve organizational efficiencies.
Alberto Iglesias Fraga also alluded to UNICC´s focus on cybersecurity and its crucial role in making sure all sensitive, digitized data of UN personnel and stakeholders stays secure. In the current geopolitical scenario, the UN is the target of many cyber threats and UNICC works closely with over 40 UN entities for stronger protection, threat intelligence sharing and a joint response to cybercriminals.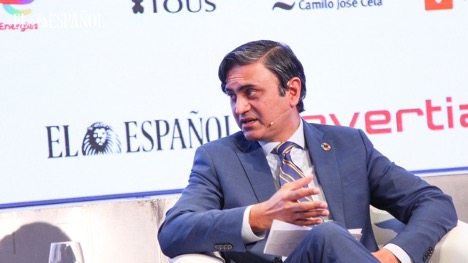 UNICC in Valencia, Spain
UNICC opened its office in Valencia, Spain, in 2012 and established it as the Digital and Cybersecurity Centres of Excellence for the UN. With over 200 personnel now, UNICC's office in Valencia is the organization's largest. UNICC, at its Valencia Centres, has the largest footprint of any UN entity in Spain.
When UNICC decided to establish an office in Spain, we considered the good quality of life there and the countries' appreciation for diversity; Valencia has been very welcoming to our international and multicultural workforce. Additionally, Spain has a lot of talent, in particular in the field of information technologies, from computer engineers to cybersecurity experts.

Prado Nieto Barrantes, Chief, Business Relationship Management, UNICC
Chauhan expressed his gratitude for the support received from both the Valencia regional and Spanish national governments and highlighted that their honest belief in UNICC's work is highly appreciated.