Over 40 Partners gather in Geneva, New York and online for UNICC's MC meeting
UNICC's Management Committee (MC), the organization's governance body comprised of representatives from 41 Partner Organizations, met on 6 and 7 April for the 109th MC meeting, the first of 2022.
The meeting was conducted as a hybrid, flexible arrangement where Partners could attend in person at the Geneva and New York offices or online from any other corner of the globe.
A landmark meeting in more ways than one. We saw the launch of several new services and confirmed demand for new ones to be launched. It shows the increasing significance of UNICC as a catalyst and accelerator for the digital transformation of the UN system.

Sameer Chauhan, Director, UNICC
The meeting was chaired by Fabrice Boudou, Director of IT Solutions Division at WTO, together with Vice Chair Anthony O'Mullane, Director, Operations Support Division, Office of Information and Communications Technology, United Nations.
On the first day, the session covered statutory business, with a Director's Update, extension of Chair and Vice-Chair mandates for another one-year term and nomination of Advisory Group members.
UNICC partners approve new services
UNICC's mission is to provide trusted digital business solutions and shared services to the UN family. In this 109th Management Committee meeting, UNICC presented for approval a new suite of services to meet the needs of its over 80 Clients and Partner Organizations.
New services include cloud broker services as well as a suite of cybersecurity assessment services and a revamped organizational resilience service. The new cybersecurity services will serve to better support the system in meeting the Joint Inspection Unit recommendations on cybersecurity and improve the overall cybersecurity posture of the UN family.
UN system private cloud and data services
On the second day, UNICC Partners engaged in fruitful discussions around various topics proposed by the Advisory Group, a subset of MC members who work throughout the year with UNICC's Director.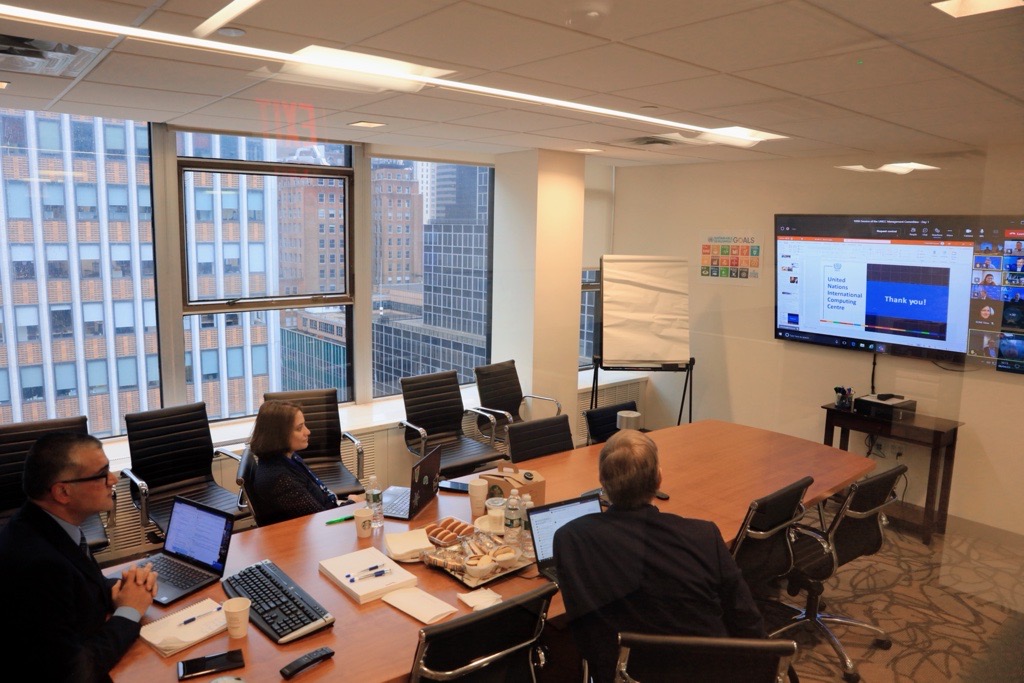 After the 'mezzanine view' presentation by UNICC Director Sameer Chauhan, the meeting focused on the UN System Private Cloud, a topic already discussed in the 108th MC session in October 2021 and which continues to be of great interest to the community.
Data and Analytics services were also discussed during the second day. Chief, Data and Analytics Division, Anusha Dandapani, presented on the UNICC Data Action Portfolio, modeled after the UN Secretary-General's Data Strategy to nurture UN Agencies' data capabilities and drive data maturity.
UNICC Director Sameer Chauhan would like to thank all UNICC Partners for being active and supportive members of the MC, especially to Chair Fabrice Boudou and Vice-Chair Anthony O'Mullane for their leadership and steer.