The International Plant Protection Convention (IPPC) Secretariat, with continuous support and expertise from UNICC, has developed an ePhyto solution to bring plant-protection phytosanitary certification for international trade into the digital era. The ePhyto solution, now four years underway, allows a growing number of countries to electronically exchange ePhytos with each other, quickly, accurately and at low cost.
EPhyto is short for "electronic phytosanitary certificate". All the information contained in a paper phytosanitary certificate is also in the ePhyto. The risk of loss, damage or fraud to ePhyto certificates is greatly reduced, as is the administrative burden on both border agencies and business. The collaborative nature of the project paves the way for countries to exchange other types of data with trading partners.
Countries can either produce ePhytos and exchange them with the UNICC ePhyto Hub directly via their own national platforms or they can use the IPPC's web-based application, the General ePhyto National System (GeNS). Benefits of a globally harmonized approach through the ePhyto Solution:
Globally harmonized approach for for electronic phytosanitary certification (ePhyto) in accordance with an adopted International Standard for Phytosanitary Measures (ISPM) 12 Phytosanitary Certificates
Reduced potential for fraudulent certificates
Reduced data entry and validation activities by national plant protection organizations (NPPO) improving efficiencies
Improved security in the transmission of certificates when compared with paper certificates
Efficiencies in arrival and clearance of plants and plant products at the point of entry
Reduced delays in receiving replacement phytosanitary certificates when required
Use of existing systems in facilitating electronic certification reduces development costs
Reduced bilateral agreements required for direct NPPO to NPPO transfer of electronic certificates
Potential to link with the World Customs Organization "Single Window" initiative and to harmonize codes and processes.
Four years of ePhyto – a technical review
The ePhyto Hub was first released in December 2017. As we celebrate four years of the ePhyto solution, looking at its journey helps us to understand its growth and demonstrates its importance in facilitating paperless trade between countries.
Starting with four pilot countries in 2017, today there are 62 countries who are successfully exchanging Phytosanitary Certificates through the Hub, abandoning point-to-point connections and adopting the standards, with over 40 more countries who have registered and are at different stages in their implementation. The system in the last year has seen a monthly average of ~107,000 messages processed, with 92% of them confirmed as readable information from the destination NPPO systems.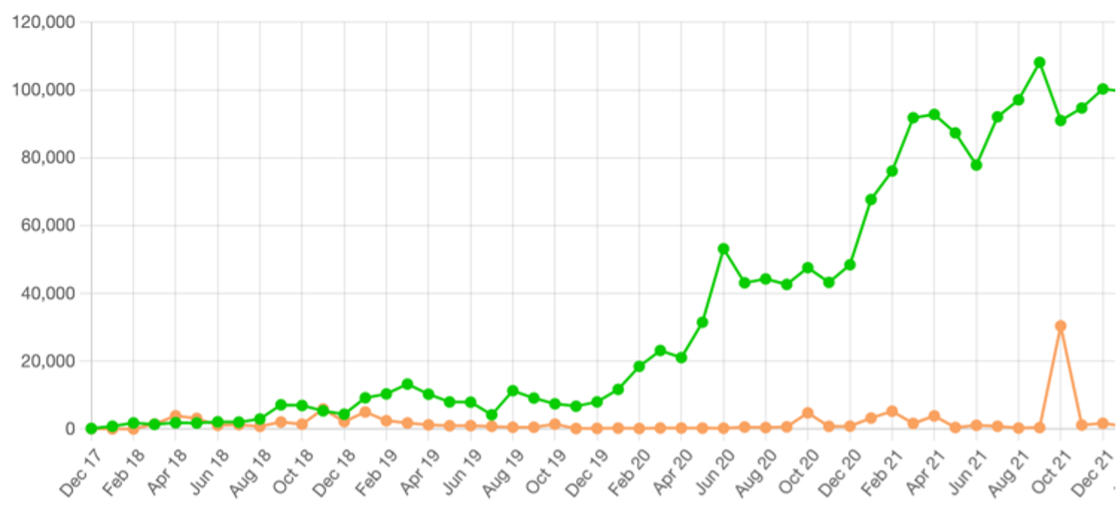 Figure 1 – Traffic growth over the years (green is exchanging; orange is testing).
The IPPC is the product owner and the ePhyto Steering Group (ESG) is the agile team supporting various implementations and actively participating in the innovation and scaling of the solution. The team has been getting valuable feedback for continuous improvements, enhanced functionalities and new features through its stakeholders (NPPO focal points), user community groups and implementation partners. This active participation of the various stakeholders is summed up below as 7 key product principles and features supported by as many as 40 big product releases over the last four years.
Flexible ePhyto schema mapping – The current ePhyto XML definition is built on top of the existing UNCEFACT schema, using mainly the SPS Certificate component. Due to ongoing efforts by ESG members Christian Dellis and Walter Alessandrini, as well as the UNICC team, developing countries find ePhyto data much easier to use. This focus on specific ePhyto needs has reduced potential misinterpretations, while at the same time leaving enough flexibility to quickly ramp-up integrations of new countries. By moving from a point-to-point and bi-lateral logic protocol to a standardized and practical approach, the ePhyto System has eliminated most problems associated with paper Phytosanitary certificates.
Comprehensive API and on-boarding guides – Fortunately, the Hub web services API document and on-boarding guides were ready from day one, which meant all countries had the information they needed to join the Hub, use web services, configure their access and independently integrate their systems. Because of the leveraging of client code samples of the API document, experienced software development teams have been able to send test messages, which are then validated, piloting integration within the Hub test environment.
Automated validation of messages – With the introduction of the Validation Tool in July 2018, the quality of exchanged messages has greatly improved. Hub Web Services, which is now integrated into many countries' systems, provides validation of the ePhyto System and reports on issues that previously caused reading problems for receiving countries. It gives constant feedback to sending countries on how to improve the quality of a message. Countries using Hub Web Services can automatically communicate error messages and/or warnings to each other.
Asynchronous/message-driven architecture – The Hub web services are built on RedHat JBoss using ActiveMQ for the most demanding operations. The system design supports scalability and capacity to handle high volume of messages. Many times the monitoring systems have highlighted heavy loads which the system has effectively handled without any glitches. The use of queues and asynchronous processing, combined to multi-site replication, has been critical to balance the computing load, avoid any data loss and maintain the availability of the system.
Backward-compatible releases – None of the incremental releases have been breaking existing operations. By providing backward compatibility, countries are confident during changes and have sufficient time to align their systems with the enhancements. Releases are published to the testing environment for user validation and confirmation. It is ensured that changes to Hub Web Services and ePhyto schema mapping are always backward compatible.
Implementation of the Generic ePhyto System (GeNS) – The GeNS is the second important tool to support the ePhyto solution especially in countries who do not have their own national systems. The progressive implementation of the GeNS in many countries has been another key drive for ePhyto adoption. The GeNS is currently used live by over a dozen countries and evaluated by many others for adoption. The GeNS has also helped in many ways like supporting countries without an electronic system, standardization of phyto sanitary certificates, centralized management and making business processes efficient. A dedicated post needs to surely follow to elaborate and emphasize the utility of GeNS.
Single windows and "Channel" connections – The implementation of Channel distribution to support multi-countries delegation, multi entity connections and envelope forwarding is considered a breakthrough feature. Early adoption of ePhyto by EU countries has played a significant role, increasing overall traffic across the globe. Subsequent enhancements to support electronic signatures (eSeals), implemented by GeNS and available to all countries as part of a standard setup, have been another motivation for on-boarding countries to use GeNS. The integration of the Hub with the European Union system (TRACES) helps handle the sending and receiving of phytosanitary certificates for 26 EU countries through a single source.
IPPC-UNICC teamwork
This journey would not have been possible without the support of many key stakeholders and members from the product delivery team, also acknowledging the support from the IPPC Secretariat and members of the ESG.
The ePhyto program is a successful example of global digital transformation and an important tool supporting international plant trade.