COP26 ID Check app harnesses biometrics for secure, efficient identity validation
The United Nations Framework Convention on Climate Change (UNFCCC) and UNICC developed an app for the identity verification of around 30,000 participants of the UN Climate Change Conference COP26 that took place in Glasgow, Scotland, from 31 October to 12 November 2021. The COP26 ID Check app harnesses emerging technologies such as biometrics for a secure and efficient identity validation process.
Participants use the application to register for attendance to the sessions. The COP26 ID Check app leverages facial recognition technology to compare the photo of a scanned ID card with a selfie taken by the user to verify ID.
To start the ID validation process, the user, who needed to be registered in advance as a participant in the conference, was asked to log into the app with their credentials. They were then asked to scan an identification document, such as a passport, and to take a selfie. The app recognized the first name, last name and ID number in the scanned image, and then compared the facial features of the two headshots. If they matched, the user's identity was validated.
Registration through the COP26 ID Check app was required for all participants who joined official meetings through the COP26 Platform.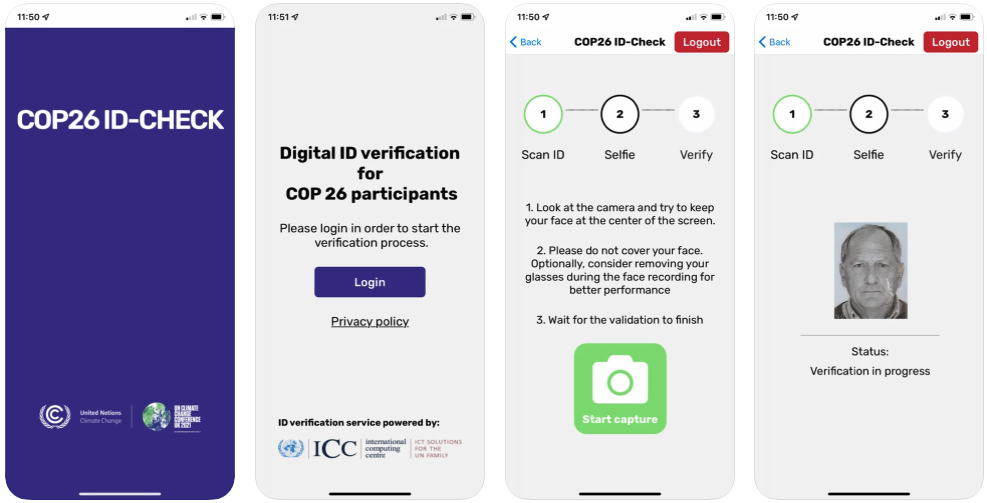 Attendees that were at COP26 in person could also use the app to speed up their registration process at the venue. After validation, the app generated a unique barcode that a user could show at the registration desk to obtain a badge.
Participants without a smartphone or with low mobile data bandwidth had the option to sign up on their desktop. The conference's support staff were also available to help users validate their identity.
The technology that powers this app has been designed to avoid fraud and ensure a seamless user experience. Winner of the Reimagine the UN Together Challenge, this widely tested technology is the same technology behind the United Nations Joint Staff Pension Fund (UNJSPF) Digital Certificate of Entitlement App, currently being used to streamline pension processes of thousands of retirees and beneficiaries.
All registered participants, including representatives of the Parties to the Convention and Observer States, members of the media and representatives of observer organisations such as NGOs and IGOs, could verify their identity with the COP26 ID Check app any time before the start of the conference.
The COP26 ID Check app was available at the Apple App Store, GooglePlay app store and as a desktop application. For training and support documents on the ID verification application and COP26 Platform UNFCCC and UNICC offered step-by-step guides.