Incorporating the voices of women and girls in Guadalajara for innovative urban solutions
On 25 and 26 August, over 25 women from the city of Guadalajara and its metropolitan area, in Jalisco, Mexico, engaged in a design thinking exercise to ideate and prototype solutions to make their city safer for women and girls. This event followed up on the Safe Cities for Women Thinkathon organized in November of 2020 by UN Women and UNICC, an event that aspired to amplify women's and girl's voices and need for access to safe and inclusive public spaces during the pandemic and beyond, within the framework of the Safe Cities Programme.
The goal of the two-day design thinking workshop was to develop and test solution prototypes, taking the best of the ideas to create a viable product created by UNICC for use in the field.
UN Women recognises the importance of incorporating the voices of all women and girls in their diversity to not leave anyone behind, as well as generating multisectoral alliances through initiatives like this one. Now, we intend to make this innovative proposal into a reality so that it is replicable and scalable in order to guarantee that women and girls from Guadalajara and its metropolitan area can exercise their right to the city free from all forms of violence.

Andrea Cházaro, Coordinadora del Programa Ciudades Seguras en México
The design thinking workshop was a collaborative problem-solving activity leveraging the results of a cycle of interviews with local key actors in innovation and public policy, as well as a survey applied to a variety of women and girls who use public spaces in Guadalajara and its metropolitan area.
Members of civil society organizations, academia, private sector, local government and technologists were invited to the event to learn more about this area of concern – safety for women and girls in public spaces by observing, engaging with women and girl protagonists and to better understand their experiences and motivations.
According to the scoping study carried out in 2018 by UN Women on the situation of sexual violence against women and girls in public spaces in Guadalajara:
81% of the women surveyed admitted to having suffered some form of sexual harassment and other forms of sexual violence at some time in their life while walking at downtown
Around 64.5% of women feel unsafe or very unsafe in the public space of Guadalajara
For fear of being sexually assaulted or harassed, 82.8% try to walk with someone; and 57.9% have stopped going out at night or very early and a significant percentage (7.6%) claim to have stopped working or studying due to insecurity
Only 7.9% of women who were victims of some form of sexual violence reported it. Which means that more than 90% did not report to a public institution. The reasons for not reporting are multiple: 22.6% did not know that they could report; 17% did not report because it was something unimportant and 16.8% responded that they do not trust the authorities.
Brainstorm, prototype, test. Repeat.
On the first day, 24 participants were assigned into four groups, representing four different personas: refugee women, persons with disabilities, indigenous women and members of the LGBTQIA+ community, many of them vulnerable in public spaces.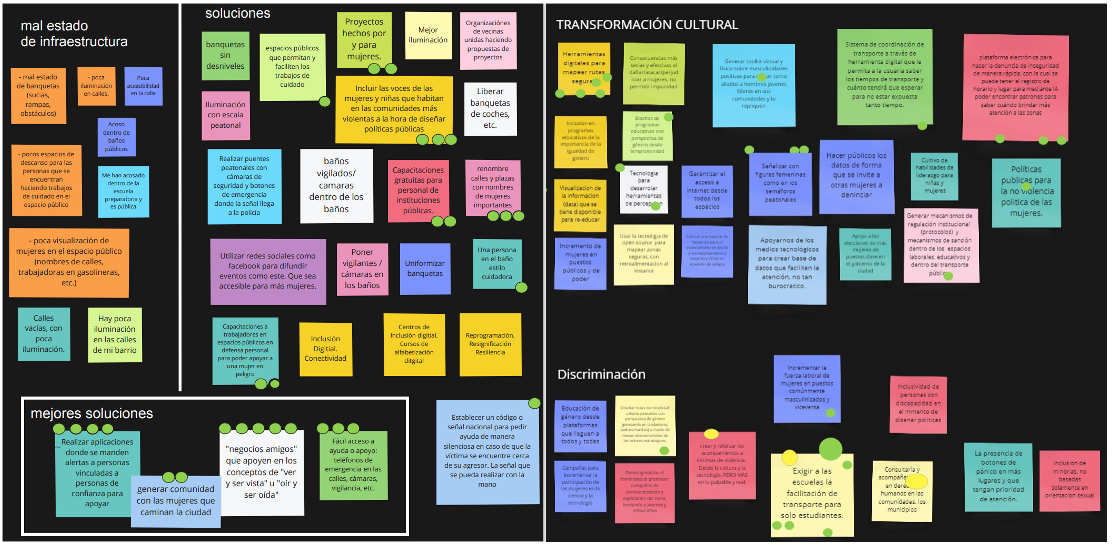 Credit: UN Women and UNICC
The starting point for the groups were the creative solutions proposed at last year's thinkathon. The groups worked with a design thinking coach who stimulated and guided the participants through the definition of the problem and ideation process, with two rounds of brainstorming and idea selection, using an innovative and collaborative technological platform known as Miro.
Experimenting fast and cheap is one of the pillars of design thinking. The prototypes resulting from this experience are a first approach to solving a real and important need in terms of safe cities for women.

Isabella Stranger Stranger, Design Thinking Coach
The only constraint was that solutions had to be either web-based or mobile apps. Stakeholders such as members of the local government, policy experts or technologists were present to clarify assumptions, and members of UNICC's Data and Analytics team based in Valencia, Spain, offered support throughout the event.
The second day revolved around prototyping and testing. The returning participants designed low-fidelity prototyping using basic models of examples of the product. Each group was then joined by two real user test volunteers, who identified as the specific persona of each group.
After the testers provided feedback, each group moved from the breakout rooms to the main room for a final team presentation, where all participants were able to learn about each other's solutions and engage in a fruitful conversation.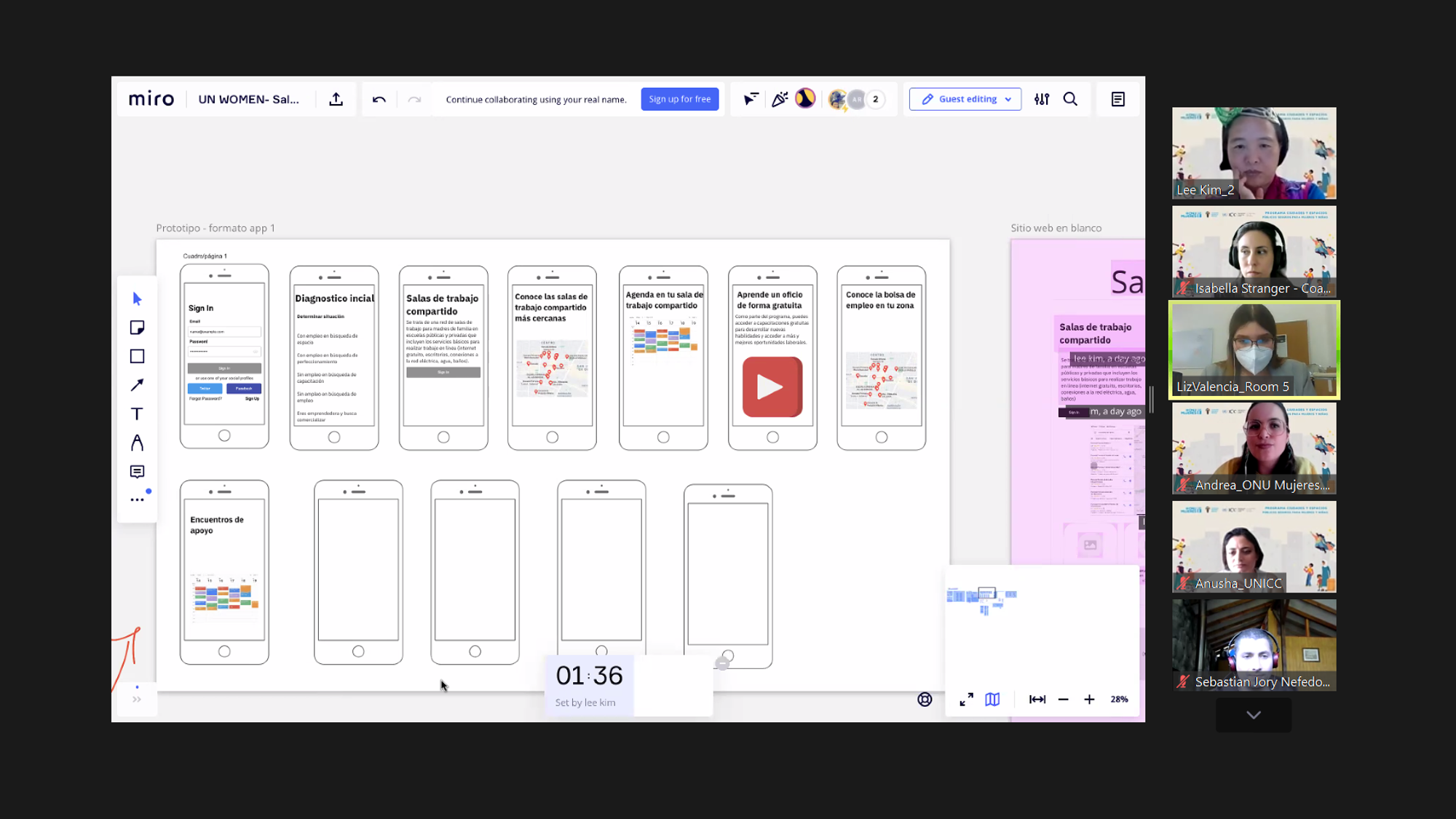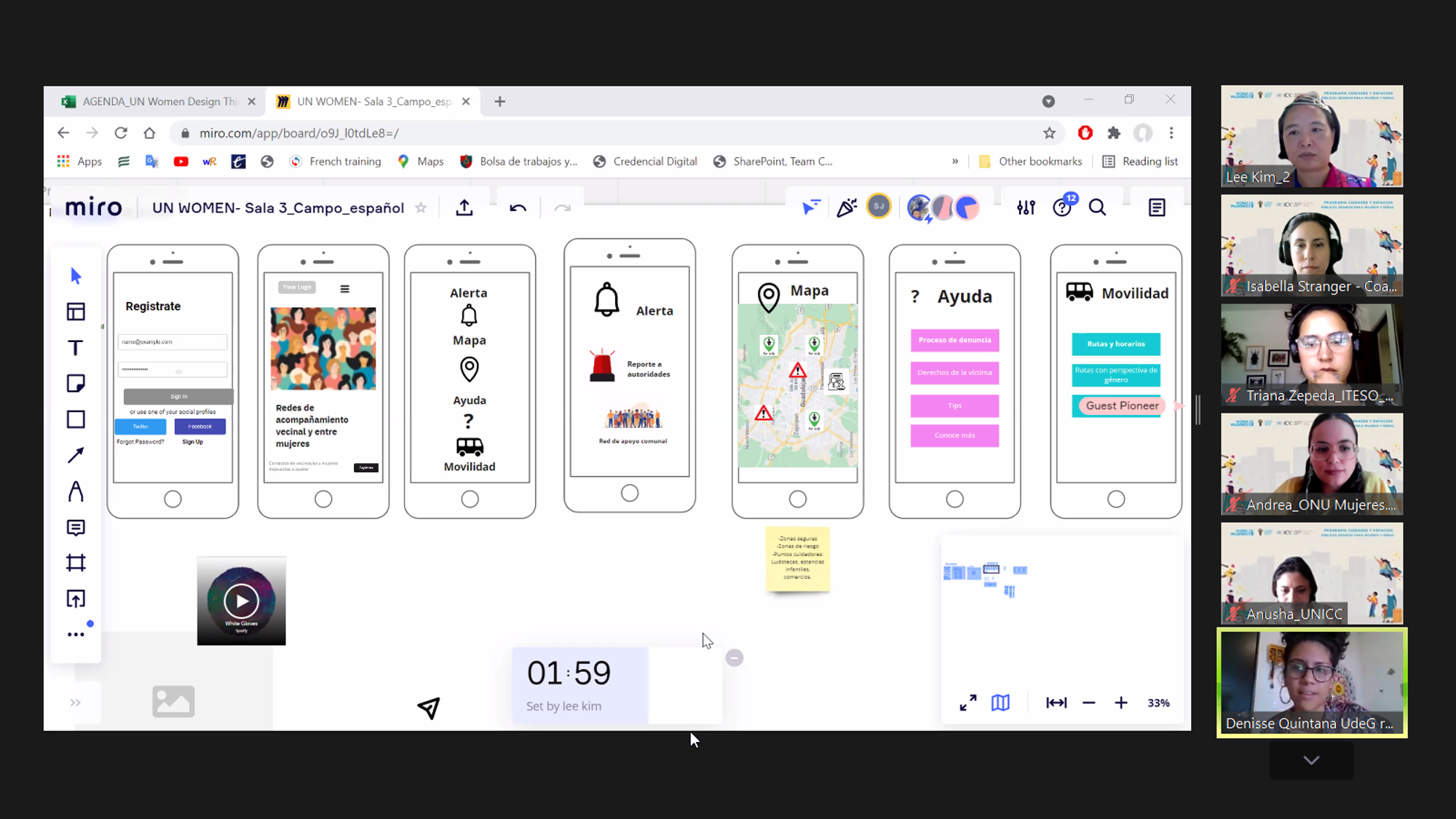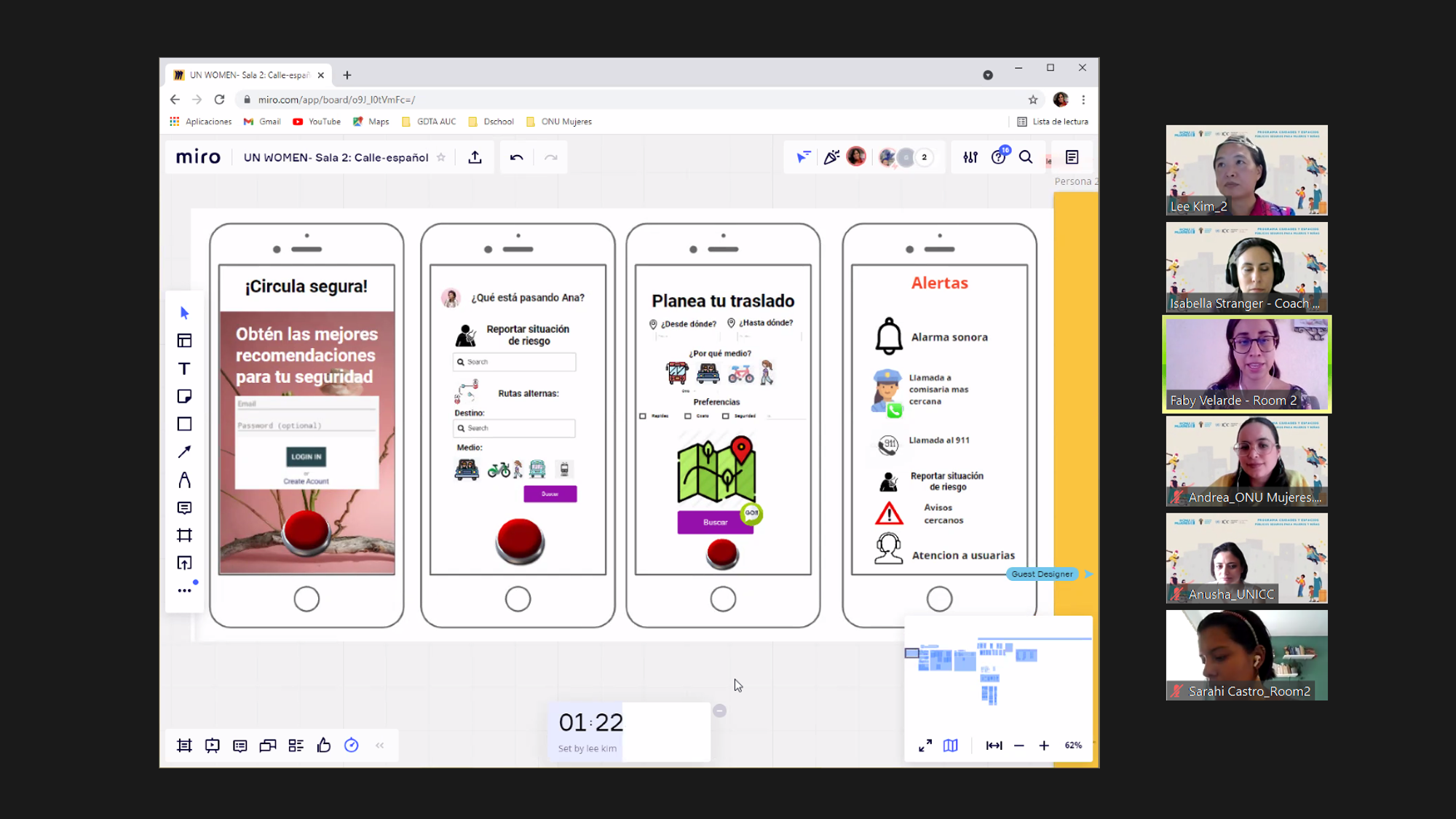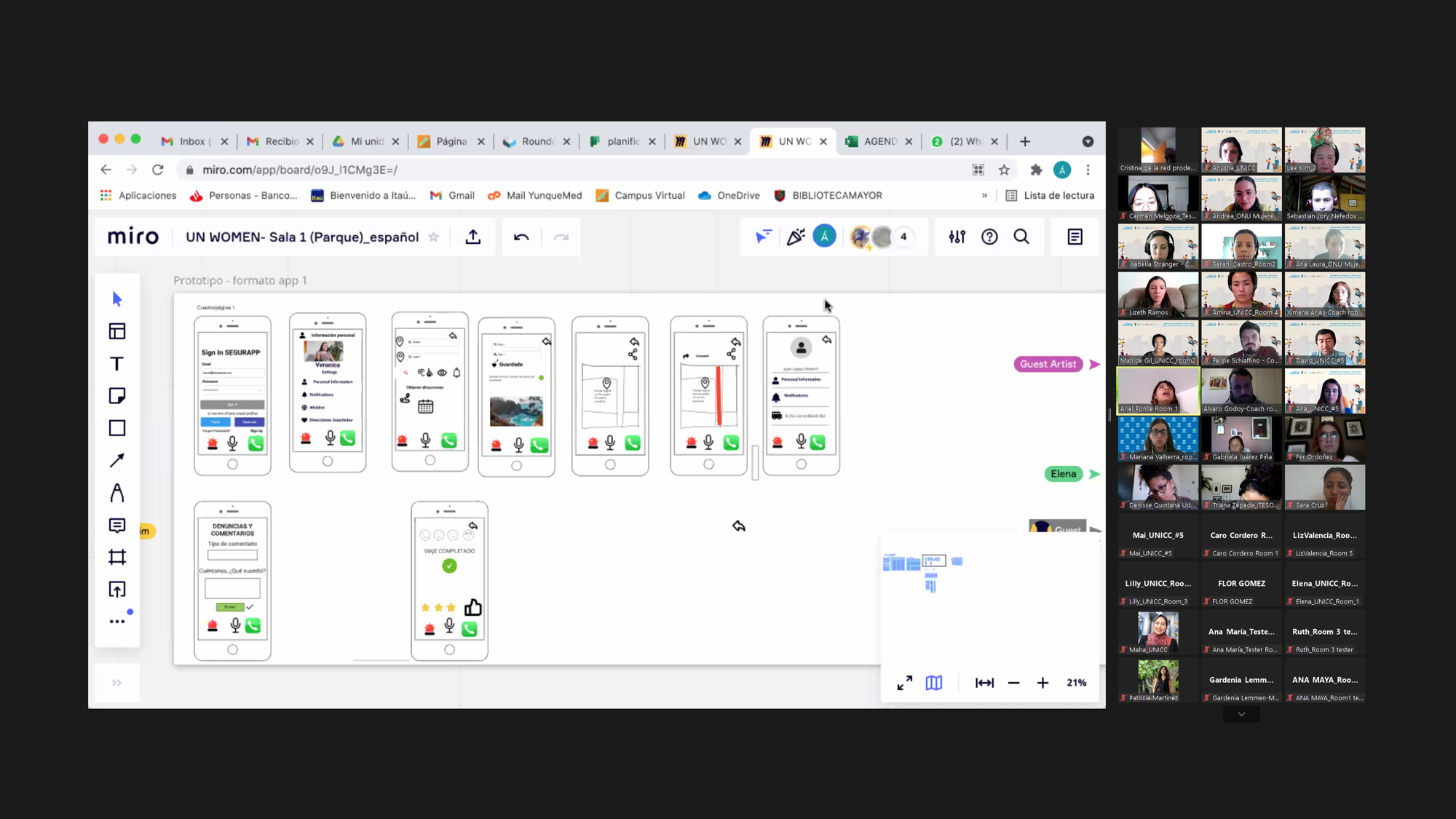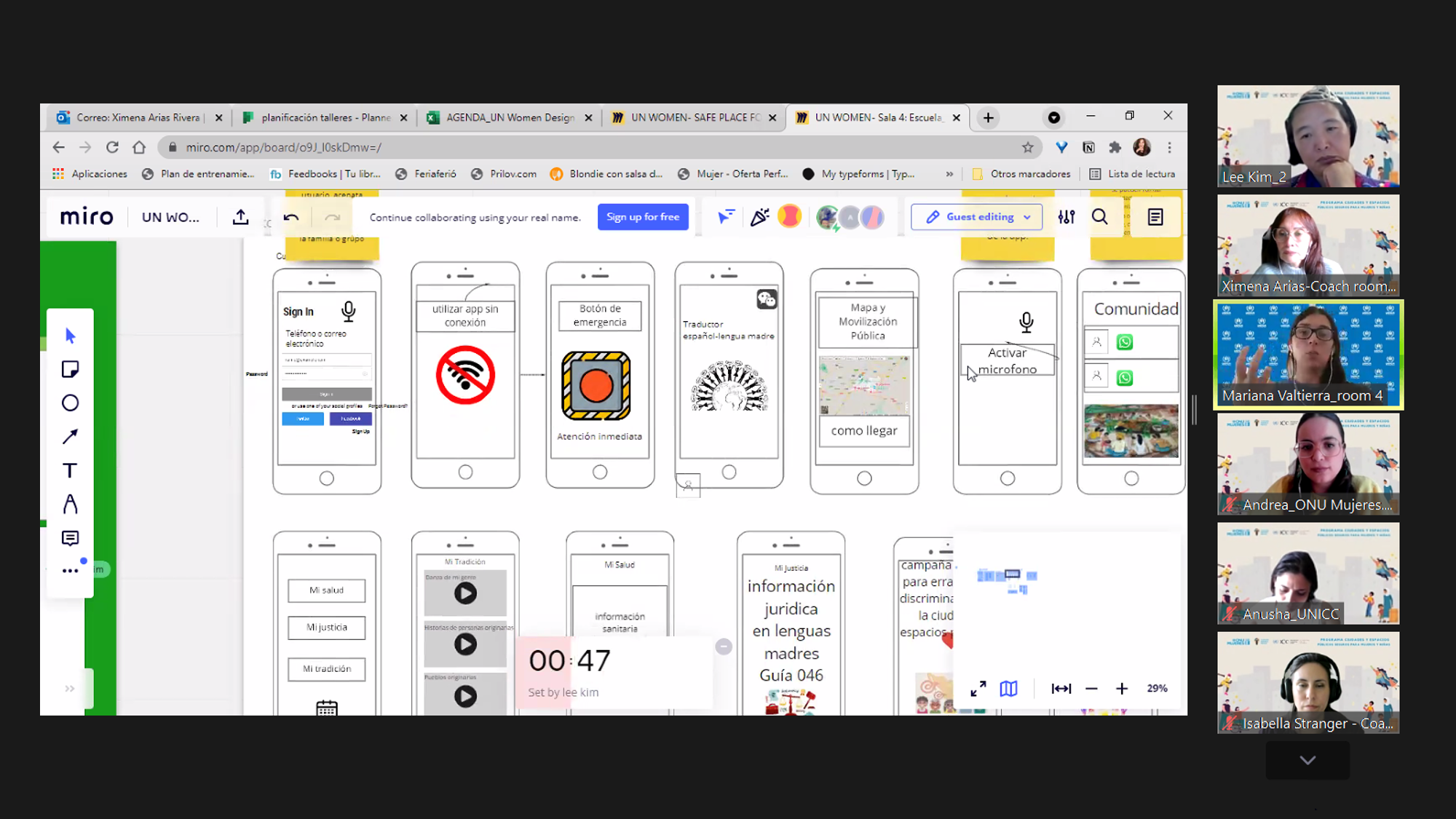 Credit: UN Women and UNICC
From a prototype to the app store
While the main goal of last year's thinkathon and this year's design thinking workshop was to inform investment in public safety and infrastructure with a gender perspective at the local level, UNICC has committed to developing one of the solutions for UN Women.
The UNICC Data and Analytics team will work together with the organization's Applications Delivery team to design and deliver a mobile application that includes the most prioritised, applicable and common features that all women mentioned in their proposed prototypes such as emergency calling and alerting.
Guadalajara is home to 1.3 million people with 51.9% being women. As we hold a mirror in front of us today, we give chance to women who are not here with us and to make their voice louder as their champion. Let us open our minds so we could talk about our relationship with public spaces.
The most useful part of our thought process today will be how our design elicits empathy and compassion and will force us to look at technology solutions differently. The experiential and qualitative data along with the prototype we will envision today can change the way women perceive safety issues. Data can play a positive role in changing the way we interact with public spaces. Let us design one Guadalajara at a time.

Anusha Dandapani, Chief, Data and Analytics Unit, UNICC
Incorporating a gender perspective, along with a responsible, empowering and creative use of technology is a powerful tool to promote gender equality and address violence against women and girls.
UNICC is looking for allies to make the prototypes generated through this design thinking exercise a reality to provide digital solutions for women and girls in Guadalajara and elsewhere.
UN Women and UNICC are making a call to action to educational institutions, the private sector, governments and civil society to contribute to having safe public spaces free of sexual violence and harassment of women and girls. The power of change lies in collaboration and the community. See the UN Women Mexico version of this story in Spanish here.