Shashank Rai, UNICC's Chief Technology Officer presented the UN Digital ID on 27 April at Hyperledger's Social Impact Special Interest Group.
Hyperledger, hosted by the Linux Foundation, is an open-source collaborative effort created to advance cross-industry blockchain technologies by bringing together leaders and stakeholders in the financial, banking, IoT, supply chain, manufacturing and tech sectors. The Hyperledger effort includes working groups to direct operational aspects of the blockchain enthusiast community as well as special interest groups to support areas of activity the organization supports.
UNICC was invited to present at a Social Impact Special Interest Group session. Shashank delivered a talk on the UN Digital ID to showcase its use of cutting-edge blockchain technology to digitally transform outdated and tedious processes of handling sensitive documents across the UN system.
Digital ID is not your favorite social media or big technology company account. Digital ID brings together all attributes of your identity – social, physical and personal – that are verified by mutually trusted third parties, and which are digitally accessible only with your consent.

Shashank Rai, Chief Technology Officer, UNICC
Shashank introduced the rollout of the UN Digital ID in UNICC's partnership with the UN Joint Staff Pension Fund (UNJSPF), where the technology developed helps to shortens a UN beneficiary's pension eligibility case from two months to two minutes.
The Digital Certificate of Entitlement solution, the first UN Digital ID solution in production deployment, uses Hyperledger INDY and Hyperledger ARIES technologies.
The impact of the UN Digital ID, demonstrated by the 6,000 registered beneficiaries for the UNJSPF Digital Certificate of Entitlement solution since its launch three months ago, was well received by the Hyperledger audience – many attendees and participants were impressed to see blockchain technology be implemented in an innovative and effective solution.
Shashank's presentation illustrates UNICC's strategic partnership with Hyperledger as well as UNICC's position as an Associate Member of the not-for-profit for blockchain technology innovation group.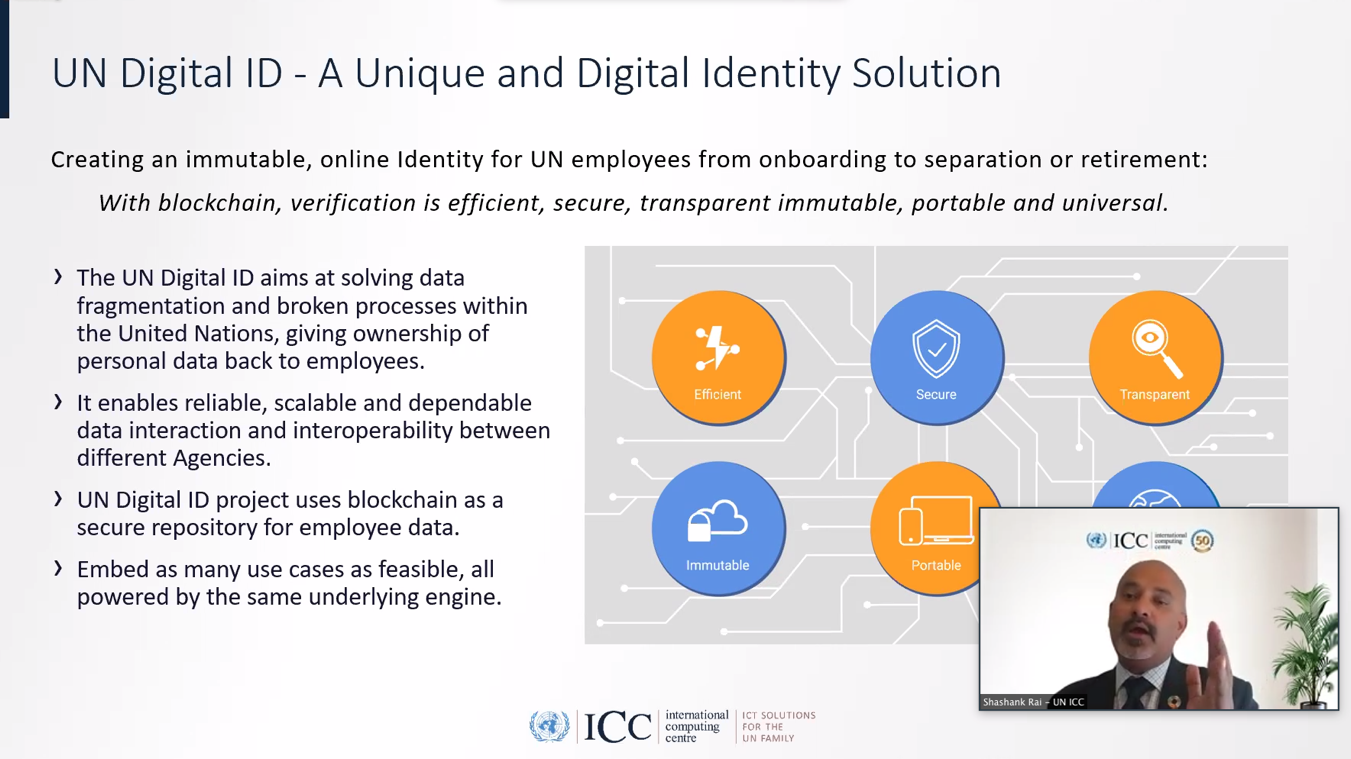 See also the UN Digital Solutions Centre video on UN Digital ID at https://youtu.be/1sSBAWwKGiQ.