UNICC staff present digital business master classes to students at Università del Salento, University of Valencia and Universidad Internacional de Valencia.
Università del Salento – Project Management Master Class with Marco Liuzzi
The Università del Salento's Department of Economics, in collaboration with the Department of Engineering for Innovation, partnered with UNICC for a Business Management seminar on Project Management perspectives, held remotely on 26 April.
Nearly 30 students from various faculties attended the session led by Marco Liuzzi, Chief Operations Officer, UNICC, upon invitation from Professor Roberto Paiano.
During the master class, Marco explored, compared and contrasted traditional best practices in project management with agile best practices. The session launched with a dive into the two 'traditional' best practices (PRINCE2 and PMBoK), highlighting differences and similarities between the two project management methods.
One topic involved specific techniques for scheduling, with an illustration of the level of detail to and efficacy with which these best practices can help get work done.
For a historical perspective, Marco excavated relevant project management foundations such as the Agile manifesto for software development developed in 2001.
Once the background was set, the class engaged in discussion about other key practices in software development, such as the Scrum framework, the culture that it creates for teams, the roles within a project it requires and the events in a project timeline – ultimately, an overall 'philosophy of working.' Some questions addressed as part of the seminar included:
Traditional means no longer useful?
Is there still space for a traditional – a.k.a. waterfall – project management approach?
What are the pros and cons of traditional vs. agile best practices?
Are agile best practices always the way to go?
Participants brought their insights to Marco's willingness to engage in these issues, resulting in a dynamic class for everyone on the call. There was a consensus that there was space for both the traditional and agile best practices approaches, depending on scope, scale and context of a given project.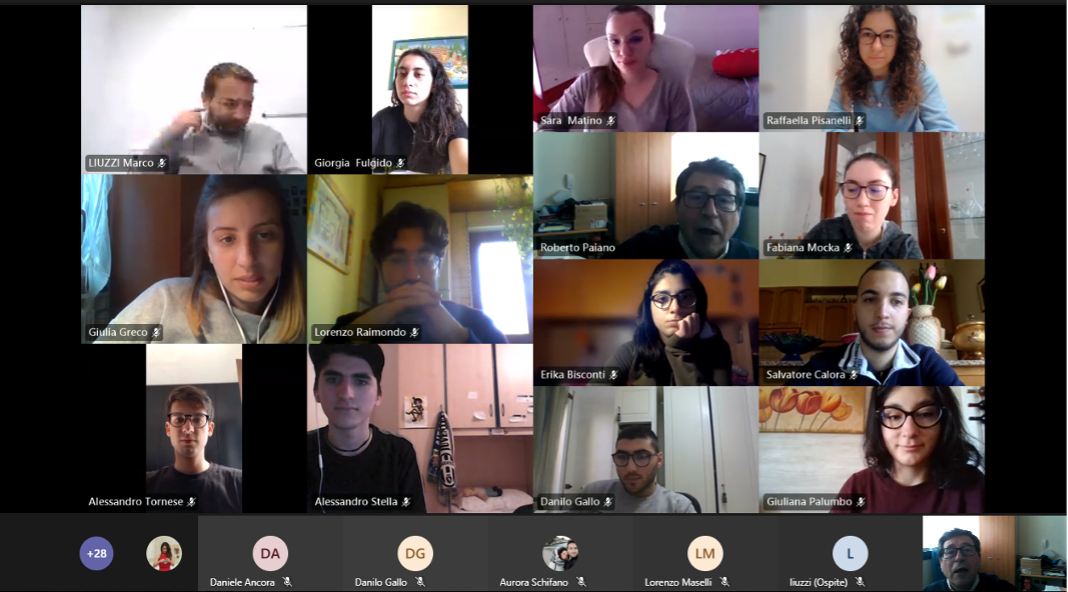 ---
University of Valencia, School of Engineering – Zero-day Threats Landscape Class with Gabriella Andriuzzi
Also in April, the University of Valencia School of Engineering, located in Burjassot, Spain, held a conference to bring engineering and data science students across the university to network with professionals in the tech sector. For a session on cyber security, the University reached out to UNICC to deliver a virtual master class presentation. On 21 April, UNICC's Gabriella Andriuzzi, Informational Security Administrator, with the help of Amadeo Cioffi, Lead, Cyber Security Operations, presented a session on "Zero-day Threats from the Defender's Perspective."
The session was well attended, with nearly 200 participants on the call, including strong UNICC representation. Gabriella discussed operational implications of cyber security from the perspective of the Security Operations Centre (CSOC) teams whose main task is to prevent, detect and respond to zero-day attacks to protect their organizations.
The master class covered zero-day attacks, starting from typical targets of attacks such as government entities, large business and organizations, political targets, etc. While exploring the scope, Gabriella noted timelines of cybersecurity attacks and specific terminology to inform all participants of how and what defines a vulnerability, an exploit or an attack. Then, the conversation shifted to preventative and detection efforts in mitigating such attacks.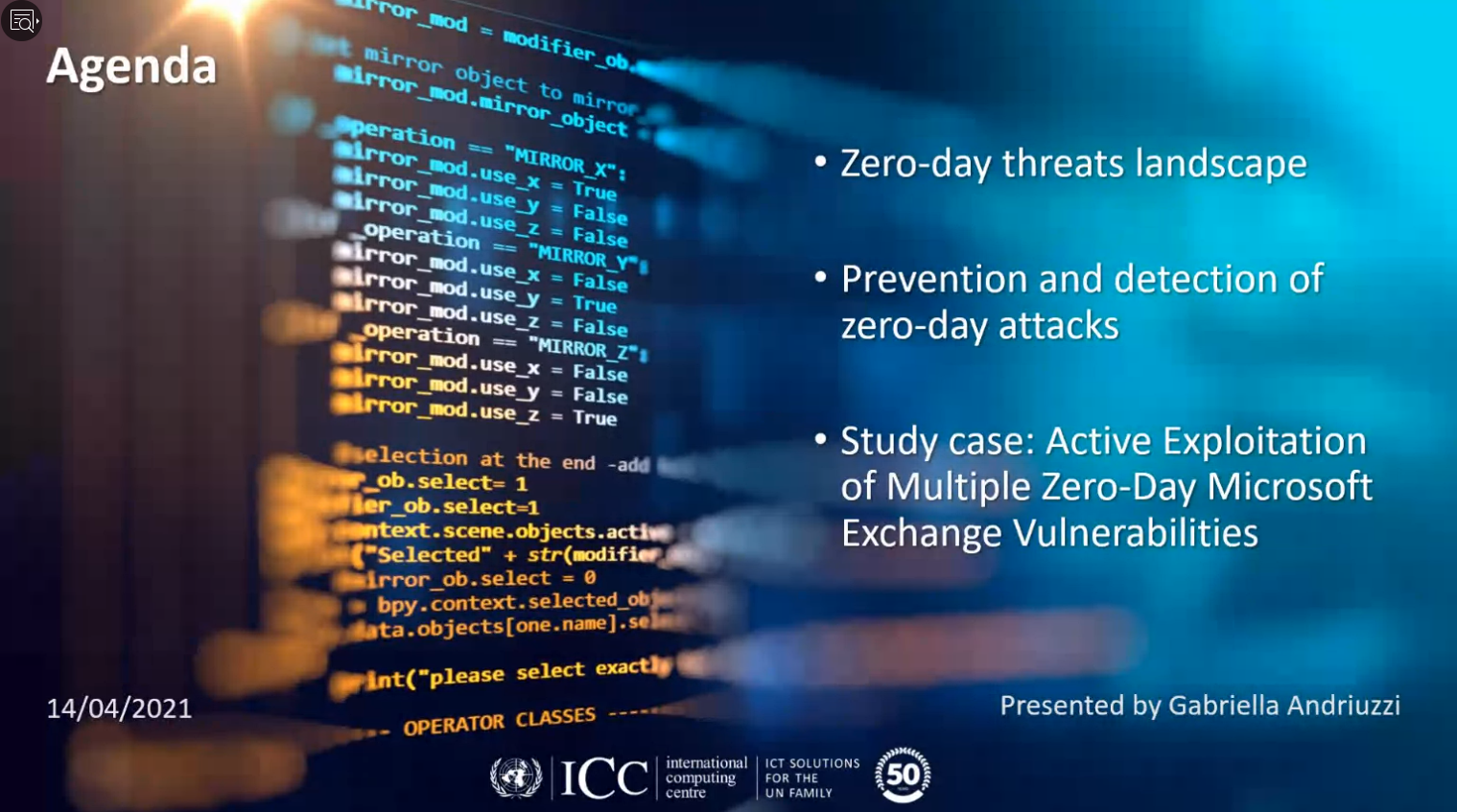 She included a case study to emphasise the impact of cyber security. The study was on the active exploitation of multiple zero-day Microsoft exchange vulnerabilities in March 2021, with a detailed timeline of the attack, the conceptual understandings of each phase, and ultimately, the steps to take towards a timely and effective response.
Gabriella touched upon the key points that with the increase in sophisticated methods of cyber-attacks, it is the responsibility of individuals and organizations alike to develop innovative protection and detection technologies that support the use of best practices.
---
Universidad Internacional de Valencia – a day in the life with UNICC Unified Communications Project Lead Ricardo Pardal

To launch the beginning of a new academic semester in September 2020, the Universidad Internacional de Valencia hosted a series of master classes titled "The Day to Day in International Organizations" for Master's students in legal studies. Presentations were conducted weekly by representatives from international organizations such as UNESCO and NATO. UNICC was invited to present on the daily activities of supporting its 70+ Client and Partner Organizations through ICT solutions.
Ricardo Pardal, Project Lead for the UNICC Unified Communications team delivered a master class to nearly 50 students on the general mandate of UNICC, its strategic position as the leading digital business solutions provider for the UN family, the historical growth and development of the organization, especially regarding the pandemic – and ultimately his role and responsibilities on the Unified Communications team.
The students' engagement was great; the questions were on a spectrum from general inquiries about United Nations and how to get involved to specific topics such as the history and importance of UNICC's Valencia offices. In fact, the Q&A ended up being the same length as the presentation!

Ricardo Pardal, Systems Administrator, Unified Communications, UNICC
The master class first began with an overview of UNICC and then detailed tUNICC offices locations, particularly the Valencia office with its support to the UN Secretariat and its Department of Operational Support (DOS).
As the master class was a virtual event due to pandemic restrictions, Ricardo spoke about UNICC's business continuity and teleworking processes during the onset of COVID-19. He elaborated how UNICC was able to successfully adjust to remote working conditions with a significant increase in demand for its services. Tying this to his day-to-day role, Ricardo then spoke about relevant projects on the Unified Communications team of UNICC, such as the provision of enterprise-level telephony services.
UNICC's involvement with academic institutions through master classes such as these demonstrates the willingness of the organization and its staff to engage with bright minds through insightful presentations and dynamic discussions. Its participation speaks to UNICC's commitment to SDG 4 Quality Education, SDG 9 Industry, Innovation and Infrastructure and SDG 17 Partnerships for the Goals.