A view of the future from the UNICC Robotic Process Automation (RPA+) centre of excellence
New and rapidly developing technologies such as artificial intelligence, blockchain, machine learning and robotics hold incredible promise for the advancement of human welfare. They put technology at the forefront of the delivery of the 2030 Agenda (or Sustainable Development Goals).
UNICC has been fine-tuning many of these new technologies for its Clients and Partner Organizations. It has a Robotic Process Automation (RPA+) Centre of Excellence in place now for a year with over fifteen Clients and several projects shared publicly, such as World Food Programme Puts Bots to Work and the UN Joint Sanctions Screening Solution.
UNICC's RPA+ Centre of Excellence has delivered over 50 automation solutions automating billions of manual transactions, delivering multiple consulting engagements, solution implementation and end-to-end managed services. This eventually translates to giving back thousands of valuable hours to business users and expanding business functions and value within their domains (Compliance, ICT, Legal, HR, Procurement, Travel, etc.).
In the spirit of emerging technologies supporting the UN Secretary-General's Strategy on New Technologies, UNICC has supplemented its diversifying portfolio with next-generation hyperautomation capabilities that strengthen the value of automated software processing and integrate it with other technology developments.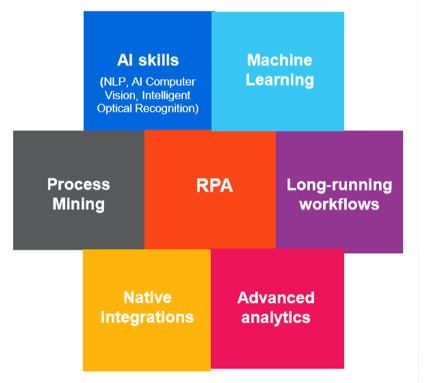 RPA solutions, which can be set up in only a matter of weeks, may provide quick relief as a form of integration for manual, repetitive, voluminous human interactions with underlying systems. However, processes are not always simple, routine, repetitive or stable.
According to Gartner, within the next three years, 65% of enterprise organizations that deployed RPA will introduce integrative capabilities like artificial intelligence, machine learning and natural language processing algorithms.
UNICC Clients are looking to deliver end-to-end automation beyond RPA by combining complementary technologies to augment business processes. Gartner lists this new 'RPA+' technology, called hyperautomation, as a top strategic technology trends of 2020 and 2021.
RPA + (or Hyperautomation)
Hyperautomation deals with the application of advanced technologies by combining RPA with artificial intelligence (AI), machine learning (ML) and intelligent business management software (iBPMS), to increasingly automate processes and augment human laborers, automating processes in ways that are significantly more impactful than traditional automation capabilities.
As enterprise organizations confront challenges to deliver strategic end-to-end automation, they need to consider solutions beyond RPA. Hyperautomation, or RPA+, impacts 'personal costs' ratios of organizations that in many humanitarian agencies run upwards of 40%. Hyperautomation offers direct operational efficiencies benefits at 40-70%.

Nagesh Vepa, Head, Hyperautomation Solutions, UNICC
Hyperautomation facilitates:
Increased team collaboration, engaging organizations in digital transformation. By combining RPA and intelligence, software robots can interact with users across core business processes, directly benefiting customer experience and satisfaction
Advanced analytics, embedding analytics to align RPA operations with organizational objectives
Automated processes to increase efficiency and reduce errors
Instant and accurate insights to optimise performance and minimize risk
Greater compliance to optimise regulatory standards, processing and reporting
Greater productivity so human workers can work smarter and focus on value-adding tasks, with software bots to support them by carrying out repetitive tasks.
Hyperautomation in the time of COVID-19
Hyperautomation has a special value during these times of crises and economic duress because it delivers greater operational efficiencies and allows for direct enabling of innovative business functions. It helps to manage resources hyper-efficiently when the demand for services increases, but the supply of available people is fixed or hiring processes are constrained.
This new technology is poised to deliver on the frontlines of humanitarian activity. In addition to long working workflow process(es) automations, the UNICC RPA Centre of Excellence has also made great progress in microautomations, with robotic solutions that can send emails, find or move files and folders, access databases and enterprise applications, push projects along, complete forms, handle request, and even scrape data from documents and websites. All of these automations can be deployed securely and efficiently in a few weeks. This means increased digital business agility to organizations in order to make further well-informed decisions.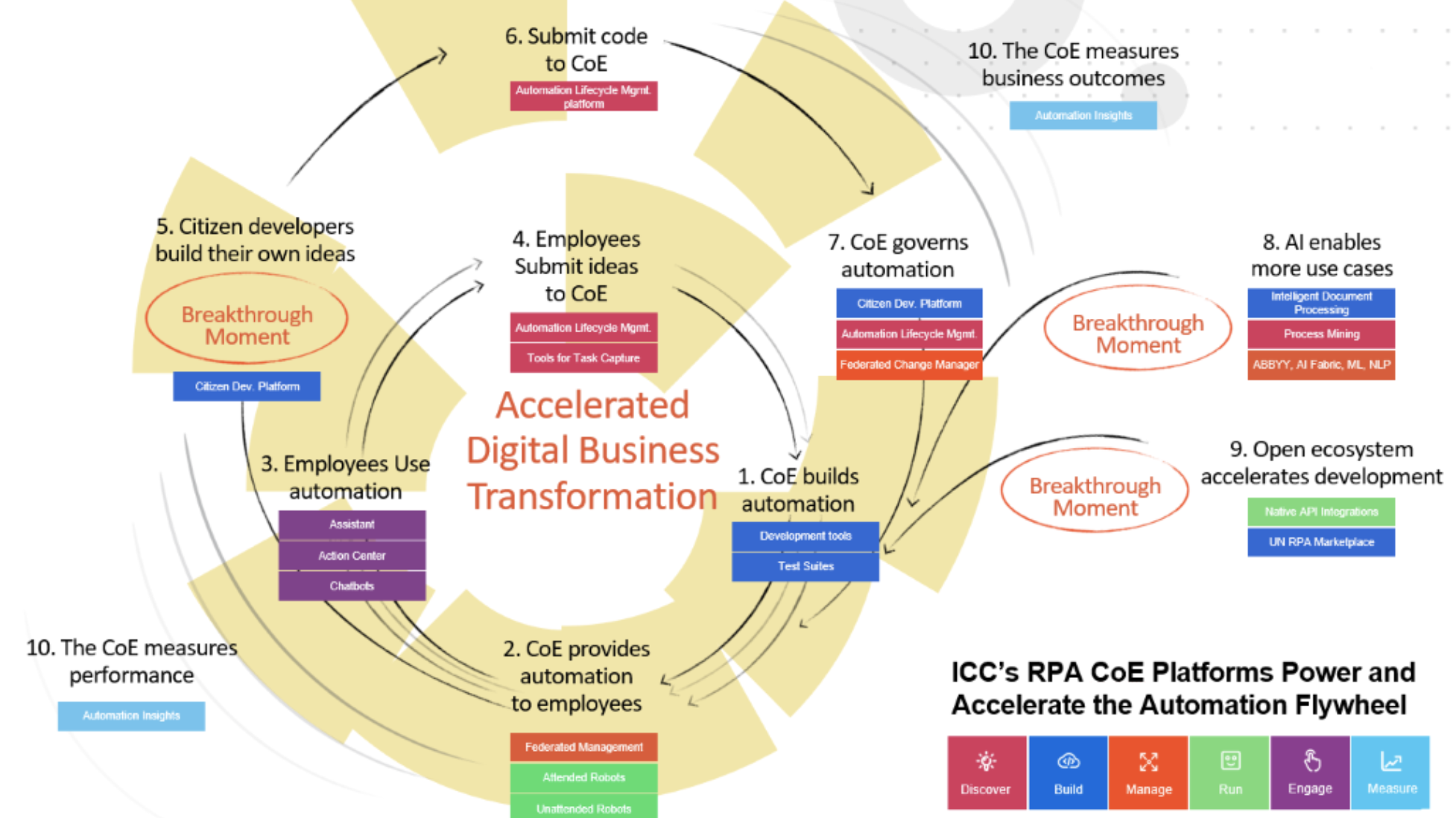 Hyperautomation Toolkit
Leaders with an automation mindset are quick to grasp the benefits in combining RPA with biometrics, chatbots, cognitive process automation, context-aware computing, data analytics, natural language processing, optical character recognition and process mining – all tools in the hyperautomation tool kit.
Hyperautomation increases the time UN business staff spend on knowledge and insight rather than manual repetitive tasks and it decreases the costs of service delivery. For example, chatbots with simultaneous interpretation capabilities can guide customers through every stage of service delivery and determine at any stage whether to escalate a ticket to a human being who speaks the same language.
Bots connected to biometric readers can help to screen individuals in the field against sanctions lists. They can also satisfy know-your-customer requirements for financial transactions or cross-border payments. The list of humanitarian applications grows every day, as 'end to end process automations and citizen developers' everywhere use these digital technologies to transform development work.
It is a bold leap forward in a rewarding journey. Clients can benefit significantly from hyperautomation shared services and its federated model through the UNICC RPA+ Centre of Excellence, putting technology at the forefront of the delivery of the 2030 Agenda.
To learn more, contact UNICC's RPA+ Centre of Excellence at [email protected].