The British Columbia and National chapters of the Canadian Association of IT Professionals (CIPS) have been hosting a series of webinars on the effects of COVID-19. UNICC's Lyle McFadyen was invited to present for their first virtual webinar of the series, entitled "COVID-19 Pandemic Overview". Lyle has been a board member of the British Columbia chapter of CIPS for two years. He was initially invited to speak to attendees from the British Columbia chapter only, but the response to his presentation was so well-received, that he was invited to present to a larger global audience later in May, including participants from the United States, Singapore, Saudi Arabia, Pakistan, Malaysia, Nigeria, India, the UK and Germany.
Planning and preparation- first step in business continuity planning during COVID-19 
Lyle began his presentation highlighting how organizations should plan and prepare for the ways in which they will operate during this pandemic. He emphasized that having an up-to-date business continuity plan is an organization's first step in any disaster response, or in the current case, COVID-19 response. The second step and next very important step would be to test that business continuity plan to see if it works and what you can improve upon. In the case that you do not have a business continuity plan, an action plan should be in place. An action plan, as part of a larger business continuity plan, can be applied to any pandemic. Lyle outlines these steps of an action plan that should help management and staff: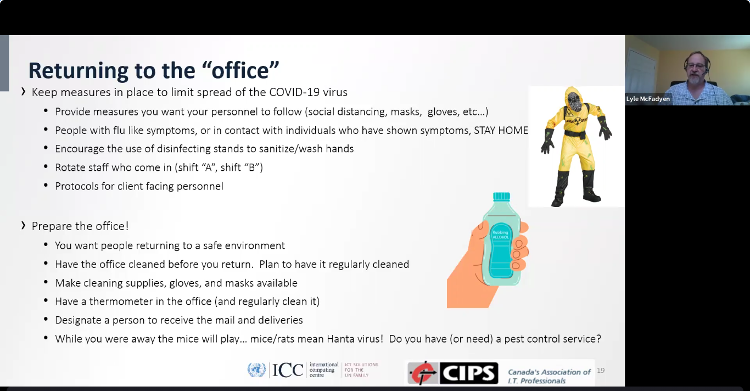 Identify a Crisis Management Team (CMT)

 

Review work from home capabilities

 

Ensure that the Emergency Notification System is ready

 

Develop communications during possible telework situations

 

Review business critical services/operations

 

Determine which teams are essential

 

Work with partners, vendors and suppliers

 

Remain flexible and adjust policies to fit the new reality.

 
COVID-19 case in business continuity planning for organizations 
Lyle explained that the right tools can help staff working remotely continue their usual workflows. Cloud-based systems like Office 365, Zoom, Amazon Web Services (AWS) and Microsoft Azure have become increasingly critical while most of the working world is still remote. Also, the support of management is an important part of continuing operations. If the crisis management team and human resources is in constant communication with all staff, being accommodating and supportive, staff will feel like they are part of the solution and adhere to all new rules and emergency protocols.  
Challenges to consider for remote work situations during COVID-19 
Even for the most optimally prepared organization, there are still challenges that persist during a pandemic while staff is working remotely. There is an increase in cyber-risks and threats due to more people are online and depending on the web as a source of information for new developments during a pandemic. Work equipment, like laptops or monitors, can take a while to get to staff and be challenging to manage properly while remote.  Also, staff home with families may need to take time within their shift to go to stores operating during short hours and be with children and pets.  
Plans for returning to the office post-pandemic
Lyle also provides suggestions on returning to the office and accepting the "new normal" as the restrictions from the pandemic gradually fade. Things to keep in mind upon returning to the office include: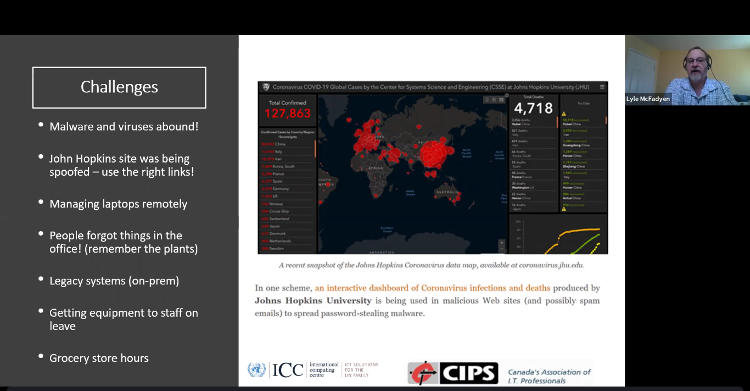 Social distancing should be continued.

Encourage flexible working arrangements.

COVID-19 has proven that working from home is feasible. Leverage that.

Adjust working hours to avoid heavy traffic and crowded public transportation

 .

Plan to keep some people working remotely, especially those in high-risk categories (living with elderly parents, pregnant, underlying medical conditions, living with young children, etc.)

 

Keep measures in place to limit spread of COVID-19 virus

 .

Prepare the office by having it cleaned and having cleaning supplies available for staff. 

 

Conference rooms must be avoided!

 
Lyle's webinar presentation was shared with all participants and received great feedback from many, including those who made comments about taking this knowledge back to their organizations to measure their business continuity plans against the points that Lyle outlined in the virtual webinar. UNICC has successfully applied these the steps which Lyle outlined, to our 100% remote working. UNICC's gradual return-to-office plans are still in the preparing and planning phase, to ensure the safest and most efficient return for UNICC staff.