UNICC, the go-to ICT and digital solutions provider for United Nations family, has released a new suite of services across its different areas, including Client, Professional, Software, Platform, Infrastructure and Cloud Integration services.
UNICC is meeting the challenges and drivers for organisations to move to new private, hybrid and public cloud offerings, offering its Clients assessment, migration and implementation as well as fully managed operational support and cost management for a number of cloud solutions.
UNICC has also developed strategic partnerships with three Robotic Process Automation (RPA) platform vendors (UiPath, Blue Prism and Automation Anywhere) to offer the 'best-of-breed' and absolute fit-for-purpose RPA solutions, now that automation has become a logical step forward for organizations. Already five of UNICC's Clients, including UNHCR, WFP and UNJSPF, are leveraging the new automation services to increase efficiency.
Another expanding area is Data and Analytics, with tools to direct and drive business insight. UNICC's new solutions include data analytics visualisation, business performance management, data warehousing, dashboards and key performance indicators (KPIs).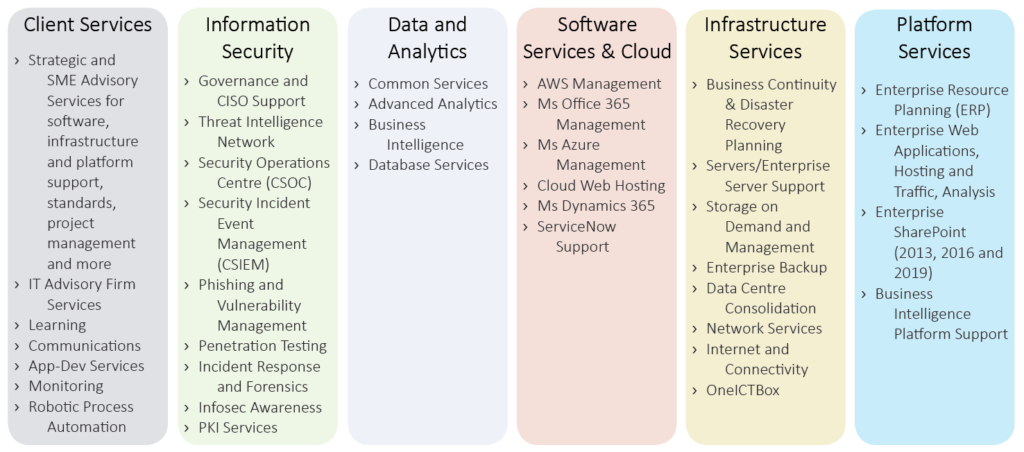 UNICC services overview. Photo: UNICC
New services include:
Microsoft Office 365 Management: Comprehensive services to best use Microsoft's public cloud capabilities with an emphasis on communications, collaboration, endpoint management, enterprise mobility and identity management.​
Microsoft Azure Management: Value options to host applications, platforms and infrastructure in the  Azure cloud, with varied services from Clients building and operating to UNICC building, deploying and managing services on behalf of Clients.​
​Cloud Web Hosting: Varied options to host or extend web applications into the public, UNICC-managed cloud. UNICC offers required automation, scalability and reliability so that Clients are able to focus on mission delivery.​
ICT Communications: Services that include advisory, information/content design and delivery, campaign management website content management, social media, technical writing, editing, translations and more.​
Information Security Awareness: Strategic advisory to help an organisation set up a state-of-the-art, effective information security awareness strategy, from an industry-leading learning lab and platform to communications, events and training support. ​
Microsoft Dynamics 365: From licensing, configuration and custom development to integration, training and support to help organizations in their digital process transformations.
ServiceNow: Services to help Clients adopt a single cloud platform for IT services and management, simplifying complex webs of legacy processes and systems.​
Robotic Process Automation (RPA): Digital enablement technology that leverages a combination of user interface and surface-level features to create scripts to automate routine, predictable data transcription work.​
UNICC's mission is to provide ICT services, maximising the sharing of ICT solutions from innovation and infrastructure to systems and skills in order to generate economies of scale. UNICC is highly competitive with today's technology marketplace, building synergies with industry partners as well as with its Clients.
Operational excellence, service level management and continuous service improvement are fundamental to UNICC, where the expert team brings decades of experience with United Nations programmes, funds, entities and related non-for-profit organizations.
For more information about UNICC's services read UNICC's Services Overview and ICC ICT Services Booklet, or contact us at [email protected].

Photo: UNICC