RPA can help the UN save millions on duplicate and manual processes and drive substantive delivery
On October 15, on stage with UiPath's founder and CEO Daniel Dines, UNICC's Director Sameer Chauhan spoke to a packed audience at UiPath's Forward III event in Las Vegas. He engaged the audience on how automation can support digital shared services across the UN family and help accelerate the SDGs.
Sameer attended the two-day conference with Anish Sethi, UNICC's Chief of Clients and Projects. Anish has been instrumental in setting up a first-class RPA program along with the UN Digital Solutions Center with a number of strategic partners, including major RPA vendor UiPath.
The response was overwhelming, with many private sector groups expressing their interest to help the UN family wherever they could. They offered resources for given projects and expertise in how to develop a Centre of Excellence, widening the web of partnerships between the private and public sector that will make a difference in meeting the SGDs. Indeed, SDGs Goal 17 is all about such partnerships.
The studies we conducted internally in the UN showed us that even if 10% of all of the manual processes we have in our back office are automated or digitized that could potentially save us up to a billion dollars that can then be used to deliver to the substantive missions. So that's a billion dollars more that can go towards educating kids, taking care of medical disasters, hurricanes and refugees. It becomes a game-changer for us.

Sameer Chauhan, Director, UNICC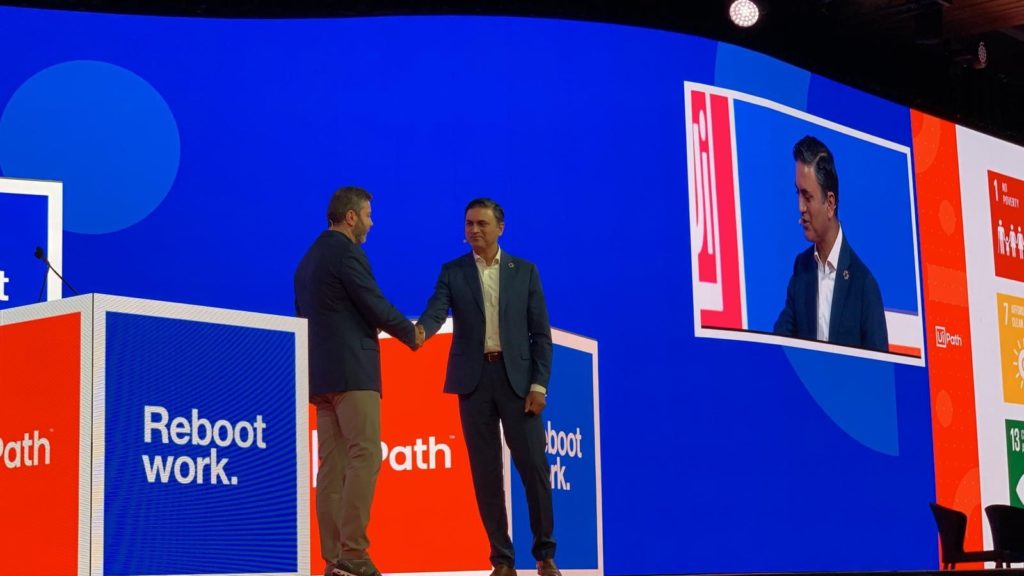 In a session driven by UiPath's founder and CEO Daniel Dines, Sameer had the opportunity to share the mission and mandates of the UN family. He also discussed UNICC's RPA service and mandate to offer shared digital solutions for UN Agencies. He emphasized the benefits including maximised ROI and economies of scale as well as its domain expertise in understanding its UN partner.
Sameer went on to explain that with an expected rapid adoption of automation in the coming years, the UN could free up to a billion dollars from operational efficiencies that can be reallocated to mission delivery to address key challenges, from educating kids to taking care of refugees.
The goal of the service is to help the UN family reduce duplication of common processes and minimize time spent on manual processes. Together with its strategic partners, UNICC provides a one-stop-shop to facilitate fast adoption of the latest digital technology.
What is RPA?
Robotic Process Automation (RPA) is a key enabler of Digital Transformation across the UN family. It allows automating repetitive manual processes and can save the UN millions of dollars crucial to accelerating the SDGs and creating tangible global social impact.
Automation is also one of the key services that will be delivered by the UN Digital Services Center (UN DSC), an innovation hub recently established by WPF, UNHCR and UNICC. It will design, build, and deploy at scale a suite of digital services that will be available to all UN agencies. The UN DSC includes a Robotic Operations Centre (ROC) and the first automation pilot project is already up and running.