UNICC partnered with the International Telecommunication Union (ITU), World Intellectual Property Organization (WIPO), NYC Mayor's Office for International Affairs, Infosys Foundation USA, and Micro:bit Educational Foundation to host a special, in-person event on 13 October to celebrate International Day of the Girl 2022, bringing together 70 women and girls in science, technology and/or innovation at Infosys Foundation USA HQ in New York City. The theme of International Day of the Girl 2022 is "Our time is now– our rights, our future."
As the International day of the Girl celebrates its tenth anniversary, this collaborative event focuses attention on the momentous achievements and progress for girls across the world and more crucially, reaffirms the commitments of the UN Sustainable Development Goals (SDGs) in promoting girls' empowerment and the fulfillment of their human rights. In these last ten years, there has been increased attention on issues that matter to girls among governments, policymakers and the general public, with increasing opportunities for girls to have their voices heard on the global stage.
It was incredibly energizing to work with such dedicated and caring individuals who are truly committed to providing young students with the confidence, skills, and mentorship they need to launch successfully into the future. All of the pieces came together, and the students benefited tremendously. Some of them spoke in front of a large group for the first time in their lives, and now that they have ventured outside of their comfort zones, the next time they have to speak in front of a large group of strangers, the hurdle will be a little lower.

Dr. Joann Halpern, Design Thinking Facilitator and Director, Hasso Plattner Institute
Agenda 2022
The event convened girls and women from the private sector, the UN, NGOs and academia to meet and be inspired by one another, participate in fun ice-breaker activities, discuss the themes of International Day of the Girl and engage in a science/technology/innovation-related hands-on activity.
The program primarily featured a design thinking session designed and facilitated by Lee Kim and Dr. Joann Halpern, in close collaboration with Katie Henry from the Micro:bit Educational Foundation.
The event began with welcoming remarks by Katherine Maloney, Executive Director, Infosys Foundation USA, and Ursula Wynhoven, the International Telecommunication Union's (ITU) Representative to the United Nations. Both emphasized the importance of celebrating innovation in the process of implementing the SDGs and continuing to highlight the contributions of girls and women in the science and technology spaces globally. Infosys Foundation USA colleagues shared advice for the girls to follow their dreams, to not allow for anyone to define their limitations and to recognize their experiences as valuable.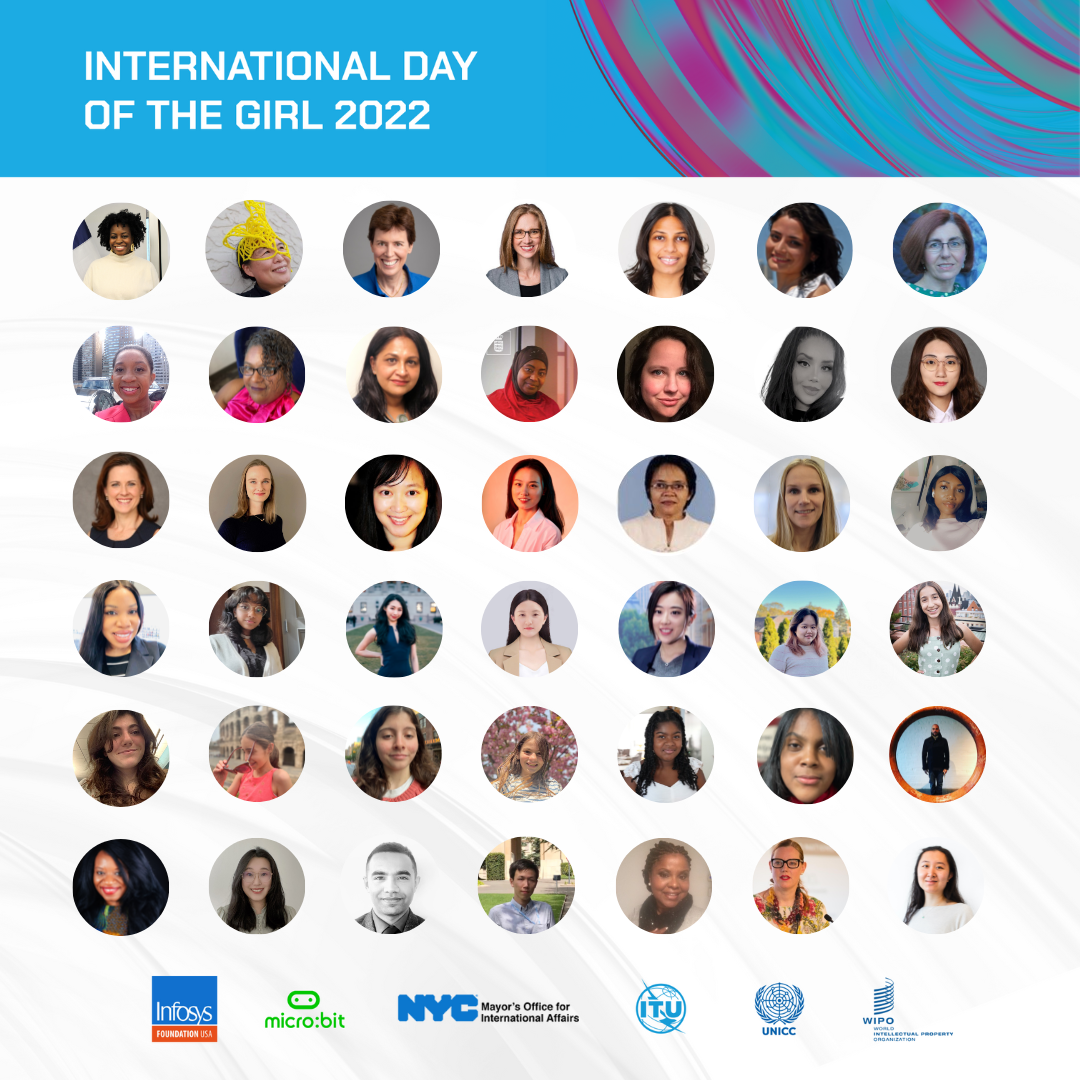 Empathy and design thinking
Next, facilitators Lee Kim, Dr. Joann Halpern and Katie Henry provided an introduction to design thinking. Design thinking, which the facilitators described as a team-based method to solve complex problems that are human centered, is an iterative and collaborative process that girls and women would try in practice that afternoon.
There were so many amazing ideas. What really touched my heart was that I could feel that they really cared about the person that they designed for. And that is what leaders do. They care. They care enough to do something.

Lee Kim, Design Thinking Facilitator
Dr. Halpern provided an example of how Doug Dietz, an Innovation Architect at the Health Department of General Electric, sought to redesign the MRI machine after realizing that the machine experience was incredibly terrifying for children during hospital visits. The key idea the facilitators emphasized for design thinking is that empathy is fundamental to designing an experience or product that is helpful and useful for users.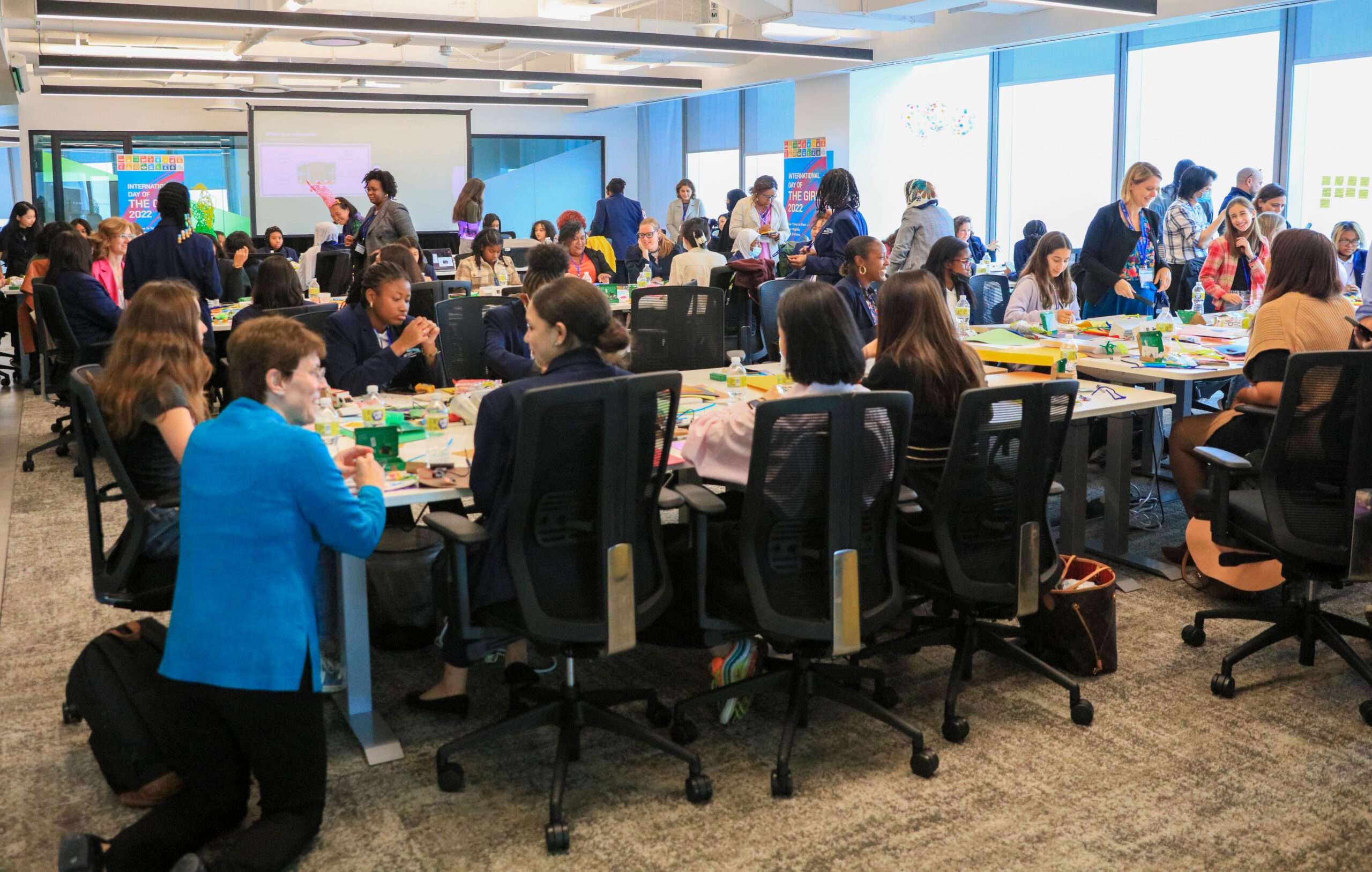 With girls and women mentors in science, technology and/or innovation seated in groups they began to work on their hands-on design thinking activity. Their first design challenge was for each participant to build a duck out of six pieces of Lego with a time constraint.
The main takeaway for many of the girls was that their designed ducks were all unique and different. Thus, when it comes to engaging in the design process, creativity and curiosity can only be fostered without judgment and with an appreciation for the uniqueness that each individual brings to a potential solution.
Craft and design thinking
For the rest of the design thinking activity, the girls were tasked with how they might leverage technology to ensure a better life for other girls. Both the girls and women mentors were presented with three stories about challenges young girls were facing.
After deciding which story to focus the solution on, girls and mentors could incorporate the use of a micro:bit (a pocket-sized computer that makes learning coding easy and fun) to bring their ideas to life.
The groups carried out their design thinking activity using a variety of craft materials to make a model and also discussed how the micro:bit technology could be used to make their model more powerful.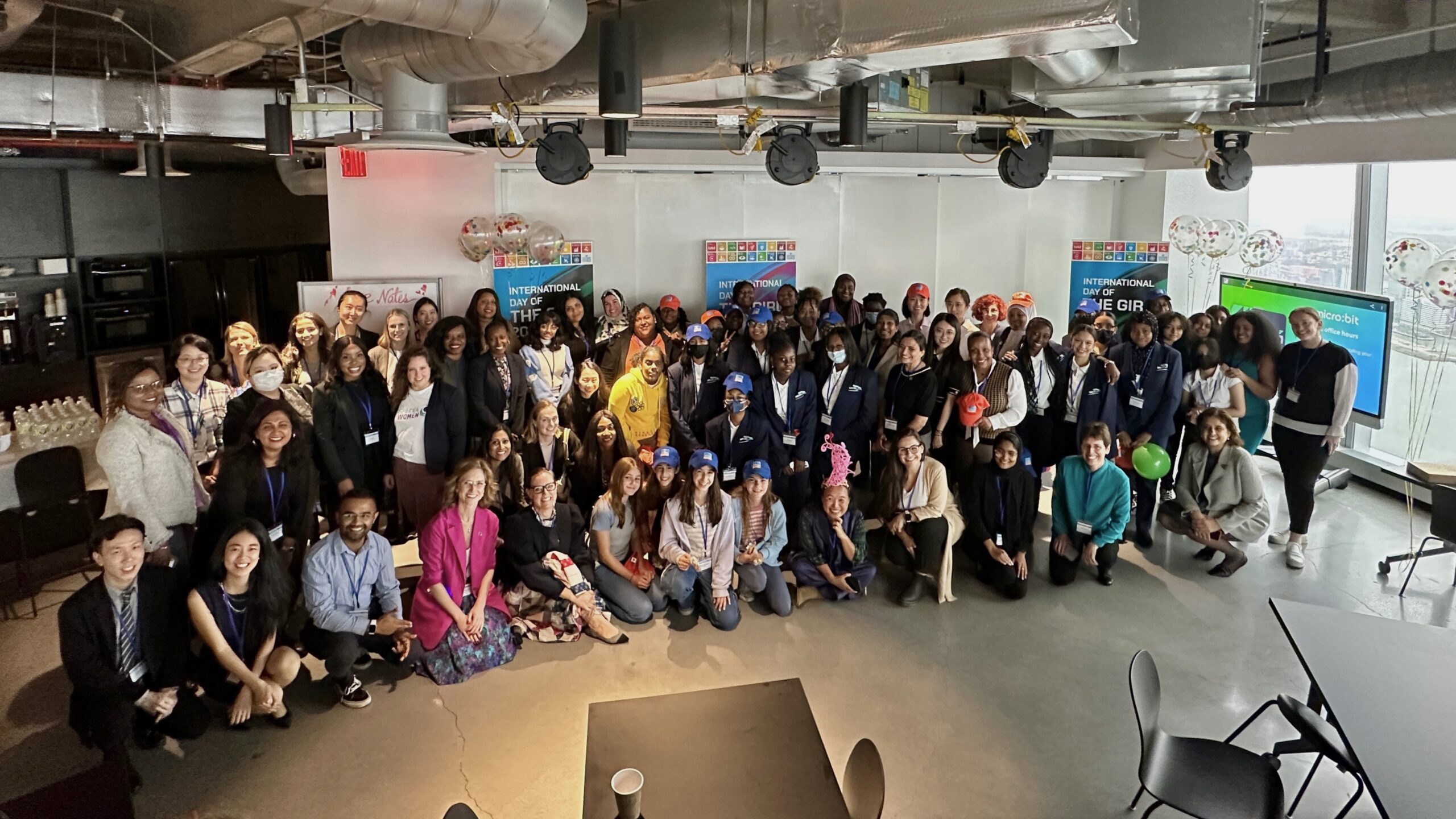 Each group then had a representative that shared back with the full group on what their group had discussed. Solutions included:
An application that recommends friends and those in one's network to a translating service to help mitigate loneliness
A virtual room that fosters feeling of comfort and connection with family members
A website to stop bullying by stories of those who went through bullying
An alerting mechanism via Micro:bit to alert trusted authorities at schools and adults to stop bullying
An information system for one to choose to be someone else or be yourself and experience life from different perspective.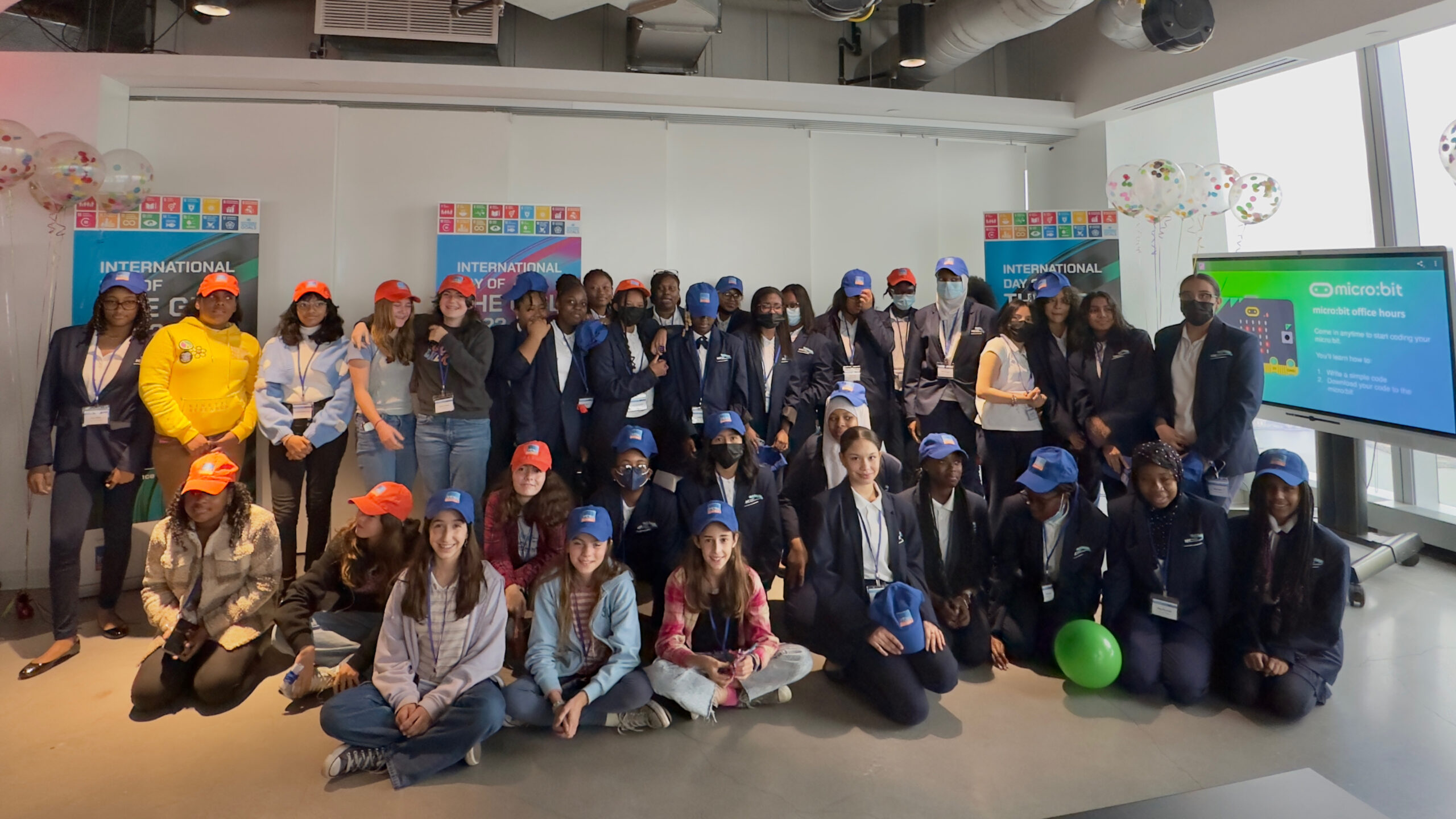 The event culminated with a group photo and an ice cream social that opened the space for attendees to conduct office hours with Infosys mentors. All student attendees received their own micro:bit to keep and were invited to socialize as well as to chat with Infosys mentors who were ready to support the girls with coding their micro:bit for the solutions they designed during the design thinking activity.
The event was well-received by attendees and provided a day filled with inspiration and empowerment for facilitators, mentors, teachers, students, and colleagues at partner organizations alike. The commemoration of the tenth anniversary of IDG is a continual reminder that while significant progress has been made for girls' rights across the world, investments in girls' rights remain limited and girls continue to confront a myriad of challenges to fulfilling their potential.
This has especially been made worse by concurrent crises of climate change, COVID-19 and humanitarian conflicts. Girls around the world continue to face unprecedented challenges to their education, their physical and mental wellness, and the protections needed for a life without violence.
Now more than ever, it is necessary to continue bringing girls and women into the conversation to address the existing inequalities that have been exacerbated by COVID-19 and to focus on how their perspectives within the technology spaces can help to amplify progress as well as SDG implementation.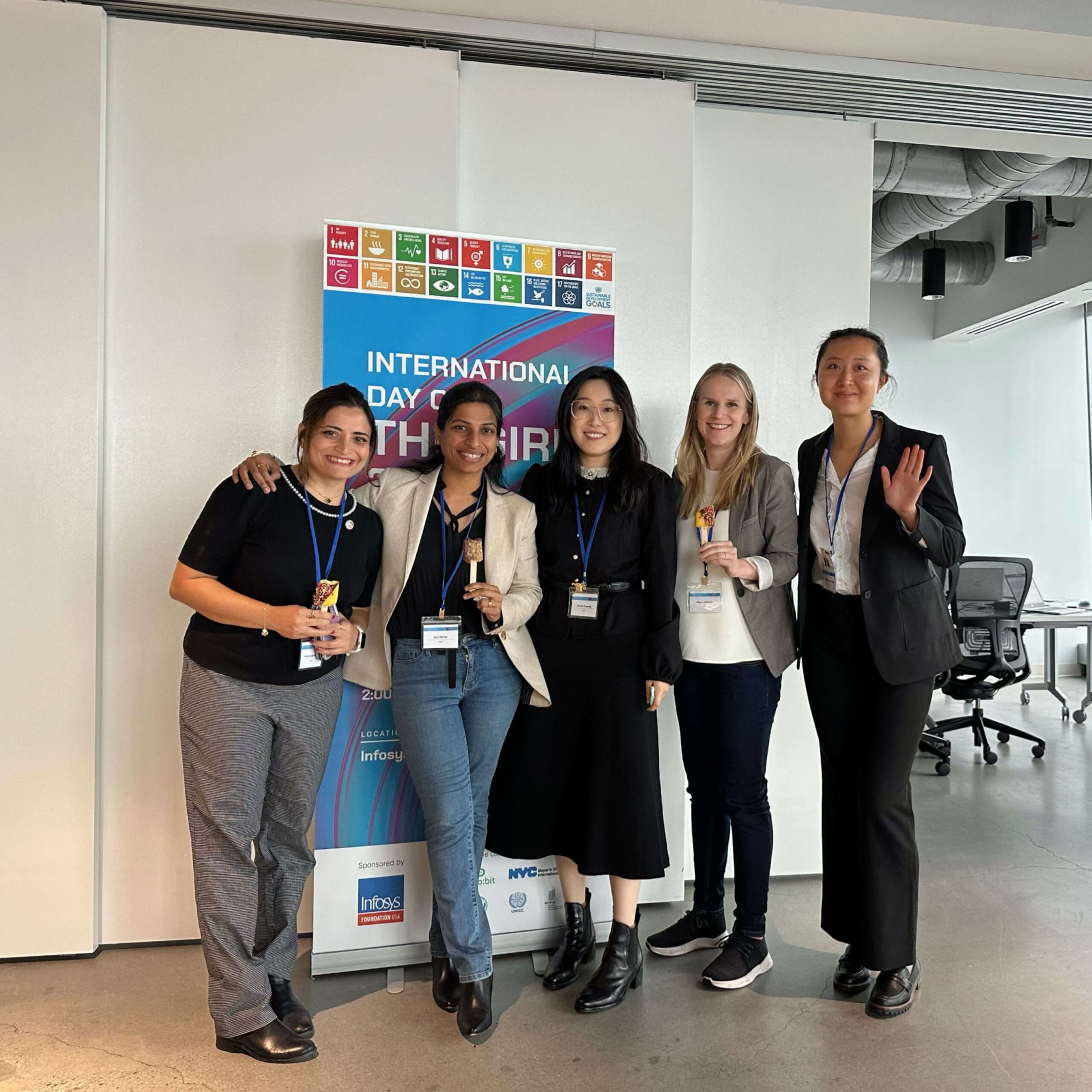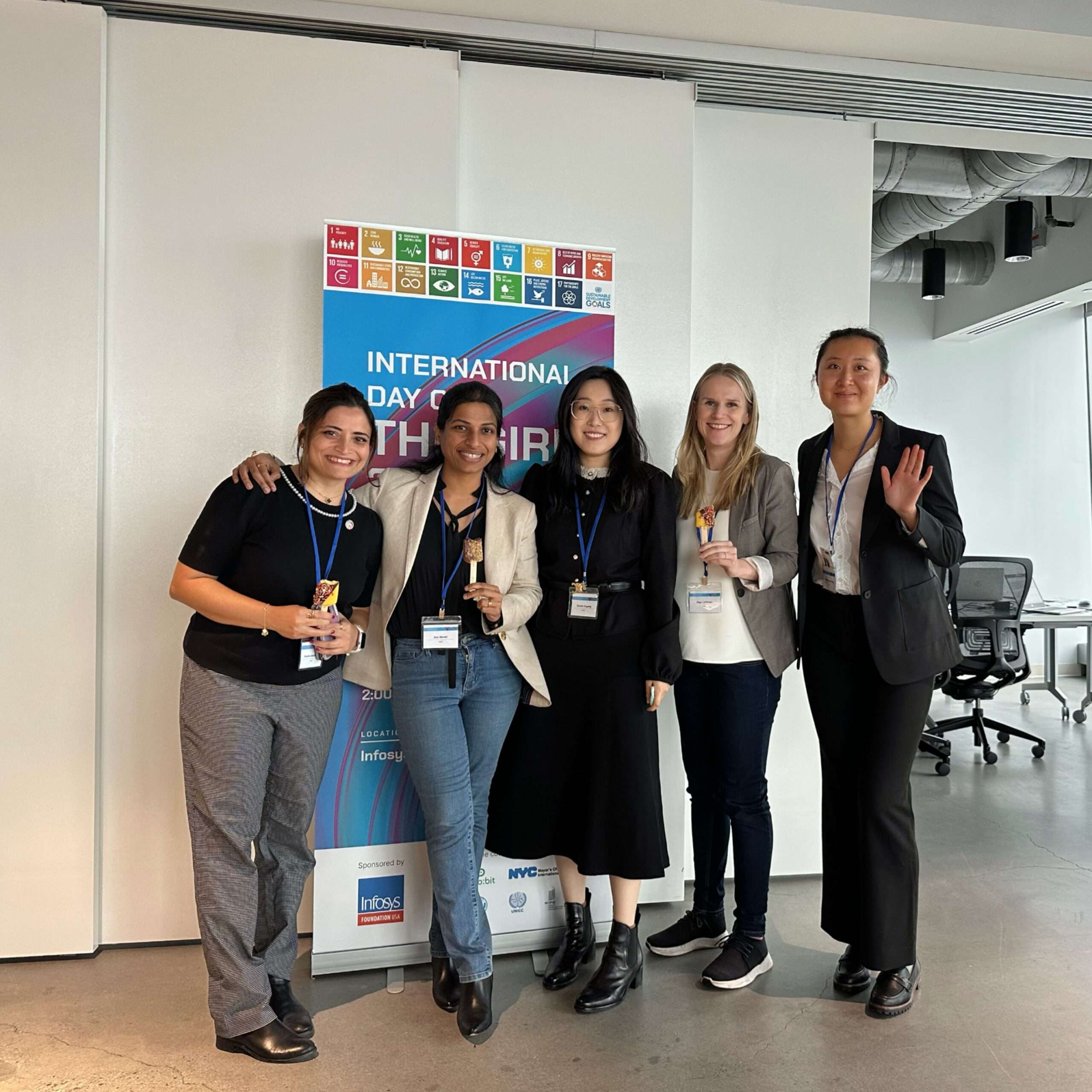 The event was made possible and in collaboration with colleagues from ITU, WIPO, NYC Mayor's Office for International Affairs, Infosys Foundation USA, and Micro:bit Educational Foundation.
---