UNICC collaborates with Columbia University in a continued partnership to bring students and participants together to act on key UN Sustainable Development Goals (SDGs).
As an extension of UNICC's commitment to fostering partnerships with academic institutions, UNICC has collaborated this year again with the Columbia University School of Professional Studies (SPS) to expand their Think-a-Thon partnership. This partnership builds upon the inaugural 2021 Think-a-Thon challenge with this year's Think-a-Thon Challenge expanding internationally bringing together students, alumni and teammates from across the world for the first time.
Participants worked together throughout the summer to come up with ideas that actively advance human welfare and address the UN SDGs with a final competition in September after months of work.
This Think-a-Thon has helped us bring together cross-functional collaboration from academia, industry and UN experts to think through digital solutions with a focus to solve societal problem. We are proud of the distance we have covered between our first Think-a-Thon and today's UNICC's global Think-a-Thon in collaboration with Columbia University.

Anusha Dandapani, Chief, Data and Analytics Services, UNICC
Up close and personal (SDG thematics)
Think-a-Thon challenge participants worked on solutions to confront two great challenges of our time: Gender Equality (SDG 5) and Climate Action (SDG 13). 108 participants came together in teams of 3-5 people from 15 countries. After reviewing 22 team submissions, judges selected eight teams to compete in the final competition in September. The final teams had the opportunity of mentorship from subject matter experts (SMEs) to address real-world solutions related to Gender Equality and Climate Action SDGs.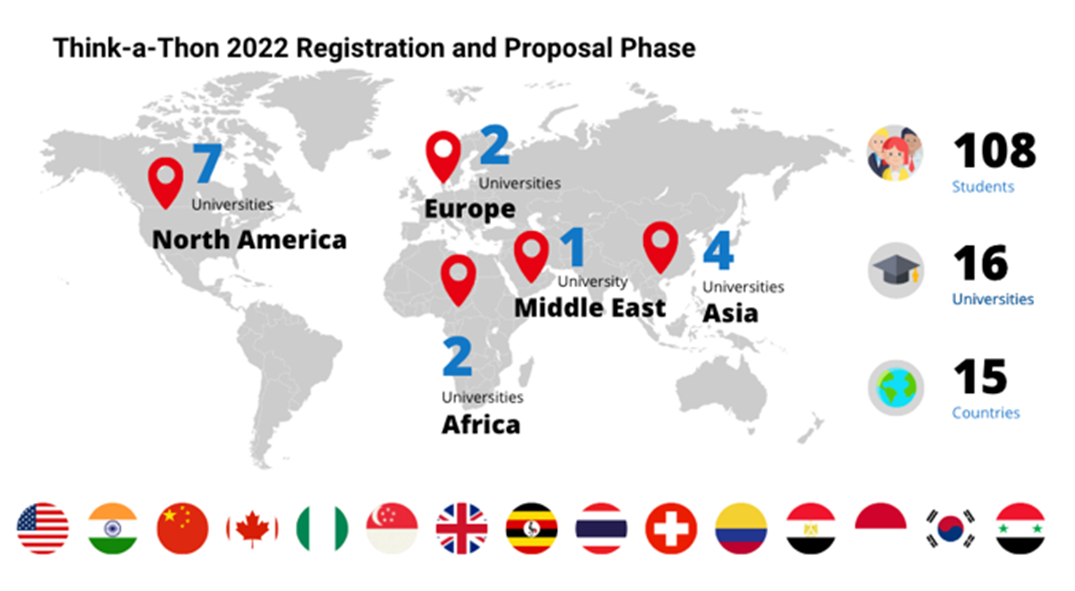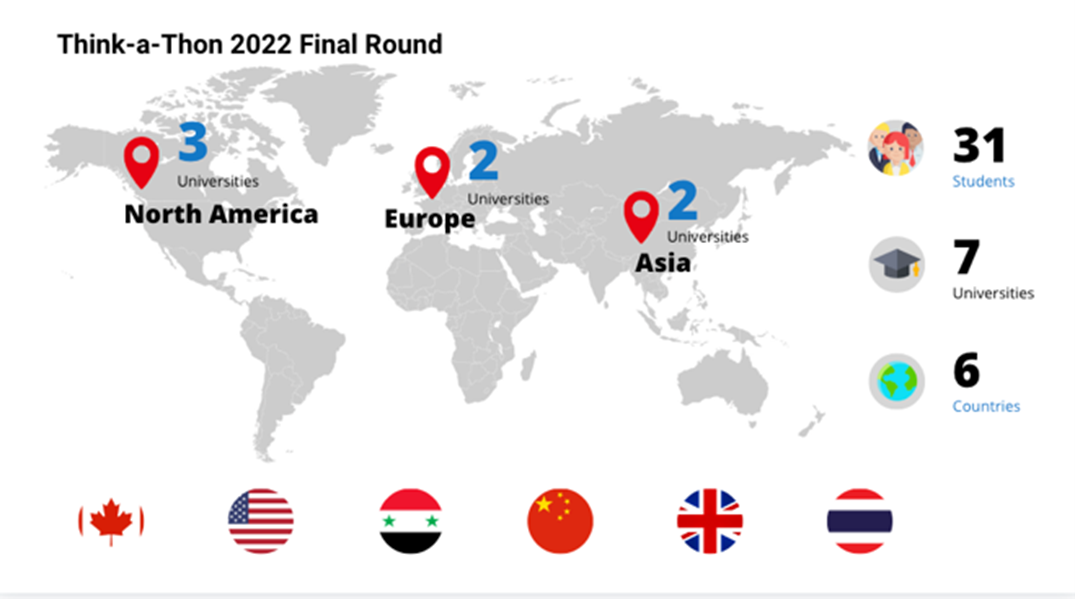 Teams worked on real-world innovative solutions to global issues, with a chance to win cash prizes to realize their projects and an opportunity to present their solutions to UN, Columbia and industry SMEs.
The value of UN mentorship
The Think-a-thon offered a welcoming environment for participants to learn from mentors at the UN as well as other industry SMEs in areas of data and analytics and other innovative technologies. Participants had opportunities to network and collaborate with other teams, competition participants and UNICC colleagues. By leveraging data sourced by UNICC from UN Women, competitors were able to hone their analytical skills, participants refine their problem solving and data analysis skills, which they then applied to the two UN challenges.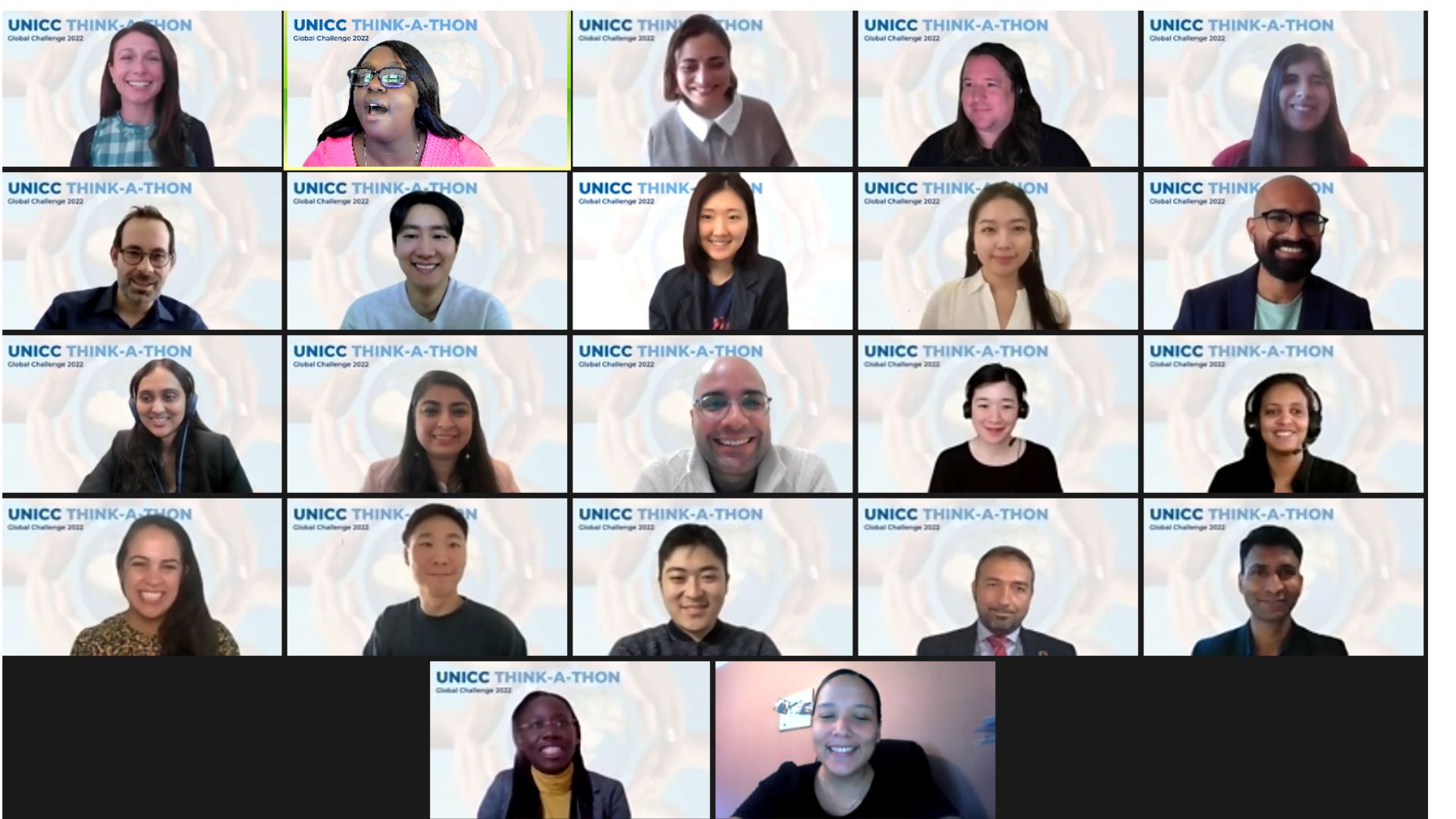 The work by the final eight teams culminated in a live hybrid event on 29 September 2022, with over 140 worldwide attendances. Hosted by the Career Design Lab at Columbia University's SPS, the event showcased team members presenting their projects from the challenge with mentors, UN and Columbia University colleagues, as well as participants from around the world tuning in to cheer on their fellow classmates.
On Climate Action
Team Athena, Team CARL, Team Coolers and Team One Tribe Indigenous presented on SDGs Climate Action solutions. Climate Action solutions included:
Team Athena developed a platform that dedicates a space for stakeholders to engage in direct communication to minimize transaction costs in the agricultural space as well as aiming to implement and scale Regenerative Ocean Farming through a tech-empowered non-profit brokerage model.
Team CARL created a professional skill development and community platform to provide regular workers at corporations learning resources about sustainability to initiate climate-led and bottom-up corporate and cultural change.
Team Coolers highlighted an innovative business model deploying strategy, analytics, and technology that focuses on changing incentives at the individual level to develop cooler habits to slow down global warming.
Team One Tribe Indigenous showcased 'Tr [1]be,' a partly indigenous-owned company with the aim to protect biodiversity in partnering with indigenous communities to create a transparent market for purchasing and selling carbon credits at zero cost.
On Gender Equality
Team Achieve, Team Atelier for the Future, Team Khusharth and Team Women Ride Well presented on SDGs Gender Equality solutions. Gender Equality solutions included:
Team Achieve (The Advancing Community Healthcare Initiatives to Empower a Vision for Equality) proposed a program targeting female-identifying individuals to provide employment and professional development for improved community healthcare.
Team Atelier for the Future shared two solutions: first, they emphasized the need to implement safety features to create safe mobility environments for women and second, their app, Nanny Toda, a one stop shop app for navigating childcare needs to mitigate the accelerated inequality COVID-19 has had on women's labor force participation due to gaps in childcare support.
Team Khusharth proposed a social enterprise that delivers care facilities to children aged 1.5+ from middle income urban families after normal school hours.
Team Women Ride Well worked on women's labour force participation in India by proposing a women-run transportation company that matches women with the desire to work with drivers ready to drive women to their far away jobs with stops at major institutions/metro stops.
Judging the innovative solutions
Dean Argier, a member of the winning team Agritech from the 2021 Think-a-Thon, hosted by Columbia's SPS and UNICC, opened the judging session with a keynote speech. As an alumnus of the Technology Management program at SPS, Argier highlighted how the team used the momentum from the competition to keep their innovative work alive.
The prize money from last year's award helped commercialize their technology solution, Cardinal Fresh, which reduces pathogens from agricultural processes to reduce food waste in the food security space. Argier wrapped up by reaffirming that all presenters are winners and have demonstrated their commitment to implementing the SDGs.
Marco Liuzzi, Chief, Digital Delivery at UNICC, then took the floor for the awards ceremony to reiterate UNICC's essential support in enabling the work of the UN ecosystem towards a more prosperous and just world. Teams were evaluated for:
Clarity and innovation
Social impact
Capital investment requirements and financial forecasts
Viability (both operationally and technologically), feasibility and sustainability
Delivery presentation.
Recognizing the exacting deliberation by judges Shivam Kishore, Senior Advisor of Digital Transformation and Sustainability, UN Environment Programme (UNEP) and Ginette Azcona, Senior Research and Data Policy Specialist, UN Women, Liuzzi awarded Team CARL as the Climate Action winner, Team Atelier for the Future as the Gender Equality winner and Team Women Ride Well with the Audience Choice Award.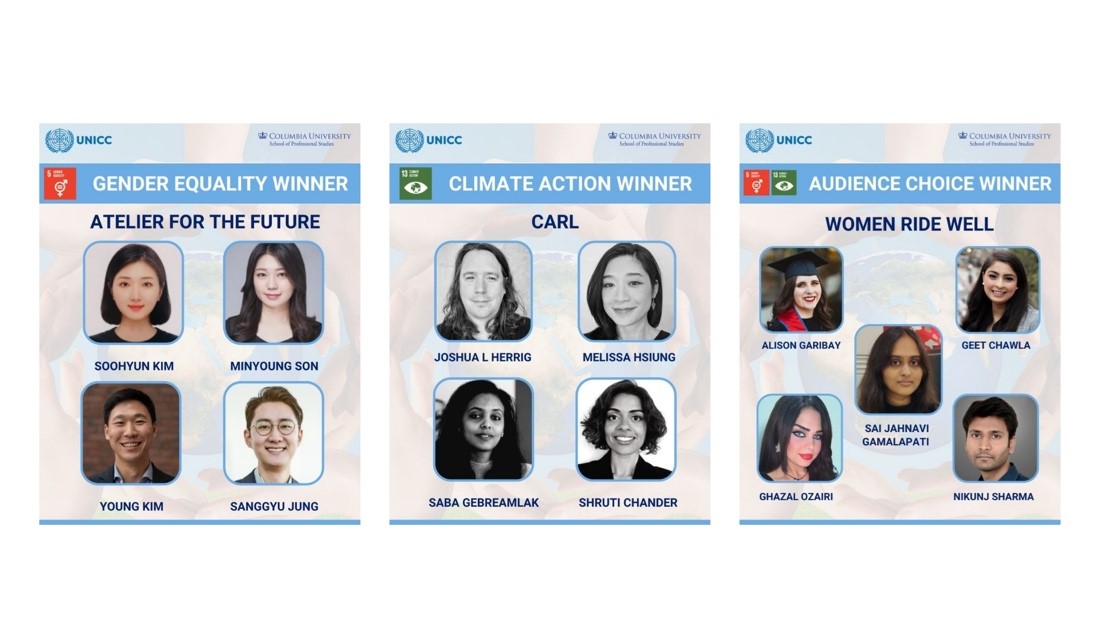 I am grateful for the opportunity to judge the Think-a-Thon Challenge. As a society, we have many challenges to work through and being exposed to the participants' enthusiasm and innovative ideas to address some of these challenges was a truly rewarding experience.

Shivam Kishore, Co-lead, Transformation and Sustainability, UNEP
I was truly honored to be part of this year's UNICC Think-a-thon. What a phenomenal, inspiring group of young people, commitment to making a difference. The presentations were well-researched and a delight to listen to. I only wish I didn't have to pick just one winner!

Ginette Azcona, Research and Data Policy Specialist, UN Women
Team CARL and Team Atelier for the Future were both awarded $10,000 each to split between their team members and Team Women Ride Well was awarded $5,000 to split between its team members.
My heartiest congratulations to the UNICC Think-a-Thon Audience Choice Winners: the WRW (Women Ride Well) team, with their proposal for practical and sustainable transportation to support women. Anything that can support inclusion and reduce gender inequality in all its aspects is refreshingly welcome. I was impressed by the analysis of the problem presented by this team as well as the interesting ideas they put on the table.

Marco Liuzzi, Chief, Digital Delivery, UNICC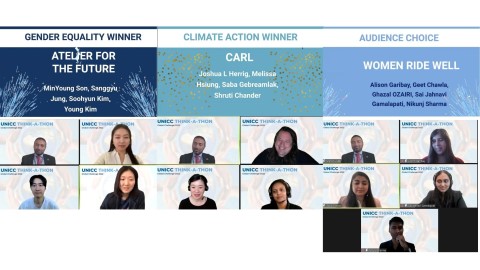 The event concluded with a thank you to mentors and members of the eight teams for sharing their solutions. As well, for the UN mentors and colleagues involved, inspiration and innovation were words used to describe the whole experience.
Fantastic proposal and a great idea to get the youth involved find practical solutions to the crisis facing humanity. I was really honored to be part of the exercise and enjoyed reading the innovative proposals.

Chhaya Kapilashrami, Senior Director, Operations Coordination, UNFCCC
Mentors:
Julia Bruachle, Research and Data Consultant, UN Women
Asa Elisabeth Tynell, Project Manager, Sustainable UN, UNEP
Jacob Halcomb, Sustainable UN team, UNEP
Diane Confurius, Senior Data Scientists, TNO
Fleur Heyworth, Head of Secretariat, International Gender Champions
Amos Doornbos, Director of Strategy and Systems, World Vision
Antra Bhatt, Statistics Specialist, Research and Data Section, UN Women
Sonay Aykan, Associate Director ESG & Sustainability, Colgate-Palmolive
Team Achieve
Ashley Privette
Antony Nguyen
Caroline Ba Doe Lwin
Sydney Bridewell
Team Atelier for the Future
MinYoung Son
Sanggyu Jung
Soohyun Kim
Young Kim
Team Athena
Gigi Sariddichainanta
Ada Wang
Lavan Param
Janice Bi
Zach Russell
Team CARL
Joshua L Herrig
Melissa Hsiung
Saba Gebreamlak
Shruti Chander
Team Coolers
Karatpetch Jiwachotkamjon
Rekha H. Jayalakshmi
Valentina A.G Rojas
Team Khusharth
Ashwin Dubey
Arushi Mishra
Mansi Agarwal
Team One Tribe Indigenous
Christopher Starr
Galia Orme
Robert Fincati
Women Ride Well
Alison Garibay
Geet Chawla
Ghazal OZAIRI
Sai Jahnavi Gamalapati
Nikunj Sharma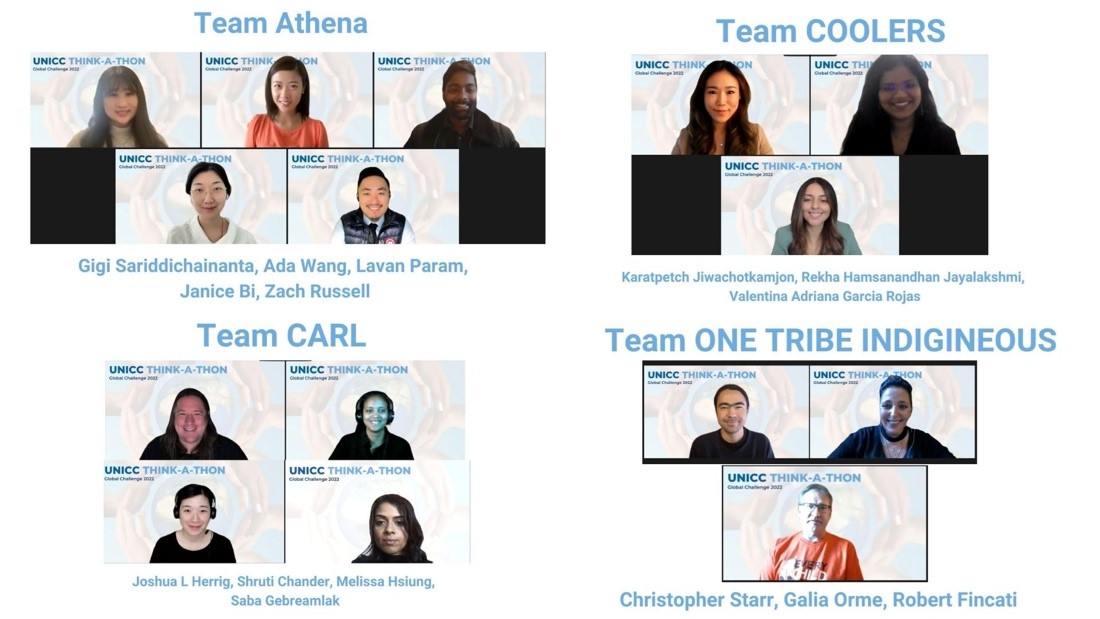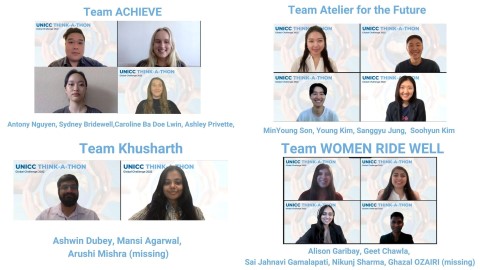 The 2022 Think-a-Thon was made possible with the support of a myriad of people from partners at the School of Professional Studies at Columbia University, to UN Women and UNEP champions, as well as colleagues at UNICC, UNEP, and UNFCCC. Shivam Kishore, Senior Advisor of Digital Transformation and Sustainability, UN Environment Programme (UNEP) and Ginette Azcona, Senior Research and Data Policy Specialist, UN Women contributed extensive amounts of their expertise and time in judging the challenge.
Azcona and her team members also worked on sharing the challenge, providing mentorship, and sharing relevant data for solution development. Chhaya Kapilashrami, Senior Director, Operations Coordination, UNFCCC helped put together the Climate Action challenge and supported the development of judging criteria for the Climate Action solutions. The partnership was initiated by UNICC with Anusha Dandapani, Chief, Data and Analytics Services and her Data Team for support including Chiara Rucco, Data Management Junior Analyst (for UN Women involvement), and Meredith Kravitz, Senior Outreach & Strategic Partnerships Officer, and David Damian Sandoval, Innovation and Outreach Officer for strategic partnerships. Lastly, a special thank you to Marco Luizzi, Chief, Digital Delivery with his support for the judging panel and the UNICC Communications team.