The European Union (EU) and the United Nations Development Programme (UNDP), through the EC-UNDP Joint Task Force on Electoral Assistance, have partnered in more than 50 countries and nearly 200 electoral projects to provide technical assistance in the field of elections based on national requests. They strive to provide effective and sustainable support to establish and reinforce democratic institutions and processes worldwide.
The Joint Task Force contracted UNICC in 2020 to assist in the development of an Early Warning and Early Response (EWER) solution, renamed the iReport platform in 2022. iReport (formerly EWER) includes a web platform and mobile app, allowing relevant national authorities to jointly report risks and incidents of electoral and/or gender violence and allow for prompt and coordinated nation-wide verification processes and, ultimately, responses.
The iReport solution was implemented in October 2020 in Côte d'Ivoire ahead of its elections (see UNICC news item). Initially, the iReport platform was conceptualized by the Brussels-based UNDP Electoral Team as a platform meant for governmental and non-governmental organizations alike, that would render more efficient and simplify the process of preventing and/or mitigating electoral and gender violence. Nowadays, the platform is a reality with flexibility and responsiveness as key functionalities – ensuring its suitability for a variety of contexts and enhancing national actors' decision-making processes in real time.
Since the iReport platform's initial deployment in early 2021, the platform has been utilized in elections in Ethiopia (June 2021), Zambia (August 2021) and Honduras (November 2021) with plans of imminent release in Liberia and other countries in the pipeline. Over the course of the past two years, as product development continues, improvement follows. The time needed to deploy tailored solutions in different countries is decreasing and enables iReport to be used in more countries and with more nuanced contexts. To understand the significance of where iReport is going with its future plans for implementation, a look back to its developmental history is crucial.
The iReport platform grew from work done by colleagues at the UNDP Brussels-based Electoral Joint Task Force. Since then, the web and mobile applications have adopted crowdsourcing aspects, with personnel selected by national offices to monitor elections-posting reports of violent incidents. The capabilities of such a platform allow for relevant actors to send information via the platform (web and mobile app version) as well as SMS in the case of no Internet access. Once a report is submitted, a team of analysts is tasked with consolidating, prioritizing and verifying it to allow for joint national dialogue and coordinated responses to the reported risk or incident.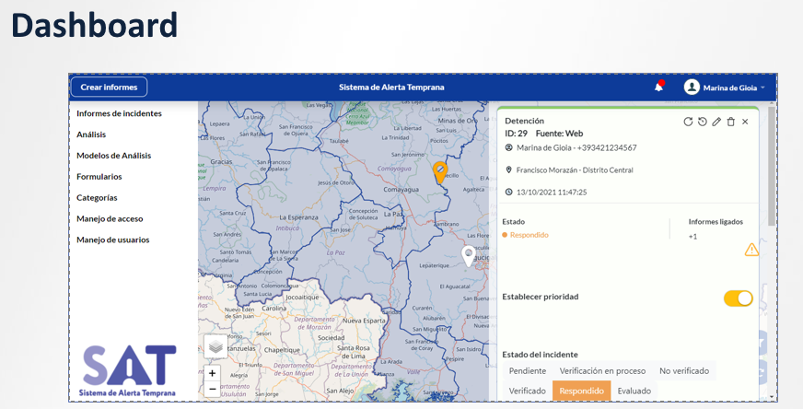 Further to the transmission, treatment and response to reports, the national stakeholders in charge of the management of the platform are also in charge of producing daily, weekly and monthly reports using data analytics tools built in the platform. Once data is assessed and verified, an action plan is formulated in tandem with evaluation tools for national personnel to review the impact of response and recommend new actions.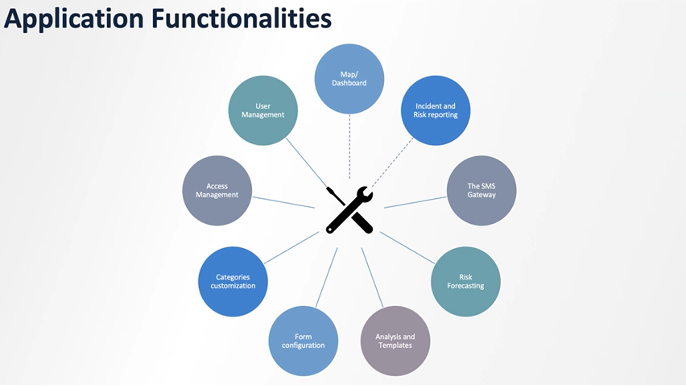 A given country's electoral risks are highly specific to its environment and history. Thus, the intelligence that iReport provides is sensitive and critical to a country's responsiveness to threats. With constant refining of the application and major implementations on the way, iReport is iterative and adaptive, generating various advantages:
The registration of incidents can be done in a way that is flexible and customizable to the various country contexts. The sources are also multiple and designed for the users to log the events as quickly as possible.
The application functionality provides data analytics tools to enable data analysis which can be used to forecast the potentiality for risk in a region. The analysis reports are also automated to proactively alert on new risks as events are reaching the platform.
The collection and displaying of data is highly customizable, without imposing technical requirements on users other than just a web browser, enabling the platform to be deployed within any country due to its adaptability.
The iReport platform for Liberia has interesting new developments oriented towards providing the possibility of having a public accessible front-end for citizens to be aware of latest developments. The optional Risk Forecasting section also allows users to check and compare current risks with the forecasted risks, which are calculated through an algorithm.
UNICC's experience and expertise in multi-tenant application development mean products stay fit for purpose and ensure a conducive environment for product development. Nonetheless, with such change and improvements for the iReport solution, developments remain incremental. This allows for the product to be built and tweaked gradually, ensuring minimization of overall costs for countries as more decide to adopt the solution when new features can be added.
Lessons learned from each country are continuously leveraged to inform new implementations in new countries. Looking back on its history as well as looking ahead, the iReport development champions an improvement process that does not only prioritize the platform's technology capabilities but also the underlying business approach for the platform's optimum configuration. Only by deploying iReport on the ground, can solutions be better tailored and understood in local contexts. The core focus of the design process has been and continues to be on product development, which entails a focus on a field perspective and looking at how the system is being used in practice by national authorities.
Constant learning and iterative product development practices are the hallmarks of iReport's success. In the beginning, iReport solution improvements were slower, with more time between changes. As more countries came on board, the timing of implementation has improved drastically, as have costs associated with its implementations.

Balancing a standardized approach with the capacity to be tailored for different use cases, iReport continues to get better and prove its worth in collecting and analyzing events from the fields, not only during the election periods. Most of the implementations are continuing to be utilized to monitor areas and information helping to identify needs and prevent incidents by looking at trends. The flexibility of the platform does not put any limit to the contexts of use. And as iReport looks to the near future, five to six countries are already lined up with interests to implement iReport.
For more information, please see the EWER video, visit the EC-UNDP JTF website or reach out to [email protected].