Each year, the BRM Institute and the global BRM community recognize individual and organizational commitment to the BRM role, discipline, capability and philosophy through Global BRM Community Excellence Awards. Fellow members of the global BRM community nominated this year's winners.
The UNICC BRM team has been awarded the BRM Institute Community Excellence Award – 2022 BRM Team Award!
The success of the BRM team depends every single day on the critical support of everyone at UNICC. The BRM capability is empowered by the collaboration, hand in hand, with UNICC peers that help them envision, deliver and sustain solutions for UNICC Clients.
The BRM team wants to thank all colleagues for their tireless efforts to be a One UNICC team. The BRM extends this award to the rest of the organization for their constant support! The UNICC BRM Team Impact Statement submitted for the award encapsulates the BRM vision and approach:
UNICC's BRM Team are the ambassadors for UNICC's key Vision, Mission and Values which embody our organization's practices to provide digital solutions contributing to our Client's goals. As a United Nations entity serving 80+ UN and non-profit Client community members, UNICC is a non-profit organization that requires BRM team staff members to uphold UN values and practices with every internal and external interaction. UNICC Clients are globally located and their Missions contribute toward the Sustainable Development Goals.
The people UNICC BRMs work with day-to-day hail from diverse cultures, religions/value systems and speak multiple languages. With formal training, on the job learning and a significant emotional intelligence command, UNICC BRM team is qualified to collaborate with our rich community, but moreover our BRM team members are empowered to approach each of our Clients with respect, flexibility, honesty, passion, pride, curiosity and transparency – UNICC's Core Values.
UNICC's BRM team capabilities evolved to encourage inter-disciplinary collaboration between multi-Client technology and business peers, contributing to UNICC's Vision to build shared technology solutions for the UN family. These shared solutions bring efficiencies of scale to the UN community, harmonizing processes and solutions to provide wider impact with reduced duplication of resources.
UNICC's Client community is heeding the call as the BRM Team's efforts to evangelize the benefits of collaboration means UNICC's Client base doubled within the past 5 years, from 40 Clients to now more than 80. Beyond this, our Clients have come to rely on UNICC as a thought leader and innovation hub for non-profit shared solutions. UNICC BRM Team is key in fostering trust that UNICC's Clients place in UNICC to envision, innovate and build collaborative technology solutions.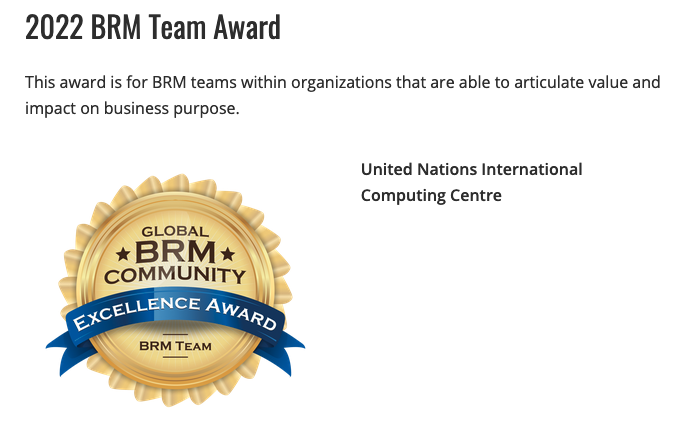 A few examples of these shared UN technology solutions are included, to demonstrate the contribution and outcome of UNICC BRM Team efforts to respectfully bring communities together, passionately encourage collaboration, and reliably develop, operate and transparently measure success of the solutions for our non-profit constituencies and the beneficiaries they serve.
United Nations Partner Portal
United Nations Partner Portal (UNPP) helps generate and foster connections between Civil Society Organizations, NGOs and Governments to engage with the UN on partnership opportunities for the benefit of those we serve. With passion, pride and honesty, UNICC BRM Team fosters the collaboration between UN organizations and encourages more UN organizations to join the UNICC delivered harmonized digital solution. UN Partner Portal UN contributors tripled since UNICC began providing the Service. This means that more UN organizations can match with Civil Society Organizations to deliver Sustainable Development Goal related programs to beneficiaries in local communities.
CaDRi Partnership
CADRI Partners are a group of UNICC Clients, non-profit and Government actors in humanitarian assistance and development cooperation who join forces to provide a coherent offer of assistance to countries to help them reduce their exposure and vulnerability to disaster and climate risk. UNICC developed CaDRi's website and an interactive tool that helps constituencies measure their potential for exposure and vulnerability to disaster and climate risks. With curiosity, flexibility and transparency, UNICC BRM Team built relationships and trust with the Client business and technical focal points to understand how exposure and vulnerability could be measured, and the BRM Team fostered collaboration with UNICC technical teams to help envision the design and create solutions that help pro-actively alert to risk.