OECD, UNDP and UNICC collaborate to deliver a digital business solution for tax audit capacity-building programmes
Domestic revenue resources are the largest source of financing for development and are the best way to support long-term economic growth and poverty reduction. The ability of governments to raise tax revenues is key and tax administrators are on the frontline in the battle against tax avoidance.
Tax Inspectors Without Borders (TIWB), a capacity-building initiative run by the Organisation for Economic Co-operation and Development (OECD) and the United Nations Development Programme (UNDP), enables sharing of tax audit knowledge and skills with tax administrations in developing countries to enhance their capacity in the tax audit practice through a practical, hands-on approach.
During the past year, UNICC has worked with TIWB to digitalize their programme processes. In response to OECD's request to define a technical solution, UNICC conducted a Digital Solution Assessment with the goal to define the TIWB service journey with a technology solution roadmap to develop and deliver a minimum viable product (MVP), which was completed in March 2022.
The main goals of this digitalization journey were to increase the automation of processes; enable the TIWB Secretariat to optimize time spent on programme completion through greater visibility of programme status, milestones and tasks; enhance collaboration between the TIWB Secretariat, UNDP partners and other stakeholders with shared tools and to increase completeness of programme documentation.
The three collaborating organizations conducted several workshops to understand TIWB's service journey including all the steps involved in the process, from pre-initiation work to selection of a tax expert, as well as programme design, implementation, evaluation and follow-up; stakeholder inclusion; front and back-stage actions and interactions and touch points and systems.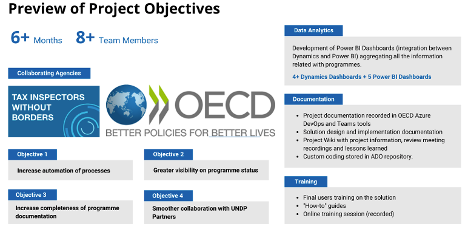 Credit: UNICC/UNDP
The digital business solution UNICC delivered is built with Microsoft Dynamics, Microsoft Power BI and other technologies seamlessly integrated to cover all the requirements presented by TIWB. Nine current dashboards aggregate information related to programmes and allow for management, reporting, monitoring and evaluation.
The solution includes features that support contact management, programme cycle management with deliverables and milestone details, reports and templates management, documentation storage, collaboration tools for UNDP partners and more.
Additionally, the team delivered "how-to" guidelines and documentation related to the solution design and implementation, a project wiki, customized code in Azure DevOps repository and a service guide for Tier 3 support, with the expertise needed for Tier 1 and Tier 2 maintenance shared with OECD team members. UNICC also delivered a final user training session and a technical team workshop.
After completing this first project and delivering a successful MVP, UNICC will continue working with TIWB on a second phase project to implement and scale the solution, allowing TIWB to continue operations in the 54 countries and jurisdictions they currently serve.
This project supports the achievement of Sustainable Development Goal 17: Partnerships for the Goals, and the rest of the 2030 Agenda through better tax audit capacity for stronger domestic resources to invest in development.