An innovative solution from UNDP in partnership with UNICC and Amazon Web Services helps unlock decades of experience for institutional learning
Independent evaluation offices play a major role in gleaning and sharing years of evaluation knowledge and experience for UN Agency programme delivery. This is never an easy task. Finding valuable information is time-consuming, methodical and often manual, with multiple sources and document types to process.
Luckily, there are new data and analytics solutions and approaches out there to help solve the problem of streamlining evaluation data collection, aggregation, review and planning for existing and new programmes. In partnership with UNICC and Amazon Web Services, UNDP's latest cutting-edge solution streamlines the scanning of thousands of evaluation documents to understand keywords, context and intent using artificial intelligence (AI) capabilities, returning meaningful answers to complex questions.
Making better use of data – with approaches grounded in UN values and human rights – is integral to our future and service, so that everyone, everywhere nurtures data as a strategic asset for insight, impact and integrity, to better deliver on our mandates for people and planet.

Antonio Guterres, Secretary-General, United Nations
This innovative solution, based on AI and machine learning, is publicly-available through UNDP's portal, AIDA (Artificial Intelligence for Development Analytics).
AIDA – a collaboration between UNDP, UNICC and Amazon Web Services
The launch of AIDA marks the IEO's latest drive to stay ahead of the digital curve and to support UNDP's role as a trusted development partner in this time of rapid change. Using the designated search portal, AIDA enhances accessibility to evaluations information to everyone in UNDP. Making informed decisions is just a click away.
AIDA uses AI and machine learning for quick and easy access to the digital treasure trove of evaluations stored in UNDP's Evaluation Resource Centre. Before AIDA, the process for extracting evidence from evaluation reports was manual, resource-intensive and time-consuming.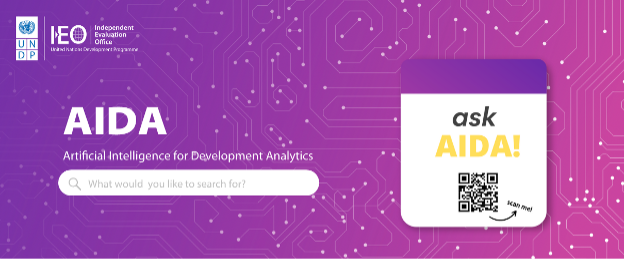 AI-based solutions 'learn' from experience. They improve themselves, become smarter with each annotation, and work with feedback from human evaluation partners who apply experience and insight to tune the tool further and increase the value of the AI search returns. Built-in intelligent search modalities draw out meaningful and comprehensive results, such as keyword, semantic, contextual and cognitive searches.
The concept of the human-in-the-loop was embedded in the design. The human in the loop provides meaningful insights to machine learning outputs and adds human control, introducing explainability, a set of processes and methods that allows human users to comprehend and trust the results and output created by machine learning algorithms. This makes for an optimized feedback loop within the technology solution.
The AIDA portal is accessible to anyone who wants to learn from past evaluations to improve their programme design and delivery. The IEO emphasizes AIDA's value in formulation and design of new programmes, offering lessons and building on successes from country programmes worldwide for the optimal delivery of new projects in the planning stages.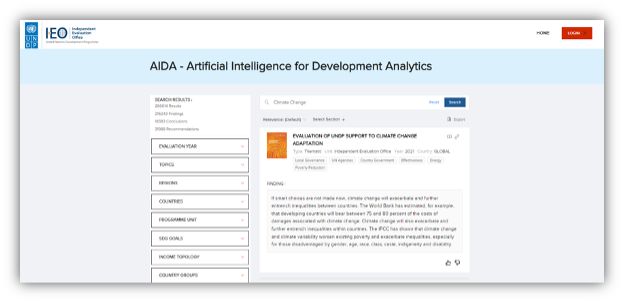 What is AIDA?
AIDA is a cloud-based AI tool that makes evaluation evidence accessible through a portal that allows users to search for relevant information related to specific themes from the UNDP's evaluation archive. AIDA brings analysis and assessment, by technology and its human users, to years' worth of information, for meaningful impact – in minutes rather than weeks or months of methodical searches.
AI-powered searching is a powerful tool that continues to learn and gather lessons. The more people use it, the more it homes-in on relevant answers. It serves equally whether the user is summarizing programme findings for an evaluation or designing a new programme. The tool identifies lessons from documents, grouping them on a dashboard under appropriate countries, sectors, themes, modalities and timescales. It displays commonly-appearing lessons and suggests related lessons which users can explore for different contexts and programmes.
This advanced analytics solution leverages Artificial Intelligence and machine learning, with predictive modeling, simulation and forecasting that allow for optimized document analysis, to extract findings, recommendations and conclusions from evaluation reports. Customization is available for specific requirements. At this stage, the solution is applicable to English language content only.
The launch of the AIDA portal marks the latest drive for UNDP to stay ahead of the digital curve, in support of its role as a trusted development partner in this time of rapid change.
Using AIDA, it's a cinch to extract data from evaluations and make sure that information is available to everyone, at any time, in any place, for insights and informed decision making for programme delivery across the globe.