AI-powered fact-checking tool iVerify, piloted during Zambia elections, shows global promise
Misinformation, disinformation and hate speech are some of the flagship challenges of the modern era. The 2020 US election, and its violent aftermath, is one of the most visible examples of how the viral spread of misinformation can negatively affect the electoral process. But according to a recent Ipsos poll, fake news is a global trend. Of 25,000 people surveyed in 25 countries, four out of five believe they've been exposed to fake news.
Among those, 87% believe fake news is made worse by the internet, and 83% believe that fake news has negatively impacted the political discourse in their country. Misinformation and disinformation creates doubt in people's minds about what to trust, which in volatile periods like elections can lead to violence. Ultimately, what is often referred to as 'fake news' undermines public trust and the capacity of citizens to identify reliable sources of information.
A verification solution (called iVerify) to combat misinformation was piloted in Zambia, ahead of the historic August 2021 general elections in which opposition leader Hakainde Hichilema took power from Edgar Lungu, who led the country since 2015.
The iVerify Zambia project aimed to build the credibility of the fact-checkers in the context of Zambia's information landscape. On several occasions the team's interventions resulted in content producers removing content, and publishing retraction statements, on the basis of iVerify fact-checking reports.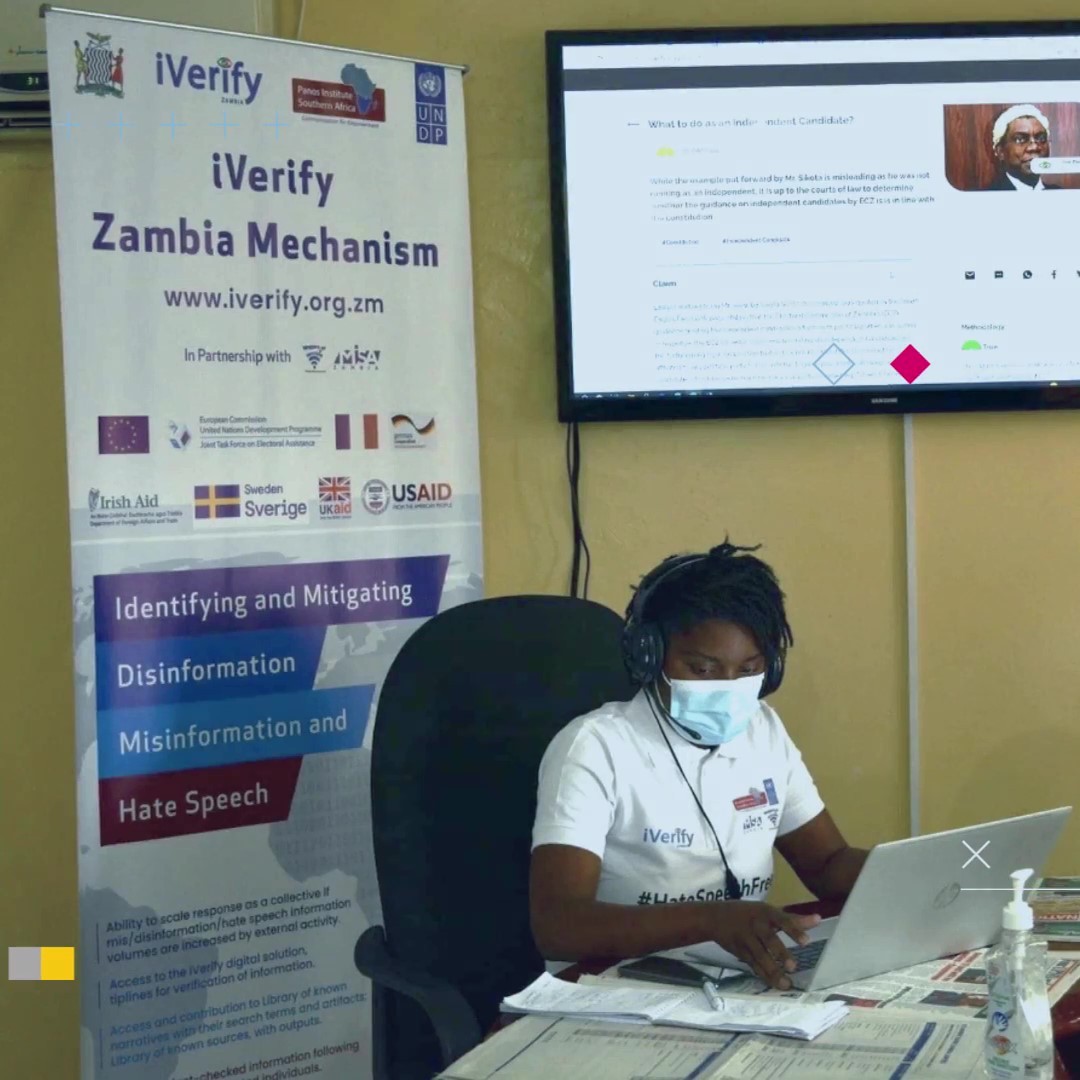 iVerify was developed by UNDP through the Brussels-based Task Force on Electoral Assistance and the UNDP Chief Digital Office. The Task Force then came to UNICC to help develop and implement the solution they had designed.
iVerify is a fact-checking initiative which combats the spread of false narratives during election periods by combining new technology like AI and machine learning with tried-and-true in-person fact-checking. It was developed in response to "repeated requests over the past three years from UNDP Country Offices and national counterparts on how to deal with misinformation and hate speech in elections," says Gianpiero Catozzi, UNDP Elections Senior Advisor and Coordinator of the European Commission-UNDP Joint Task Force on Electoral Assistance.
iVerify is a digital solution deployed by UNDP in support to national actors to mitigate disinformation, misinformation and hate speech during elections. The digitalisation of identification of threats to information integrity, fact-checking, and response/issuance of counter-narratives has proven beneficiary to local actors working in this field. This initiative is focusing on capacity building of local actors, iVerify highlights the sovereignty of beneficiaries in the fact-checking process and does not intervene in the content-making.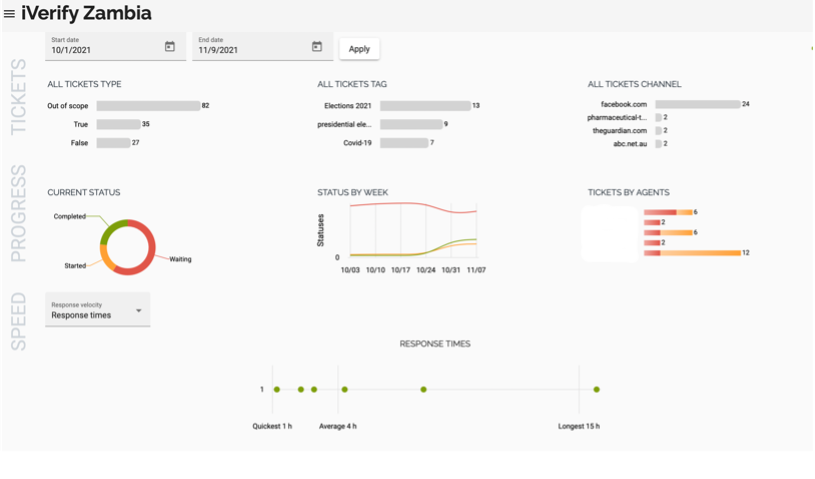 UNICC's role
The Task Force asked UNICC to collaborate on the development and implementation of a solution to process disinformation cases and ultimately post the findings on a publicly-available country portal focused on the Zambia elections held on 12 August 2021. The portal had to be ready in good time for that.
The UNICC team included Application Delivery, Cloud and Data and Analytics team members, who worked to deliver the iVerify tool and platform.
iVerify processes articles and outputs reports with a determination of their veracity. The inputs are either manual, by members of the public or the iVerify team, or automated. People can submit articles for review via text (WhatsApp, SMS, and more) or directly through the iVerify platform. Leveraging CrowdTangle, which allows iVerify to track public content across social media, iVerify also automatically reviews articles in Facebook, Instagram, and Reddit daily, running them through Detoxify, an open-source algorithm which uses machine learning to detect hate speech.
"We selected Detoxify after looking at a lot of machine learning tools," says Mark Belinsky, Digital Innovation and Scaling Specialist at UNDP's Chief Digital Office. "A lot of effort was put into limiting algorithmic bias, which is critical in these sensitive situations and too often overlooked when introducing artificial intelligence systems into programming."
These reports are then sent to the team of in-person fact-checkers, composed of individuals linked to one or several national counterparts that have been capacitated and equipped through the iVerify's initiative. As part of their fact-checking assignment, the team follows up with the people or institutions mentioned in a story to determine the veracity of the claims made. If those in-person verifiers find hate speech, disinformation, or misinformation, they flag it and publish an article on the iVerify website to let the world know.
iVerify leverages another open-source technology, Check, to help. It uses human-in-the-loop machine learning to match content so that anything already labeled false doesn't have to be reviewed again, improving efficiency. All of these tools and approaches are open and available to anyone to use. The solution is a set of integrations build around the Meedan Check platform, providing additional features to facilitate the fact-checking process and the dissemination of fact-checked stories to the public.
The publishing process use a WordPress site that receives the reviewed and categorized information for the public user. The solution also integrates many additional plugins that allowed local actors in Zambia to be able to use additional communication channels such as WhatsApp and email. It also offers an integrated dashboard to show indicators by source channels, information tags, processes and time frames.
The first version of the product was delivered using an Agile approach. The Minimum Viable Product (MVP) was released on 20 July, and on 4 August there were 13 fact-checked stories. The Task Force was then able to use the platform for the Zambia 12 August elections. In Zambia, "iVerify contributed to encouraging a stronger connection between all the groups in the election who have a role to play," Mathilde Vougny says, from the media, civil society, law enforcement, the electoral commission, and more. "We managed to build synergies."
What's next
The UNDP iVerify team has been supporting the November elections in Honduras, and is preparing as a next challenge to deploy in Liberia in 2023.
Their experience in Zambia taught the team to start deployments earlier in electoral processes to give the time to local actors to get used to the iVerify digital tools. Given the unique political climate of each country, the iVerify cannot be a simple duplication and entails significant customisation.
But, according to Mathilde Vougny, the end goal is similar for each new iVerify country. Those goals include "creating an ecosystem where information is exchanged, and building a network of journalists and other actors who benefit from fact-checked information," she says.
Read the UNDP story here and European Commission story here.