In the digital transformation of the United Nations, UNICC's Application Development team is paving the path towards UN organizational transparency with its provisioning support for the International Aid Transparency Initiative (IATI) publishing solution: a composite application for assembling, formatting and reporting organizational data following the IATI standard.
Coordinating humanitarian response with good data solutions is critical to achieving the United Nations Sustainable Development Goals (SDGs). Transparency is essential. Organizations that have joined the International Aid Transparency Initiative (IATI) have committed to publishing information according to rules and guidance that experts in international development have honed and tested over time.
Launched in 2008, the IATI standard was developed by the United Nations Development Programme (UNDP) to ensure transparent reporting and presentation of both organizational and activity-related information and data. It allows participating organizations to provide stakeholders access to aid, development and humanitarian information in a common format.
UN Agency information subject to IATI standards, such as finance, locations, sectors, results and conditions, is vital to planning and progress. Yet it takes considerable time, effort and expertise to structure the data properly and then activate the process for gathering, formatting and vetting it for publication.
That's the difficult and complex work that UNICC does to understand the situation as it is before and then define what it should be after. UNICC, with its IATI publishing solution, analyses an organization's data, maps it to the IATI schema, identifies the gaps and gives this mapping tool and information to the organization's IATI team.
The IATI publishing solution makes it easy to extract the right data from an organization's databases, format it to the IATI standard and publish it to the IATI Registry. On top of that the solution includes a versatile dashboard that can be branded and structured to give a comprehensive reporting view on the published data.
Financial transparency in humanitarian delivery requires effective tools for data experts to share the right, real-time data for success.

Venkat Venkateswaran, Head, Application Delivery team, CPD, UNICC
IATI has since expanded to over 1,200 organizations, all of which use its standards of transparency. However, its growth as an established measure of reporting translates to many Agencies having to spend valuable time and resources to gather, organize, consolidate and format data for IATI publication. For this purpose, organizations have been seeking a solution from UNICC to vet and organise data and subsequently prepare it for public viewership and use.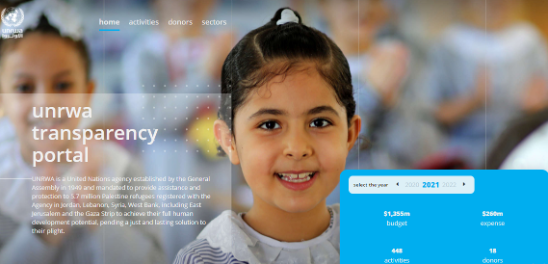 Credit: UNRWA
Multiple organizations are using UNICC's IATI publishing solution, including the United Nations High Commissioner for Refugees (UNHCR), the UN International Trade Centre (ITC), the International Organization for Migration (IOM), International Union for Conservation of Nature (IUCN), United Nations Relief and Works Agency (UNRWA) and others. Services for differing organizations vary from management of existing IATI-compliant dashboards to consolidating data and information across databases and ERPs from scratch.
Transparency is today a fundamental element to have the trust of your donors. Our Clients urgently need tools that can offer stakeholders clear and detailed information on the use of resources and how activities carried out correspond to their Sustainable Development Goals. Thanks to its knowledge of the IATI standard and the capabilities of its agile teams, UNICC has the ability to rapidly assist with IATI publishing readiness to transform all that data into information.

Andrés Abad Rodríguez, Project Manager, UNICC
IATI Publishing Solution
UNICC adopts a staged approach where we first analyze the organization's data landscape, assessing sources of data and data quality. Upon completion, the team uses the official tested guidance, standards and tools of IATI to assess the Agency's readiness for IATI publication of data.
UNICC helps map Agency data schema to the IATI framework by properly identifying the gaps and requirements for provision, helping the organization to review the internal data collection and correct identification of the published information.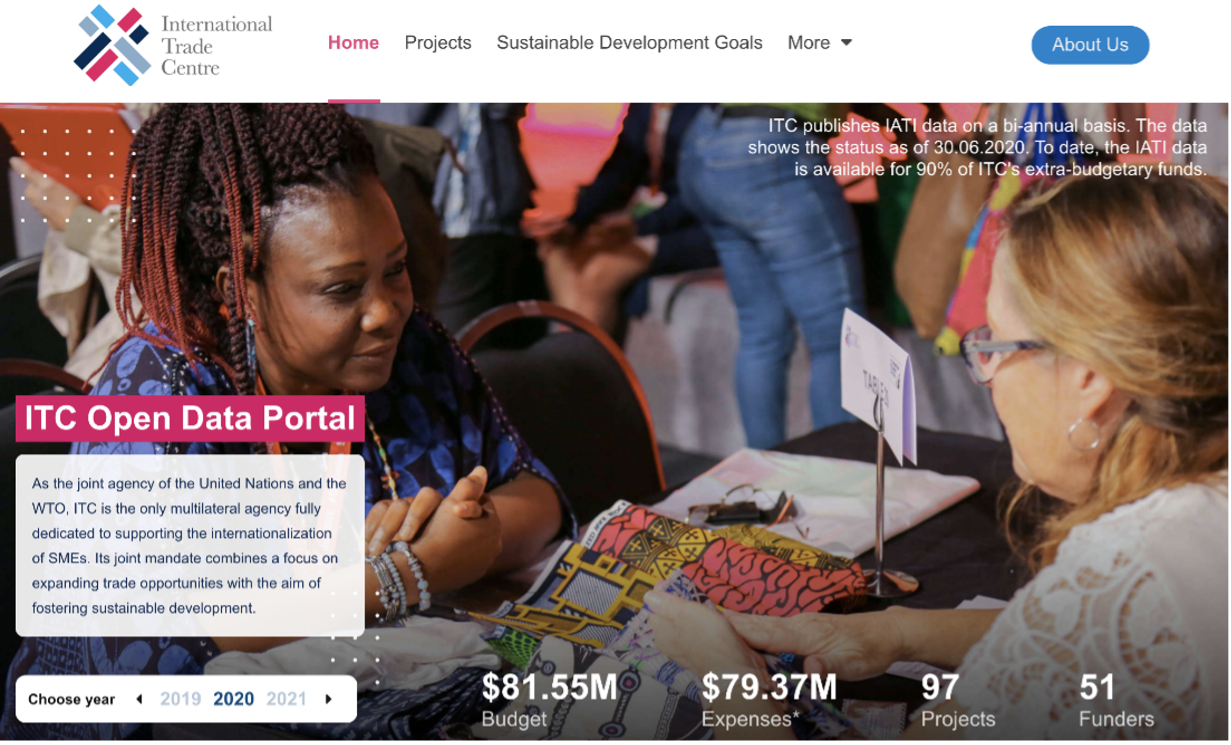 Credit: ITC
UNICC developed a two-component solution to address the requests of Clients and Partner Organizations looking for a solution to creating an IATI-compliant formatting output:
The IATI Generator to create, validate and publish reports: The IATI Generator pulls data on an organization's project activities, budgets and expenses from its ERP and financial databases. It then consolidates and configures these data in XML according to the IATI XML Schema and Rulesets with an added IATI Validator engine to check whether its compliance is met.
The IATI Dashboard to support the organization's communications and visual representation of the data published on IATI: The dashboard is created to meet the organization's branding specifications and to deliver a summary of the information that is published to the IATI Registry. Upon approval of the published data and complementing information, the IATI Dashboard is automatically refreshed.
UNICC's IATI solution of gathering, organising, compiling and formatting information and data for complying organizations revolutionises the necessary operations for business transparency. For each client, UNICC teams invest the necessary effort to deliver a solution compliant to IATI regulations yet tailored towards the organization's respective demands.
One example of a successful delivery of the IATI solution is for the International Union for Conservation of Nature (IUCN). IUCN's IATI Open Project Portal, designed and hosted by UNICC, went live in March 2021 and shows financial information, performance against the IUCN programme goals and contributions towards the UN Sustainable Development Goals.
Viewers are granted insights into annual data on budgets, expenditure, countries, projects and donors, all encapsulated into a user-friendly and intuitive interface. In addition to granular data, donors and stakeholders can visualise where each IUCN initiative, project and programme contributes to key aspects of their mandate, such as business and biodiversity, climate change, ecosystem management and environmental law.

Credit: IUCN
In addition to this public dashboard, UNICC's solution publishes fully-formatted data and information on IUCN onto the IATI public registry as the prerequisite to adopt IATI standards. Upon publication, this information is displayed alongside that of over 1,200 international humanitarian organizations and NGOs, all in efforts to practice and uphold the standardisation of business transparency.
As a greater number of Client and Partner Organizations sign on for the IATI solution, UNICC amplifies the push towards transparency and digital diplomacy within the international sphere.
The IATI solution is indicative of UNICC's commitments of the 2030 Agenda for Sustainable Development, most notably Goal 9: Industry, Innovation and Infrastructure. Significant services such as the IATI solution ensures progress of the path towards digital transformation of the UN and its universal mandate.