UNICC continues to support ICJ's Technology Programme with Advisory services, Cloud Computing, Enterprise Applications Upgrades and COVID-19 support
Digital transformation is critical to the way international organizations do business today and find success in delivering their mandates, with an emphasis on leveraging technology to streamline business systems, do 'more with less,' and speed the way to mission success.
The International Court of Justice (ICJ) is no exception. With its role to settle legal disputes in accordance with international law and provide advisory opinions on legal questions referred to it by United Nations entities, the Court also relies on optimised business practices to get its work done.
UNICC and ICJ have worked together to help transform the Court's digital business landscape. UNICC's experience and expertise from consulting, strategy and information security to web hosting, content, collaboration and communications continue to shape and transform our technology programme and the business it supports.

Alvaro Flores, Head of the ICT Division, ICJ
Daily productivity improvements, enhanced communications platforms, state-of-the-art collaboration tools and safe and secure systems are key to any digital upgrade.
The ICJ joined the growing UNICC family of organizations in 2016, becoming a Partner Organization the following year, benefiting from UNICC's expertise and complex knowledge about digital business and technology environments, including innovative technologies, business efficiencies, cost savings and volume discounts based on the scale of engagements.
In line with the UN Secretary-General's Strategy on New Technologies, UNICC has advised, designed and delivered a number of business optimisations to help ICJ embrace cloud computing, with a refresh of ICJ's enterprise applications stack and technology services, including business continuity during the COVID-19 pandemic.
Advisory support and technology workshops
Early on, UNICC assisted the Court with an ICT strategy assessment, architectural technology planning, public website support, network infrastructure assessment, ICT process improvements and Business Continuity and Disaster Recovery plans. Other areas of improvement included mobility support (smart phones, tablets, laptops, etc.), updates to collaboration platforms (SharePoint and Microsoft Exchange) as well as security assessments and line of business support for legacy applications. Throughout, there were valuable technology assessment workshops to align ICJ's needed upgrades with industry best practices.
Website Hosting
Since 2017, ICJ hosts its website (www.icj-cij.org) with UNICC using a globally load balanced content delivery network (CDN) and advanced security protection (DDoS).
Enterprise Communications
UNICC provided ICJ with a fully managed messaging and communications system in 2017 with dedicated and fully-redundant Microsoft Exchange 2016 and Skype for Business telephony resulting in cost savings, better integration and 24/7 support.
Workspace Management
In June 2018, UNICC supported ICJ on conducting an on-site and remote assessment in order to understand the current workspace related configurations, feature needs and propose a solution for the implementation and management of Windows 10, Office 365 and related infrastructure.
Systems Safety and Security
UNICC provided security requirements based on industry best practices from the Center for Internet Security, considering the unique computing environment of ICJ. As a result, ICJ took advantage of several UNICC security services, joining the Common Secure Threat Intel Network service, which shares timely, relevant and actionable physical and cyber security threat and incident information, enhancing ICJ's ability to prepare for, respond to, and mitigate risks associated with these threats.
ICJ also subscribed to UNICC's Common Secure Incident and Event Management (CSIEM) services gather, analyse and present information from network and security devices, including identity and access-management applications, vulnerability management and policy-compliance tools, operating system, database and application logs and external threat data assessment.
The goal was to improve the overall information security operations and to facilitate the detection of abnormal activity and early signs of compromised infrastructure systems. Implementing the SIEM solution was completed successfully by the end of November 2020.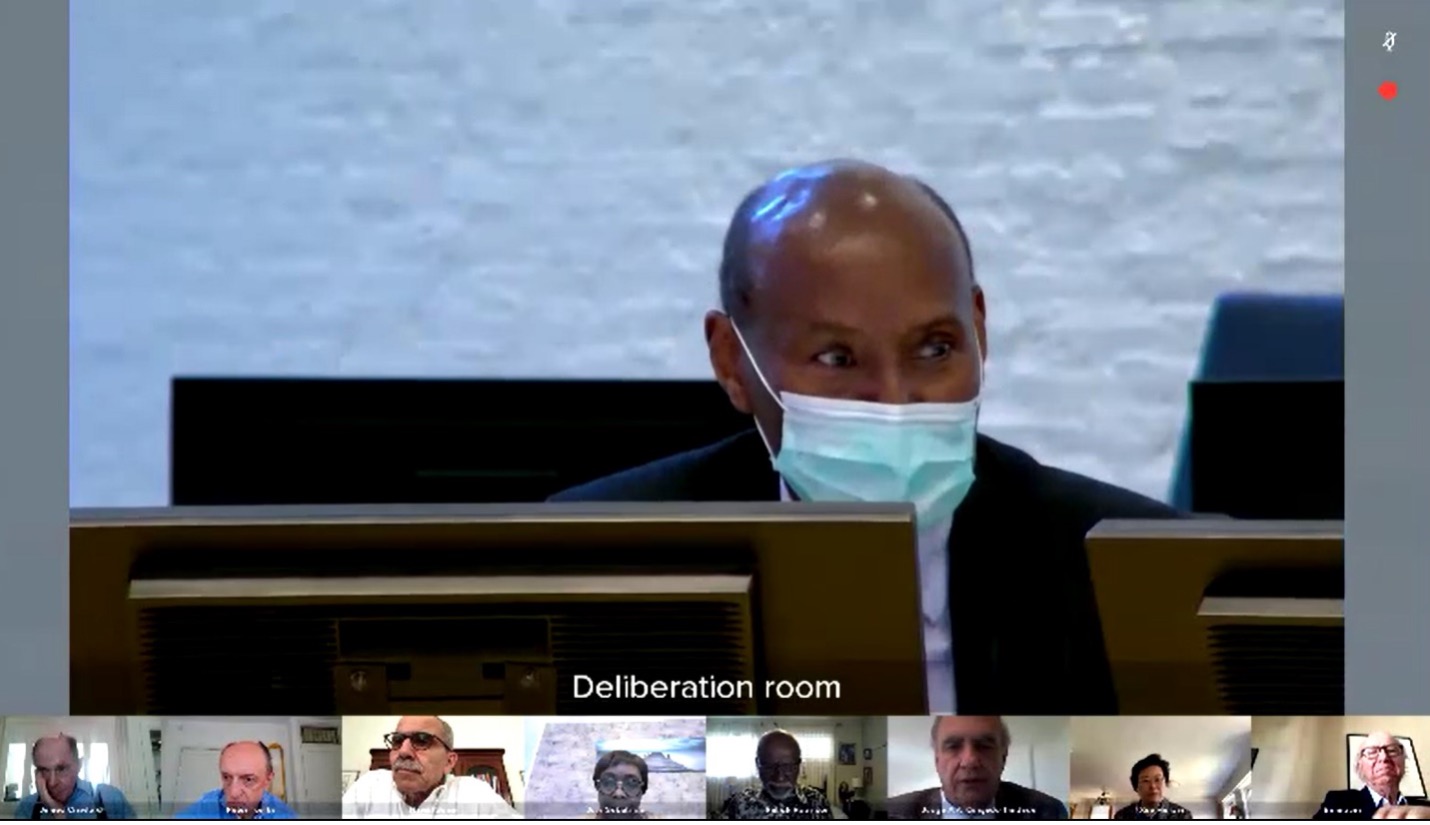 COVID-19 support
While ICJ and UNICC continued to deliver system upgrades over the past few years, COVID-19 brought an abrupt change as the Court's staff and stakeholders suddenly had to work from home. Turning on a dime, UNICC was instrumental in setting ICJ up for users to connect from home with appropriate hardware and software to continue their daily work.
Unified Communications (Microsoft Teams)
In March 2021, ICJ requested UNICC's support with implementation of Microsoft 365 Teams as a productivity, collaboration, communications and document management tool for the organization.
This entailed a proof-of-concept pilot for telephony (to eventually replace Skype for Business), identity management support and Change, Communications and Learning services from UNICC to help with the adoption of Teams by its over 300 staff and stakeholders. As a first step, business champions are learning about Teams to help advocate for the business value for the Court's business processes. The project is still in progress and it is expected to be finished in October.
Supporting the Sustainable Development Goals
UNICC maintains a strategic view of digital business and technology support for international development goals and deliverables around the globe. UNICC's experience, expertise and complex knowledge means that Clients and Partner Organizations get the top of today's technology marketplace services with the best value money can buy.
The partnership between ICJ and UNICC clearly supports SDG 9: Industry, Innovation, and Infrastructure as well as SDG 17: Partnerships for the Goals for a partnership that is growing day by day.