Even before the COVID-19 pandemic universalised remote working, UNICC was supporting many of its 70+ Partners and Client Organizations in providing remote services on a global scale.
The Global Green Growth Institute (GGGI) was one, with its subscription to UNICC's Common Secure threat intelligence network services for a stable information security posture.
GGGI is a relatively new Client of UNICC headquartered in Seoul, South Korea. It is a treaty-based international, inter-governmental organization dedicated to supporting and promoting strong, inclusive and sustainable economic growth in developing countries and emerging economies.
Information security services was just the beginning. GGGI, in over 30 country offices spanning six continents, many in challenging locales, faced the need to ensure its 'last-mile' business continuity. The organization was set to upgrade its local office networks with a centralized, secure and reliable connectivity solution. Local office infrastructure was often outdated and unreachable, particularly with the constraints of the pandemic. The bottom line was a state-of-the-art technology refresh to ensure that local network appliances could be managed remotely at any time, from anywhere, by any number of GGGI ICT specialists.
To meet this need, GGGI approached UNICC in late 2017, looking for solutions to these challenges, as stable connectivity is key to all business in their country offices. UNICC would provide, implement and deploy Meraki cloud managed appliances for up to 30 GGGI country offices.
The key solution was the Cisco Meraki appliance with cloud-based remote management capabilities; specifically, the MR42 model that opened a world of optimisations for GGGI's country offices. Apart from the latest hardware features, presence location analytics and extensive options for network infrastructure, all deployed MR42 Meraki Appliances, with the help of UNICC staff, are managed entirely remotely, successfully eliminating the need for on-premise ICT staff support.

The project began in 2018, with 13 appliances implemented by July. The rest of the deployment was slowed down with significant delays and changing local priorities, with the balance of deployments shifted down to just three offices. With the COVID-19 pandemic unfolding, there were multiple challenges for procurement, delivery, installation and management of the remainder of the Meraki boxes.
UNICC helped with design, implementation, procurement and follow-up to ensure that the appliances made it to the ground and were properly installed.
Designated UNICC team members deftly coordinated all aspects of procurement and delivery of these devices to each GGGI focal point in country offices. Then, in coordination with UNICC, each office installed its Meraki appliance device, a process of standard configuration completed remotely without the need for a physical ICT presence.
Once configuration, network infrastructure and security controls such as firewalls were set in place, UNICC oversaw the capabilities for monitoring and supporting the appliances. In streamlining the procedures, UNICC created a pathway to self-sufficiency for GGGI country offices to take over.
Finally, the deployment and rollout of the Meraki appliances in each office was signed off with detailed Standard Operating Procedures (SOPs), should issues arise in the future.
Despite delays and external impediments, UNICC successfully closed the project with two batches of devices delivery totaling 16 Meraki MR42 cloud appliances installed and functioning in the following GGGI country offices.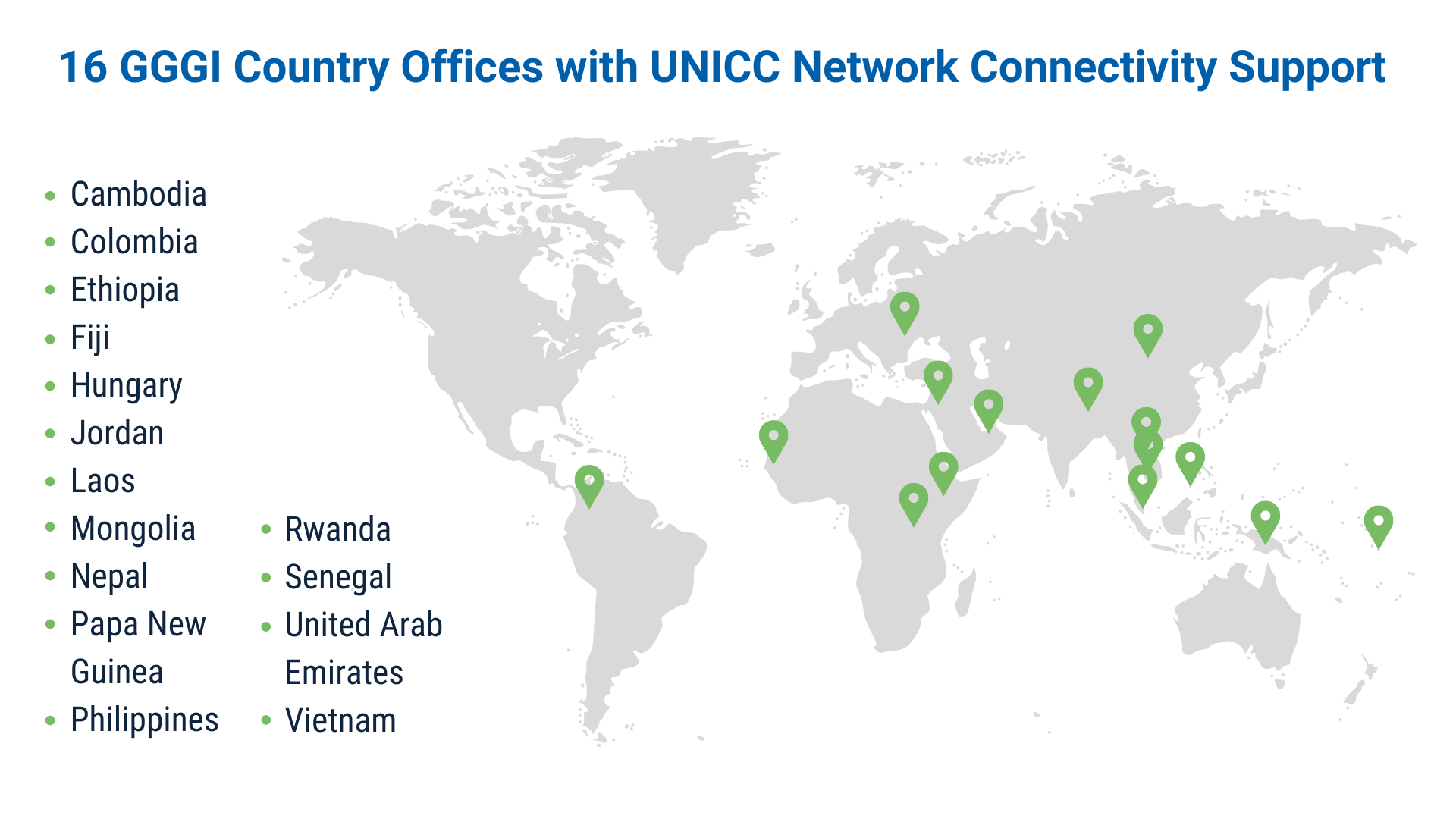 In the GGGI office locations with network and connectivity challenges – with critical projects to deliver – UNICC's services to procure, deliver, configure and deploy the Meraki appliances made all the difference. With reliable connectivity and robust network infrastructure management in place, GGGI's country offices can continue to fulfill their missions and their mandate.