Today's cloud and mobile technologies are enabling organizations to capitalise on digital transformation and to optimise in the way they operate. By taking advantage of the latest innovations, organizations can transform their way of working, gain new efficiencies by modernizing operations with new tools to empower, transform, support the workforce and improve knowledge sharing and collaboration.
UNICC has reached a major milestone after much success with Amazon AWS and Microsoft Azure cloud management services for numerous Clients. As its experience and expertise in cloud services delivery expands, UNICC is now supporting UNFPA's Google Cloud Platform workloads, from corporate applications and services to its data-oriented application platform, procurement services infrastructure, application support as well as stand-alone application infrastructure for country offices, partners and stakeholders.
UNFPA has achieved cost savings, optimisation of infrastructure resources and a general piece of mind with the trusted services of UNICC. Our GCP platform services were previously lacking integration, proper oversight and the skilled operational support that UNICC continues to provide.

Luca Baldini, CIO, UNFPA
UNFPA, the United Nations sexual and reproductive health agency, moved its enterprise application workloads and foundational infrastructure two years ago to the Google Cloud Platform (also known as GCP), together with Google's G-Suite for collaboration and productivity (Gmail, Docs, Drive, Calendar, Meet and more).
Google's GCP provided UNFPA with an integrated, cloud-based solution for hosting and managing all of its corporate applications and data stores, providing cost efficiencies and risk mitigation for un-integrated, costly, often not secure locally-hosted platforms and applications.
The challenge in this move to the cloud involved the ongoing management and continued expansion of GCP components, including application add-ons to the API ecosystem, data analytics, Big Data, Artificial Intelligence and more. In addition, UNFPA found they had documentation and information security requirements that needed sound expertise to manage.
As a trusted partner of more than fifteen years, UNFPA has subscribed to UNICC's consulting services, disaster recovery and backup services, ERP hosting and support (with the UNDP Atlas consortium), information security services, website hosting, Common Authentication Federation services and more.
In the past year this has included Common Secure Threat Intelligence Network services, Cyber Security Awareness services, Robotic Process Automation from the UNICC-operated UN Digital Solutions Centre, membership in the UNICC-hosted United Nations Partner Portal service and business analysis consulting on migrating Google G Suite to Microsoft 365.
UNFPA GCP managed services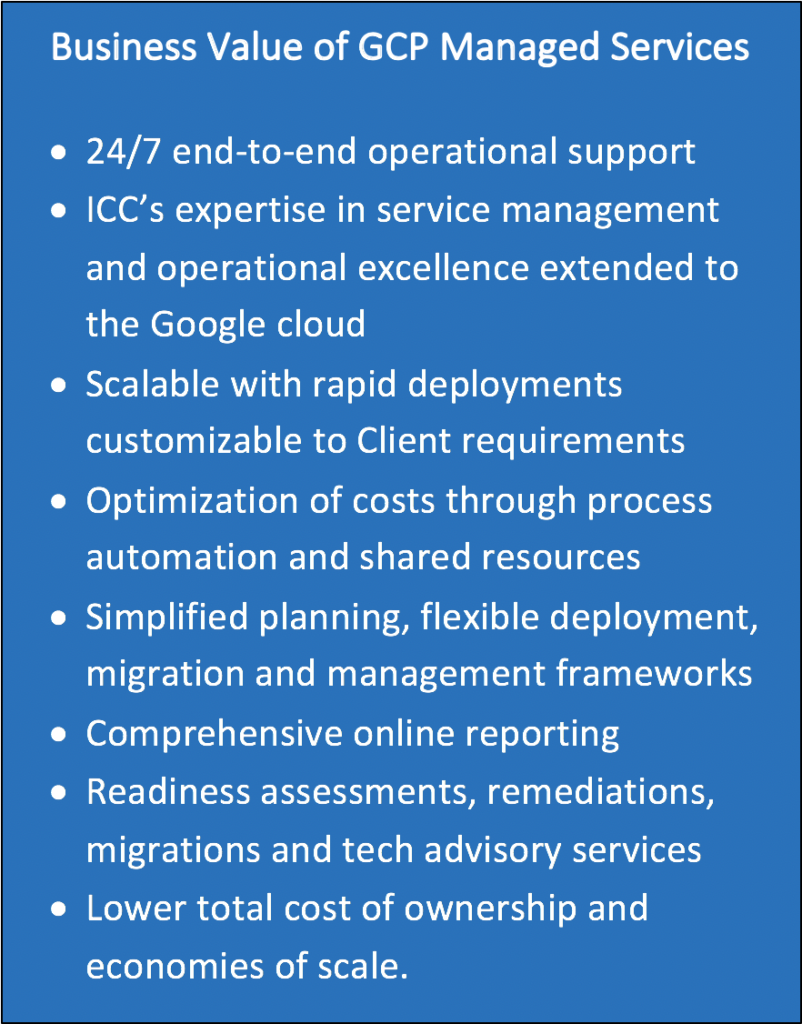 UNFPA first asked UNICC last year to evaluate the Google GCP status quo. Almost all platforms and applications had been migrated out of local, on-premise data centres in Copenhagen, Denmark or in country offices, somewhere around 150 virtual machines. Data was secure in the cloud. Points of integration worked between infrastructure, networking, applications and other productivity tools.
Service management and support (process oversight and license management), GCP platform support (operating systems accounts management, monitoring, backups, networking), security (controls, threat protection and denial of service attacks, etc.), application support (configuration items tool, web apps, database support and disaster recovery) as well as cost management proved to be beyond the current resource capacity at UNFPA.
Just as AWS and Azure and M365 provide rich platforms for hosting UN family enterprise systems and their data, the work of managing the cloud workloads requires added resource capacity. UNICC provided a solution architecture workshop with the recommendation to shift operational support of UNFPA corporate systems to UNICC.
UNFPA accepted the recommendations and a team was born to take over the operational management of the UNFPA GCP cloud. Carlos Infantes from UNICC and Joshua Lechner from UNFPA worked to set up and establish new operational modalities, documenting processes, and implementing controls and monitors. Ernesto Suarez joined from the UNICC team to help with the support and re-architecting.
Google GCP is a suite of cloud computing services that runs on the same infrastructure that Google uses internally for its end-user products, such as Google Search, Gmail and YouTube. Alongside a set of management tools, it provides a series of modular cloud services including computing, data storage, data analytics and machine learning.
The UNFPA GCP platform includes virtual systems, databases, storage, network, Identity and Access Management and applications, including Kubernetes clusters (open-source container-orchestration system for automating computer application deployment, scaling, and management), LAMP/.Net and CI/CD pipelines. The deployment and use of GCP services by UNFPA included network, storage and compute setup as well as operating systems and application servers, operational processes and tools for monitoring, alerting, configuration, incident, problem and change management and database services deployment (Cloud SQL and MySQL)
High business value for UNFPA enterprise platforms
The added operational support meant that UNFPA's cloud environment would be secure, professionally managed and subject to proper change controls, change management, optimisation and innovation, with the ability to extend the current application stack. UNFPA GCP infrastructure includes four different platforms allowing the 3,000-person organization in 140 countries to deliver on their substantive missions: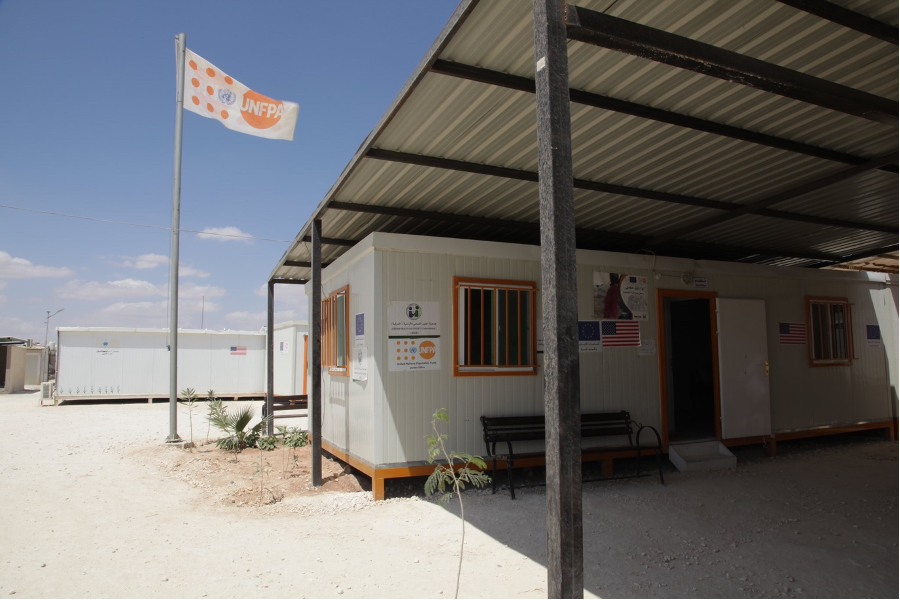 UNFPA enterprise application stack, used for hosting HQ and corporate-oriented applications and services, such as Cognos, Atlasian Confluence and Active Directory services running in the cloud
Population data platform, a data-oriented application, currently under development, with heavy use of Google Kubernetes Engine (GKE), which provides a managed environment for deploying, managing, and scaling applications
Procurement services branch, used for infrastructure and application support for the UNFPA Procurement division based in Copenhagen
UNFPA independent applications, used to host stand-alone application infrastructure for country offices and partners.
Other products and services from the GCP cloud that UNFPA utilises and UNICC manages are:
Computing (Compute Engine, Kubernetes Engine (GKE), Cloud Functions and Cloud Run)
Storage and databases (Cloud Storage, Cloud SQL, Persistent Disk, Local SSD and Filestore)
Networking (VPC – Virtual Private Cloud, Cloud Load Balancing, Cloud DNS)
Big Data (Cloud Pub/Sub)
Management tools (Stackdriver, Cloud Console and Cloud Shell)
Identity & Security (Cloud IAM and Cloud Identity-Aware Proxy).
UNICC is happy to be extending its expertise to the Google cloud platform and application suite. UNFPA's is likewise pleased with UNICC managed services results, with cost efficiencies and greater streamlined effectiveness across the entrerprise stack.
The IT team at UNFPA can sleep at night knowing that everything is up and running and there's a shop of experts to keep the lights on and continue to expand the GCP toolset with new functionalities and capbiltiies over time.
Now that service management for the UNFPA GCP is up and running, the two organizations will explore an assessment of the viability and direction of the Google G-Suite.