UNICC partners with Palestinians at UNRWA for Its substantive delivery
In June 2020, UNICC announced a ground-breaking agreement with the United Nations Relief and Works Agency for Palestine Refugees in the Near East (UNRWA) that would give skilled Palestinian professionals an opportunity to join UNICC in supporting the digital transformation of the UN system.
This reflects UNICC's substantive thinking around the Sustainable Development Goals, with progress on SDG 1 for no poverty, SDG 5 for gender equality, SDG 8 for decent work and economic growth and SDG 17 for partnerships to achieve the SDGs. The agreement also allows UNICC to advance its agenda on bringing more youth and women into the fold.
UNRWA's partnership with UNICC is providing a new chance for Palestine refugee youth, and it is contributing to UNRWA efforts to seed, grow and nurture talented resources among the refugee community.

Hani Cordiya, Head of IT Service Centre, Information Management and Technology Department, UNRWA
With the agreement in place, Venkat Venkateswaran, Head of Application Development Services, jumped at the chance to recruit talented Palestinians to help with UNICC's growing portfolio of app-dev services to Clients. Marco Liuzzi, Acting Chief, Operations, followed suit with some operations support personnel as well. The Palestinian support team continues to grow with two new operations professionals based in Ramallah.
Eight people are already on board and hard at work on interesting projects for UNICC Clients. Hani Cordiya, Head of the Information Technology Service Centre at UNRWA headquarters in Gaza, helped to forge this partnership, with the new team reporting to UNICC Application Delivery team leaders in Geneva and Brindisi. UNICC welcomes all of its new colleagues in Clients and Projects as well as in Operations.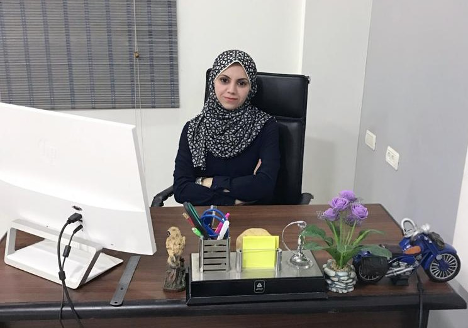 "Automate to accelerate"
Abeer Alatrash, also based in Gaza, is a software quality assurance (QA) engineer who has embraced agile methodology in app development. She explained the process of QA at UNICC, where software engineers develop and test applications iteratively. To keep pace with developers, QA engineers like Abeer typically use tools such as Eclipse, Katalon and Selenium to automate testing.
Once she has developed a test case, she can run her testing script many times, each time generating a report on whether a bug exists, where, and when it first appeared in the program. Automation helps to accelerate the QA phase. "I was seeking to act with a professional team at UNICC, not only to strengthen my experience and skills in the QA field, especially in automation methodologies and tools used in UNICC's work, but also to enhance my knowledge and skills in test case documentation, plans and reporting issues," she said.
Abeer is woking on a project with the United Nations Subsidiary Organs Lists (UNSOL), which will benefit the UN Department of Political and Peacebuilding Affairs and the Security Council Subsidiary Organs Branch and their progress on SDG 16 (Peace, Justice and Strong Institutions). She is testing code related to the submission of sanctions proposals and the publication and translation of sanctions approvals in the six official UN languages, in XML and JSON formats.
Photo: UNRWA/Hinnawi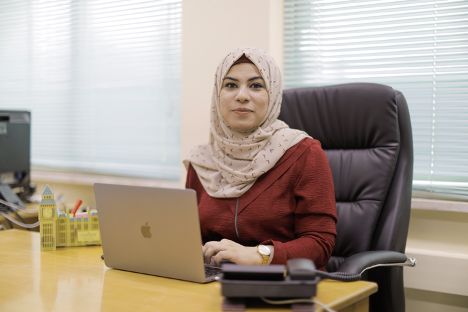 "Coding is for everyone"
Fatma Alrubaie is a mobile application developer based at the UNRWA offices in Gaza. She sees building software solutions as a means of helping people overcome common challenges in their daily lives. One such challenge is access to vital services, where smart phones can really improve accessibility. She pointed to the double-digit growth of mobile applications in app stores over the past five years. "I expect that smart phone programming will be a major area of opportunity and may take a lion's share" of business, reinforcing the idea that coding is for everyone.
Right now, she is working on a Reintegration Handbook mobile application for the International Organization for Migration (IOM). "It provides practical guidance on the design, implementation and monitoring of reintegration assistance for migrants," she told us.
The app will help to reduce inequalities (SDG 10), cultivate sustainable cities and communities (SDG 11) and bring about peace, justice and strong institutions (SDG 16) in service of migrant populations.
I want to be a professional developer, and I can accomplish this goal by collaborating with UNICC's professional team. In this collaboration, I can be an expert and deliver excellent applications with high performance.

Fatma Alrubaie, Mobile Application Developer
Fatma holds herself to high professional standards. In her view, "difficult circumstances make a stronger person – not strength in the body but rather strength with the will and perseverance to reach the best and acquire the highest." She is making the most of her work at UNICC. "My presence with UNICC will give me the will and determination to reach the best and to acquire the highest professional skills," she added.
Photo: UNRWA/Hinnawi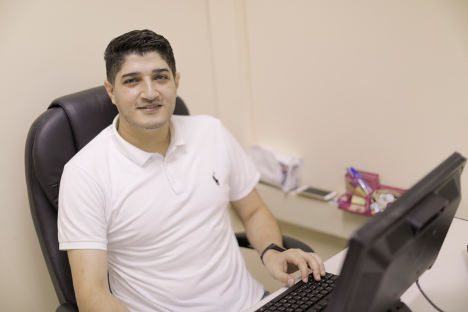 "Creativity is essential"
Belal Shbair is a Gaza-based full stack Java developer. He is currently working on the team that is enhancing and supporting the International Plant Protection Convention (FAO/IPPC) Generic ePhyto National System (GeNS), which facilitates the generation of electronic phytosanitary certificates or "ePhytos."
GeNS is a centralized, multi-tenant web-based system created for countries without their own systems for producing ePhytos and exchanging them electronically. In terms of SDGs, it is instrumental in helping its users halt the loss of biodiversity, protect and restore terrestrial ecosystems (SGD 15) and mitigate climate change (SCD 13). As more countries join GeNS, software developers must extend and improve the application.
Belal views creativity and collaboration as essential to his work. "I'd love to share and gain experience with UNICC teams. I'm always motivated and passionate about what I'm doing. And I'm excited to work together to produce unique solutions."
Photo: UNRWA/Hinnawi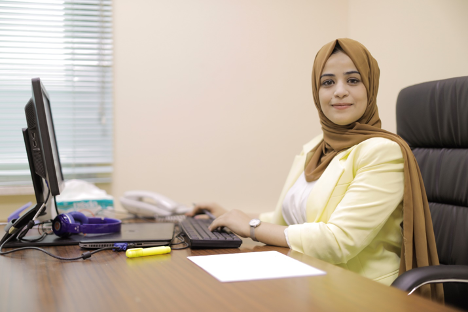 "Transparency in reporting"
Reeham Ghanima is also a full stack developer based in Gaza. She is working on the International Aid Transparency Initiative (IATI) portal project for the International Union for Conservation of Nature (IUCN).
Her work supports transparency in reporting on the organization's efforts to preserve the biodiversity of coastal, marine and terrestrial ecosystems and ensure sustainable use of natural resources (SDG 13, SDG 14 and SDG 15, to name a few). In her role as a front-end React.js developer, she is building reusable components, developing new user-facing features and translating designs and wireframes into high-quality code.
Photo: UNRWA/Hinnawi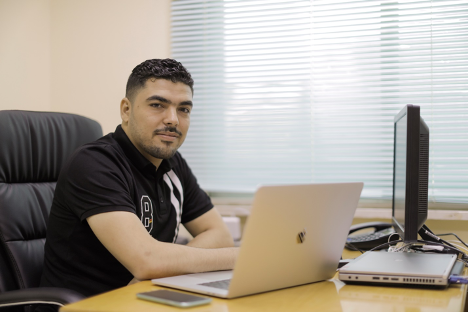 "Shining by design"
Ahmed Abuammouna is a graphic designer specializing in user interface/user experience (UI/UX) for mobile applications and websites. He joined UNICC in July to work on a specific project under the guidance of UNICC's Innovation and Outreach Officer, David Damian Sandoval. Ahmed is designing innovative and dynamic content for sharing information with UNICC staff as well as Partners, Member States and other relevant stakeholders.
"Most important is our new design theme, which focuses more on storytelling through illustrations," he said. "We plan to reflect the original design in a variety of materials, like the upcoming UNICC Director's Report, marketing materials, infographics and broadsheets for UNICC users, the SDG identification process and so forth. It is very SDG-oriented."
Flexibility was critical in delivering his work. "Sometimes I work during New York office hours, which is seven hours behind Palestine, and then I work during Geneva office hours," he said. "It's challenging. At the same time, it has been terrific to meet all these people working so hard at all times of day and night."
Ahmed is now transitioning to Venkat's team, full-time. Among his initial assignments will be helping to re-imagine and redesign user guides. Venkat's vision is to transform static, formal and linear documents into dynamic and interactive platforms responsive to user needs.
Photo: UNRWA/Hinnawi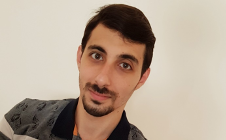 "Delivering a pitch-perfect RBMS"
Ashraf Al Shorafa is a software QA engineer based in Gaza. He is working on a results-based management system (RBMS) improvements for the UN Refugee Agency (UNHCR). He is involved in test planning and test execution "to make sure the system works perfectly per user requirement," he said.
Ashraf's contributions will strengthen UNHCR's efforts to capture and capitalise on its system for orienting action and use of resources towards achieving clearly defined and demonstrable results. His work supports increased transparency and accountability, while avoiding overlap and waste.
Venkat expects his existing App Delivery team to benefit from the greater diversity. "Engaging the talents and experience of Fatma, Abeer, Reeham, Belal, Ahmed and Ashraf is a great way, a mutually beneficial way, to contribute to the UN Sustainable Development Goals," he said.
Photo: UNRWA/Hinnawi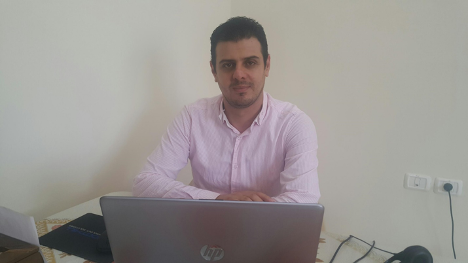 "Resiliency in operations"
Murawweh Daher is an enterprise monitoring administrator in the Operations Monitoring Unit (OPXM). Currently, his main project is to update all System Centre Operations Manager (SCOM) servers through Windows Server Update Services patches and disaster recovery testing.
Among Murawweh's responsibilities are adding new servers, services and network devices to monitoring solutions, checking whether management monitoring servers and services are up and running, troubleshooting any failures in monitoring, inserting new certifications for SCOM clients and modifying expired certifications for existing servers.
Photo: UNRWA/Daher
"Automation for Sustainable Development"
Farouq Mousa, an infrastructure automation developer in the Automation Unit (OPA), is working on the automation team managing the set-up and configuration of UNICC automation platforms. "We are diving deep into the process of automating platforms and infrastructure to make things go better," he said.
"The goal is to save IT staff time and focus on the main business by having fully automated processes rather than executing routine tasks manually." His work will contribute to UNICC's efforts to foster innovation and develop quality, dependable and resilient infrastructures and sustainable work environments represented by SDG 9 (Industry, Innovation, and Infrastructure).
Photo: UNRWA/Mousa