UNICC participated in the 19th edition of the Career Week (Settimana del Lavoro) organised by the University of Salento between 11 and 15 November 2019, an event where students and alumni meet companies and organisations and are introduced to career opportunities. The University of Salento, in Lecce – a town 30 km south of Brindisi, has been a partner of UNICC since 2016 for coordinated internships, lectures and various technology transfer initiatives.
There were over 50 local and international companies and agencies participating, mostly technology or engineering firms, with which the 800 student participants could schedule job interviews for specific opportunities. The event offered them a chance to understand the local job market and the skills and competencies required in different industries.
Technical Expert Luca Contursi, Human Resources Assistant Julia Cassista and Application Systems Technician Annalisa Diana presented to a young but inquisitive audience about the unique opportunity of working at UNICC in an international and diverse environment. The UNICC delegation answered questions about the organisations' values and the work that is done at the Brindisi office.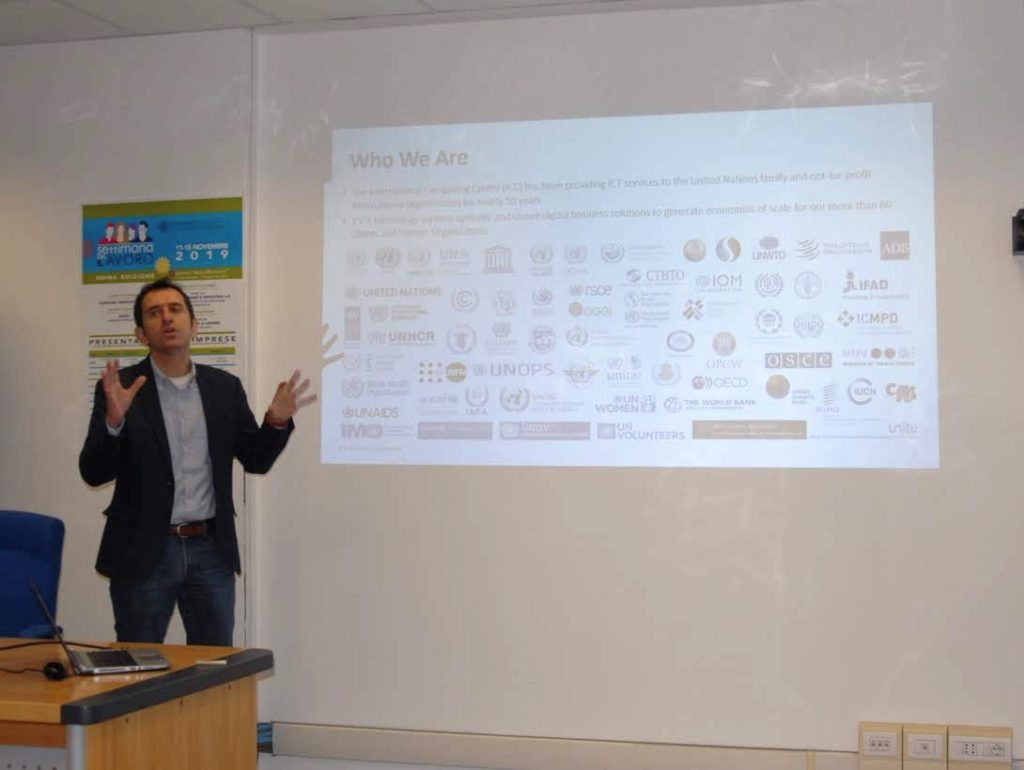 On 13 November 2019, during the same two-hour slot assigned to UNICC by the University of Salento for the presentation, colleagues in Brindisi, in a separate event connected to the International Space Station (ISS). In collaboration with the European High School of Brindisi and the UN Global Service Centre (UNGSC), the office called the ISS and had a short interview with Commander Luca Parmitano. Career Week participants in the University of Salento were able to follow the connection through the live stream (available here).
UNICC has been participating in career week events in Italy, Switzerland and the United States for several years, with the goal to share its message about trusted ICT services and digital business solutions for the UN family – and also to attract new talent to join the organisation.​