October is Information Security Awareness Month, and in the spirit of creating greater awareness and collaboration across the United Nations, UNICC participated in a cyber-security event at UNOG on 15 October 2019. The Inter-Agency Information Security Awareness Month group is a cross-organizational cybersecurity consortium that features programmes, activities, and various events aimed at raising UN staff awareness around information security challenges and opportunities. Participating organizations include UNOG, The Global Fund, UNICC, ICRC, ITU, OCHA, ILO, UNHCR, WTO, WHO and WIPO. The month-long event addresses the following topics:
Social engineering and phishing
Password management
Social media, cloud services, and personal privacy
Trends and innovations
Personal computing and information security safety
Identity theft and more.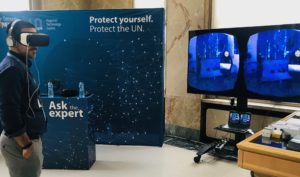 Fabio Maggiore, Lead, Cyber Security Governance for UNICC , presented on "Open Source Intelligence using Social Networks," highlighting benefits and risks that social networking presents for our private and professional lives. His presentation also covered how these platforms can be abused for intelligence penetration. Bojan Simetic, Information Security Specialist for UNICC, presented on "Leaked Credentials Endangering People's Lives," presenting a dynamic scenario on how violations of the UN family mission can have serious consequences. Each session was interactive, and offered participants useful resources and real-life scenarios for these topics pertaining to cyber-security.
For more information on UNICC's and other Agencies' events in Geneva during Information Security Awareness Month, see: https://infosecmonth.ungeneva.org/.