Prado Nieto, Chief, Business Relationship Management, Gabriel Galati, Head, Azure and M365 Services Unit and Shashank Rai, Chief Technology Officer, UNICC, attended the first UN Tech Huddle at Microsoft Geneva 7 October.
Gabriel presented UNICC's Microsoft Azure and M365 services and Shashank presented a Data Lake implementation UNICC implemented for OCHA.
Some of the agenda topics were as follows:
Azure announcements and new solution areas – James Pearse (Senior Cloud Architect, TSI)
Modern Workplace Updates – Clint Conlin (MS Modern Workplace, TSI)
Cloud adoption framework – James Complin (MS Sr. Cloud Architect)
Cloud transformation and modernization through Microsoft CSE – Anaig Marechal (Cloud engineer, CSE)
UN System Digital Transformation Update – Alex Pinho (MS UN Lead, TSI).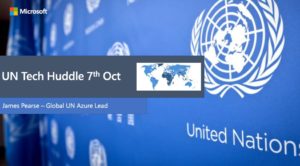 The following was presented by MS partners:
Terraform on Azure – Tim Arenz (Senior solutions engineer, Hashicorp)
Cloud Security In Azure & O365 – Paul Keely (Born in the cloud).
Microsoft will run UN Tech Huddles on a quarterly basis in Geneva and New York focusing on Microsoft Cloud solutions, partner offerings and ISV solution areas. The next Tech Huddle will be scheduled early next year.