A Microsoft United Nations General Assembly Side Event with UNDP, UNICEF, World Bank and others…
Microsoft hosted a UN General Assembly side event called Leading Social Impact through innovation and Partnership at the Microsoft Technology Centre, 11 Times Square on Wednesday 25 September from 6:00-9:00 pm.  Anish, Paolo, Lyle, Ender, Philippe, Tom, Barto, Lei Ming, Bill and Maria from UNICC attended the evening meeting with Microsoft and other colleagues from UNDP and UNICEF.
The key question of the evening was: How can we  harness the power of technology to empower a sustainable future and enable the achievement of the SDGs?
The event highlighted examples of digital innovation to advance lasting solutions to spark economic opportunity, social inclusion and drive progress. Alex Pinho, Justin Spelhaug of Microsoft's Tech for Impact Group and Kate Behncken of Microsoft Philanthropies guided the evening that showed concrete examples of private-public partnerships to make a difference.
Microsoft wants to bring the power of technology to every United Nations organization to accelerate social impact around the world, from the Kakuma Refugee Camp in Kenya to the 450,000 Syrian children refugees in Turkey today.

It's great to have the technology, but you can't use it if you don't have the skills.

A new blueprint is needed for corporate responsibility today.

Justin Spelhaug
Technology is more relevant and accessible than never before. 20 years ago there were 10 people in the room having this discussion. Today there are more than 100.

Microsoft has moved from a focus on upgrades and patches to PCs to being full members in delivery of the SDGs.

Technology can change the world, but no organization can do this alone.

Kate Behncken
Speakers included:
Marcos Neto, director of the finance sector hub, UNDP
There are so many business opportunities to unlock in the SDGs… It is not easy for corporations to change, but at UNDP we want to help them redirect the flow of money towards the SDGs.

We are trying to use digital transformation to solve development problems, but half the world's population have no internet.
There are two inter-related concepts that are important for UNDP's Digital Strategy: Digitization and Digitalization. Digitization is the process of converting physical information into digital formats. It is commonly-driven by technologies that focus on enhancing efficiency by automation of existing processes.
Digitalization is the use of digital technologies to change an organization's business model, including creating new or improved ways of delivering services, and improving the quality of what is delivered. See Digital Strategy website and document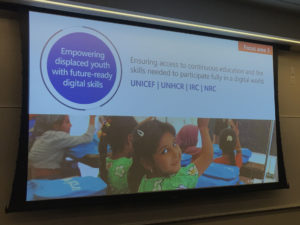 Mustafa Osman Turan, Ministry of Foreign Affairs and next Turkish Ambassador to Bangladesh
You need partnerships because the problems are so complex. Investors, private companies, philanthropists, governments, non-profits… we all have to work together.
The SDG Impact Accelerator (SDGia) is a global accelerator built by a multi stakeholder platform focusing on empowering "systems entrepreneurs" and innovators who are providing impact at scale. This Turkish funding mechanism is working with UNDP, WFP, Bill and Melinda Gates Foundation as well as other private and public organizations in Turkey and around the globe.
The key mission is to help with basic services access and clean water through equity free cash, mentoring, field visits, networking, impact capital and strategic partnerships. See SDG Impact Accelerator 2020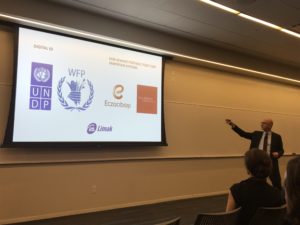 Zachary Carmichael, with the Famine Action Mechanism (or FAM) from the World Bank
Analysing data in  new and innovative ways has allowed us to quantify the structural drivers causing famine. With AI-driven technology we can forecast these events. We don't need to wait for the worse, we can start mobilizing resources earlier.

We don't need to wait. Using early warnings we can start mobilizing resources. Intervening earlier makes the difference between life and death.
For prevention and risk management to address fragility, conflict and violence around famine. See FAM website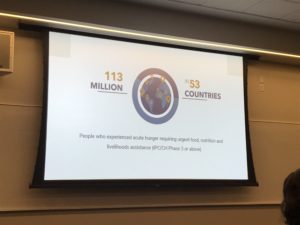 George Peradze, Chief, Administrative Division, UNDP
We can get rid of paper processes with automation. We can save lives by changing our own behavior on the road through a monitoring device.
Smart asset management and lean vehicles. Joint project with Microsoft on UNDP Vehicle Tracking.
The goal of the project is to digitize and digitalize assets and processes and control costs, replacing old manuals and log books with a tracking and monitoring tools to optimize all vehicle use, helping improve road safety.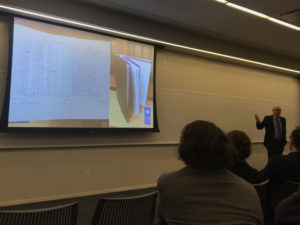 Daniel Couture, CIO, UNICEF (and Chair, UNICC Management Committee)
We need to respond to threats in a more integrated way. We are dealing with financial information from beneficiaries and supporters, with information regarding children. We need to act responsibly. We need to increase awareness, from threat management to threat prevention.
UNICEF is working with Microsoft (including Azure Sentinel) for improved enterprise platform security with increased awareness, intelligence, information and integration across UNICEF information and system platforms to share data and visualize it to improve the risk and mitigate threats to the organization's security posture.
Couture underscored the point to scale up, utilising AI and other sophisticated technologies to protect the right to privacy for UNICEF staff and the women and children they serve.
Microsoft's partnership allows for better planning around the software-as-a-service modalities, the complex business systems and the increasingly sensitive data (beneficiary data) in a world of shifting attack paradigms with better threat prediction. This includes revisiting the UNICEF approach to operational security.
UNICEF can achieve this though:
Awareness
Increased detection and response capabilities
Process optimization
Automated threat response
Multi-factor Authentication (MFA)
'Connectors' of applications including queries notebooks and run-books for threats
Integration of traffic of information into a single dashboard
Couture emphasized the need to scale up to best protect financial information from beneficiaries and supporters, with information regarding children – acting responsibly and increasing awareness.