UNICC and Amazon jointly hosted a business roundtable on AWS services at the Domaine de Penthes, Chateau de Penthes in Progny-Chambesy, Switzerland (near Geneva) on 26 February 2019. This gathering focused on sharing UNICC solutions and delivery results using the AWS platform as well as discrete AWS service offerings. This is the first of a series planned on a regular basis, including other UNICC Headquarters locations (New York, Rome, etc.).
Over 17 Clients attended, including ILO, IMO, UNOG, WIPO, WHO, WTO, and WMO at the venue and another ten online (including UNIDO and others), with a fair share of interest in what UNICC has already done and what it will be offering.
Sameer Chauhan, Director, UNICC, provided an introduction and overview to the evolving partnership, welcoming attendees. Prado Nieto, Shashank Rai, Roberto Cruz Flores, Nyuta Fortuna, Roberty Turturea, Gabriel Galati, Carlos Correia, Dharam Paluru and Oliver Neff attended from UNICC. The agenda included:
10:00am:  Registration of guests
10:30am:  Opening and welcome – Sameer Chauhan, Director, UNICC
10:45pm:  WTO Use Case – Fabrice Boudou, CIO, WTO and Shashank Rai
11:00am:  Key services that are most relevant for the UN – Data Lakes, Outposts, VMware Cloud, AI/ML and Ground Station – Amazon
11:30am:  UNICC AWS services
12:30pm   Lunch
14:00pm: Event closed.
Key takeaways
UNICC provides turn-key solutions built on top of AWS services through it's architecture, business analysis and application development practices
AWS Resources: different AWS Services being consumed (for example EC2, S3 storage or QLDB ledger)
AWS Accounts: Cost of resources is accumulated under the account used to deploy them.
An account can be part of UNICC master organization (UNICC root-user account) or Client master organization.
The event was a great 'kick-off' and announcement of UNICC's AWS-facing services and support models.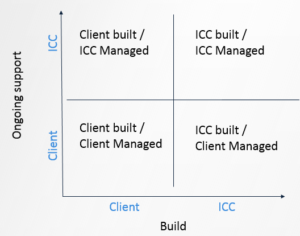 Delivery models
Client built/UNICC Managed > Client builds a set of services in the cloud, while UNICC provides ongoing support
UNICC built/UNICC Managed > UNICC builds the service according to Client requirements and provides ongoing support
UNICC built/Client Managed > UNICC builds service according to Client requirements and transitions service to Client for management
Client built/Client Managed > Client brings in their accounts purely for billing discounts and/or rapid access to cloud resources. The  Client keeps full ownership of both setup and operational activities.
WTO Proof of Concept
The roundtable included a use case and initial Proof of Concept project UNICC is working on with WTO around machine learning, whereby trade monitoring analysts needed an automated solution to help analyze information from over 300 websites and different 'Google News' results (keyword search). They had to manually sift through the sites, read news articles, in some cases use Google Translate (as sources may be Russian or Turkish or a language they don't speak). All this effort is to monitor different notifications issued by various national governments that have an impact on trade with a goal to produce the WTO Trade Policy Review Body Report.
UNICC provided a solution for collection and ingestion of information from different sites and application of 'filters' to sift and aggregate 'relevant' information. A prototype was developed and presented to WTO. Stakeholders there loved the solution – resulting in an investment to fund a full Proof of Concept. The prototype was developed on AWS , with a totally serverless front-end and the back-end using Amazon's Relational Database Service (RDS). The translation work was done natively within AWS using their translation services.
UNICC is now exploring the use of machine learning technology to train a model and use it to sort the news feeds.