UNICC assists with refreshed CTBTO website for mission visibility and information for the organization's 25th Anniversary
The Comprehensive Nuclear-Test-Ban Treaty Organization (CTBTO) celebrated its 25th anniversary this fall with a high-level ministerial meeting and six countries (The Gambia, Tuvalu, Dominica, Timor-Leste, Equatorial Guinea, and São Tomé and Príncipe) ratifying the Comprehensive Nuclear-Test-Ban Treaty, for a total of 176 state signatories. The organization also took the opportunity to upgrade its website to bring robust mission visibility and information to its many global stakeholders.
UNICC performed professionally in all aspects of this CTBTO website upgrade and migration, responding with spirit and an openness to all suggestions. They met all deadlines to deliver the site for CTBTO's 25th anniversary in September.

The success of the project from the UNICC team (web development, project management and communications) was successful and demonstrates our view that UNICC is and will continue to be a strategic partner in digital business solutions. We had a winning team here who was able to deliver an agile project with high quality and a bit of magic.

Sunil Gupta, Chief Information Technology Officer, CTBTO
UNICC successfully delivered a website redesign and migration project for CTBTO, who sought out UNICC as a partner to migrate its outdated website to a new and more dynamic, cloud-based (Drupal) platform, including a content refresh for more approachable, manageable, readable and engaging content. After three months of design and development beginning in May 2022, the revamped website was launched on the morning of 19th September 2022 to great appreciation from CTBTO stakeholders.
In the Beginning
The UNICC team began development in May 2022 with an initial focus on both design and content migration from the old site to the new development site. The majority of the migration took place in May and early June. During this time, initial development work also took place on the main design template which allowed the UNICC team to hand over a partially built system to the CTBTO content team.
Under the Hood
The project included design content analysis, technical analysis and design, information architecture improvements, wireframes and mock-ups, project management and Drupal Content Management System. Development activities included:
Final UI/UX and Site design
Initial CMS platform setup
Data modeling for all content types
Development of dynamic pages
Creation of templates for static pages
Development of responsive theme (menus, layouts, components)
Full text search engine
SSO user authentication
Content workflow management
SEO support.
The project included cloud hosting infrastructure (in AWS) setup and configuration, CI/CD pipelines configuration and deployment automation as well as security risk assessments and audit.
Project scope included testing, UAT, migration activities, training, transition and release management, Go-live and Early lifecycle support, documentation (service guide) and project management. The project approach meant each sprint task was recorded in a Kanban board represented in the Jira ticket system; at the end of each sprint, UNICC presented a product demo that included all the newly completed tasks. The product increment provided after each iteration will be tested by the customer when operating normally.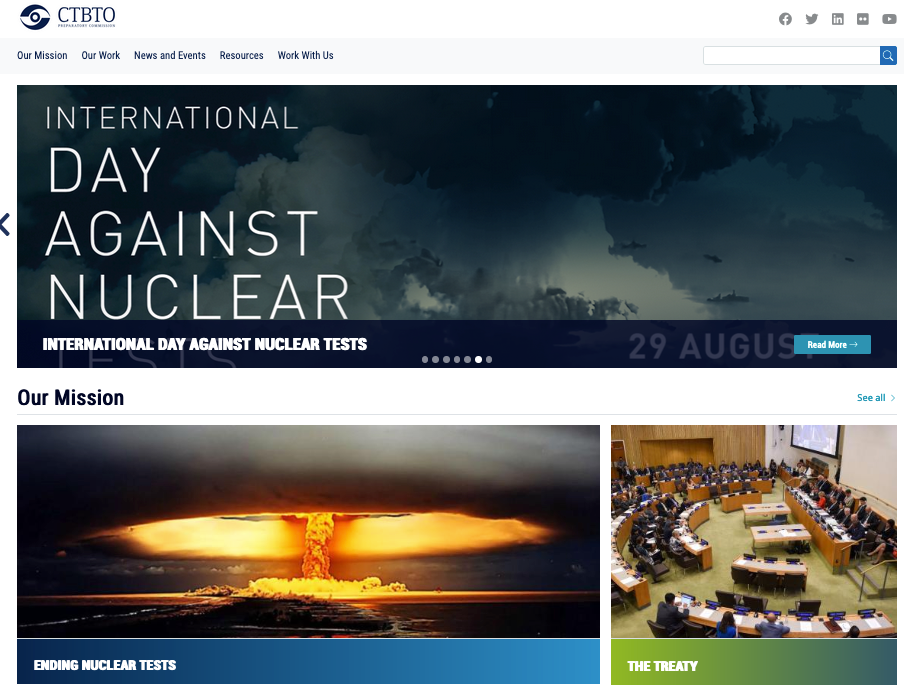 When It Comes to Content
Many years of page-at-a-time publishing from a variety of authors and perspectives meant greater consistency and compliance to editorial guidelines was needed. UNICC hired and oversaw a content writer/editor whose role included rewriting content which needed to be transformed, rewritten and/or redesigned (from an information presentation perspective) with an eye to an appealing and dynamic look and feel. This also meant providing a friendly (and accurate) facelift for highly technical/programmatic information. The CTBTO content team was able to add and modify content over the summer months ahead of the September launch.
CTBTO Oversight and Inputs
Design workshops took place throughout May and June and were signed off shortly after a presentation was made to the CTBTO Executive Secretary during the third week of June.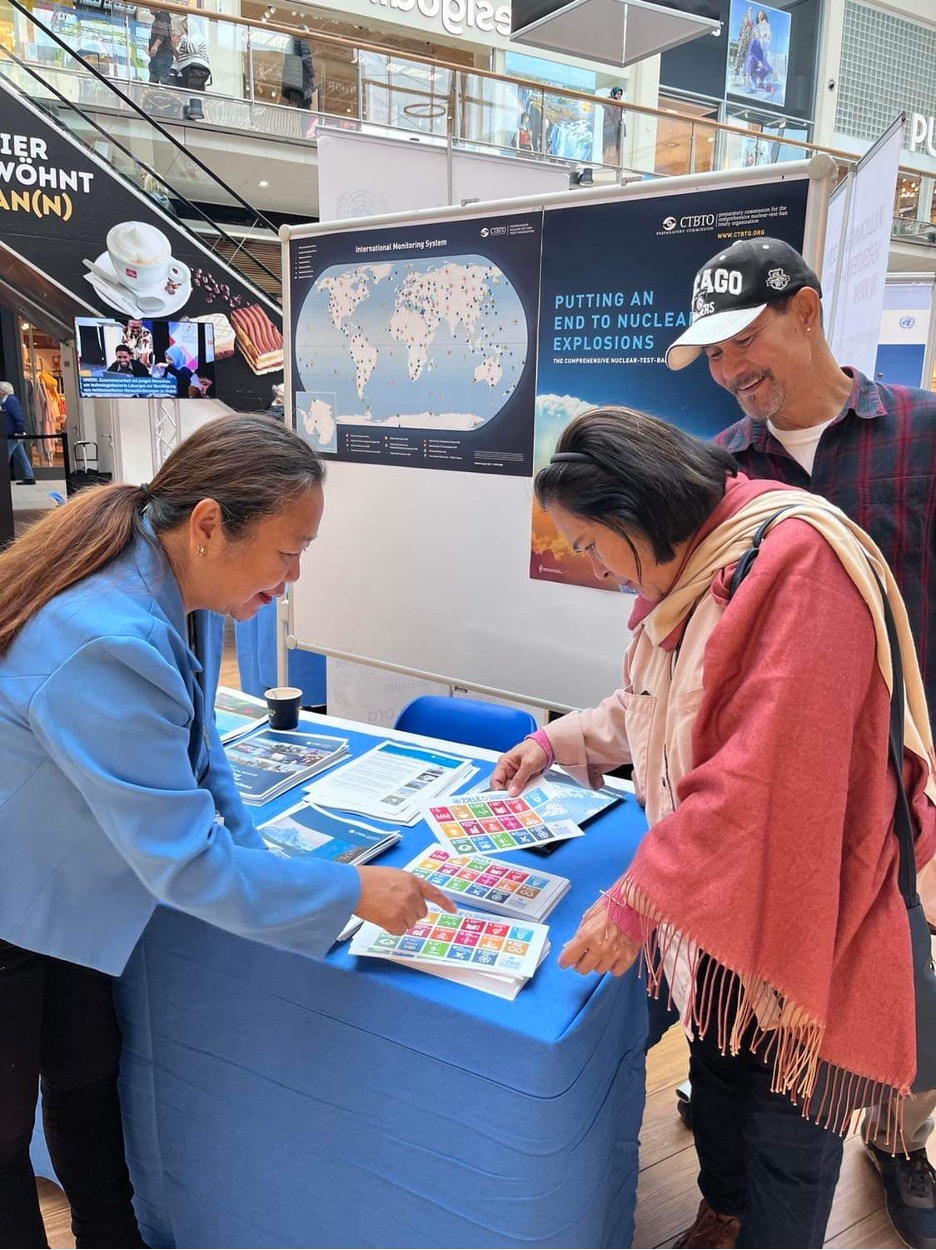 Development work continued throughout the summer and the project was delivered in eight-week sprints and included all the deliverables set out in the multi-phase plan. There were several major user interface related change requests that came in late July and early August which were accommodated well by the team. The content team continued work on page content from May until launch ensuring that pages were either rewritten or edited accordingly with signoffs taking place for each page/section.
The joint CTBTO-UNICC team successfully delivered on the following aspects of this multi-phase project:
Production website with the described functionalities
Web Application UI/UX
Web content editing
Hosting environments in the UNICC Amazon Web Services (AWS) cloud services
Website launch – Website Security Assessment – Assessment of the security requirements and controls, static and dynamic analysis, with penetration test of the web application before going live
Website Testing
Training of the CTBTO Project Team
Providing training materials
User manual and technical documentation for the CTBTO Project Team
Post go-live support.
Winning team, high quality deliverables and a bit of magic
UNICC delivered on time, in budget, with proactive professional responses in all aspects of delivery. The team met all deadlines to deliver the site for CTBTO's 25th anniversary in September. The CTBTO team have reflected that project's success demonstrates the value UNICC extends to its Clients and Partner Organizations. CTBTO affirms that UNICC will continue to be a strategic partner for digital business solutions.