ITSM and Enterprise Service Management with ServiceNow
The World Trade Organization (WTO) is the global international organization that deals with the rules of trade between nations. At its heart are the WTO agreements, negotiated and signed by the bulk of the world's trading nations and ratified in their parliaments. The goal is to ensure that trade flows as smoothly, predictably and freely as possible.
The digital transformation the WTO Secretariat is embarking on relies on how well the transformation contributes to its mandate and how this will function internally. Similar to other international organizations, WTO Members States expect the Secretariat to optimize the value they are getting from their contributions and to unleash the talent of its staff.
This is where WTO and UNICC began to collaborate, to help with greater efficiency through better service delivery, assessing and assisting with updating a ten-year old service management system sorely in need of updates to automated processes.
The need for the multilateral system to visibly help the world reach the SDGs and ride the existing crisis like COVID, Climate or Ukraine has never been so high. It needs a UNICC which delivers both reliable value for money IT services and agile digital innovative solutions. At 50, UNICC's human force mixes the right balance between expertise and dynamism to chart an exciting course together.

Fabrice Boudou, Director of IT Solutions Division, World Trade Organization and Chair of the UNICC Management Committee
ServiceNow service management now
WTO is a long-time consumer of UNICC digital business solutions across the technology landscape. They were one of the first to leverage UNICC's partnership with ServiceNow for end-to-end service management business needs in the cloud.

The UNICC ServiceNow solution, with full cloud security, UN system cost efficiencies through its strategic agreements and full business process support, allows organizations like WTO to digitize and automate siloed processes, dramatically improving the service management experience across the organization.
The platform optimizes processes, connects data and organizational entities and accelerates innovation at scale with a single platform for digital business. On top of this monitoring and reporting tools mean that WTO has metrics at their fingertips to meet indicators with quality performance data.
From WTO's initial objective to migrate the legacy ITSM solution to a market leading solution like ServiceNow, UNICC has been the perfect partner to allow us to meet this objective. And to go far beyond. Going out on our own to manage such a project was not feasible in terms of budget nor resources necessary. The UNICC ServiceNow team has filled the missing gap. With UNICC, a fast and efficient path became available to migrate the legacy solution and improve many ITSM processes while providing valuable additional data invisible before but critical for ITSM governance.

Ronald Jans, Head of IT Services Branch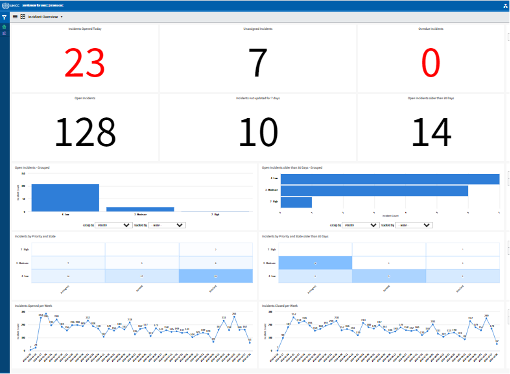 Benefits and features of the new system include:
Incident management
Request fulfillment
Knowledge management
CMDB and configuration management
Centralized service catalog and its management
Problem management
Change management
Asset management
Portal for end users
Workflow automation (approvals, delivery)
Measurement of SLAs
Reports and dashboard.
WTO had UNICC come on in 2021 to begin the process of upgrading the service management support ecosystem. The IT division was an obvious place to start, with its global support of the organization with its service management and help desk. The legacy system was replaced with the ServiceNow cloud platform immediately putting an end to manual and duplicative processes, even managing service issues through emails.
The UNICC ServiceNow team played a key role in supporting and guiding the WTO team all along, during the analysis and development of the solution, at times challenging existing practices, so as to identify where processes could be improved. UNICC also committed resources at a substantial level to ensure the WTO Service Centre team were comfortable and confident to hit the ground running once WTO's ServiceNow went live. This contributed to the WTO Service Centre team's being fully on board ahead of implementation and was a strong factor in its success.

Colette O'Byrne, Systems and Operations Engineer
The UNICC team first started working on the deployment of ServiceNow for other Clients in 2020, in line with current best practices and industry standards. This framework can be replicated, tailored and implemented for any other UN Agencies. The platform was designed, configured, and deployed so that WTO, as with others, could easily integrate the framework for its own ITSM frameworks.
The project involved:
Assessing the environment and sharing requirements
Setting up a portal for end users
Providing a centralized service catalog
Ensuring workflow automation of approvals and delivery
Measuring SLAs
Streamlining the incident management process
Ensuring request fulfillment and knowledge management processes
Migrating existing data and business processes replication
Overseeing CMDB and configuration management as well as service catalog management processes
Integrating problem management and change management modules.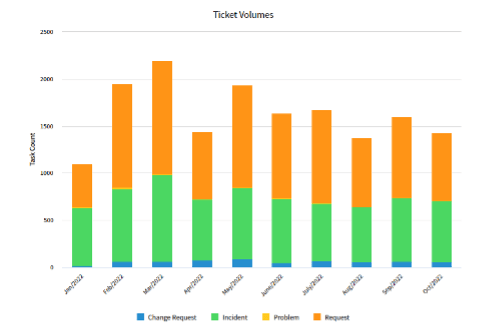 Development work continued throughout the second half of 2021 and the project was delivered in six months, having the go-live on January 2022, including all of the deliverables set out in the multi-phase plan. WTO is further developing its ITSM practice by building a configuration management database (CMdB )with its associated processes.
UNICC's professional requirements analysis, documentation and project management practices ensured success, with ongoing coordination, follow-up meeting and effective and open communication channels. The two teams were then able to validate and meet WTO's expectations, with timely and successful delivery of expected services.
WTO is gradually extending ITSM to Enterprise Service Management. They have and are still integrating other service delivery areas such as HR, Facilities, and Language services into ServiceNow, copying the success of the ITSM implementation, combined with an internal strategy of working towards a central Service Management facility for any user request or issue – the same tool for all and the same team to coordinate for all. In areas of service management and delivery, when addressing new demands, this has led to WTO adopting a «ServiceNow first» approach – considering at the outset if ServiceNow could be the best-fit solution.
Coupled with a procurement effort to source the service centre from a lower cost base, WTO is well on the way to a real digital transformation in how internal business solutions and services are delivered to its staff.
WTO was adaptive, flexible and keen to replicate the successes seen at UNICC from the ServiceNow platform. UNICC has helped in this way to establish ServiceNow as a leading industry platform for IT and asset management processes for the UN family.